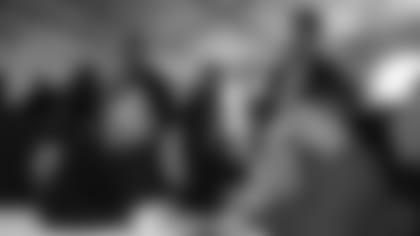 ]()ST. AUGUSTINE, FLA. – Patriots offensive line coach Dante Scarnecchia has been through this all before. And for a guy who has worked the NFL sidelines for 23 seasons, with 35 years of overall coaching experience, "this" could mean just about anything.
From coaching changes to Super Bowls and changing coaching roles to two-win campaigns, there isn't much that Scarnecchia hasn't been through. But preparing for his fifth career Super Bowl, all in New England, the veteran coach certainly hasn't grown bored with the experience.
"It's not any different," Scarnecchia said of his fifth big game. "They are great experiences. The thrill of realizing that you have made it, to get to one, like we did last Sunday night and we have done in other championship games, that doesn't minimize or lessen at any point. It's the thrill of working hard to attain a goal, which the immediate goal is to get here, now the new goal is to win it. None of that changes. It doesn't lessen. It's always a very exciting thing."
Part of what has kept things exciting for Scarnecchia in recent years is the variety of personnel he's had to piece together along the offensive line. New England's current starting group includes two players that began the year as backups in right guard Stephen Neal and right tackle Stephen Neal, as well as second-year center Dan Koppen. That doesn't even count the number of guys who have worked through the starting lineup over the last two years like Russ Hochstein, Adrian Klemm and Tom Ashworth.
None of them are household names. In fact, most are guys that just worked their way through Scarnecchia's system from the practice squad to the game field. Through it all the coach has grown adept at making do with the talent on hand.
"I just think it's the nature of doing business in this league," Scarnecchia said. "You have the guy that you've got. If you lose a guy you have to plug another guy in. That's just what you have to do. All of them have been around in the program. They are all guys that we want here and guys that we have expectations for and a lot of those guys have met those expectations. So we are pleased."
"It's a real tribute to him," Patriots assistant offensive line and tight ends coach Jeff Davidson said of the unit's production under less than perfect conditions. "He's a guy who puts his nose to the grindstone. He's going to play the guys that are available to play. He's going to have them ready to play the game. That's obviously been a proven fact over a number of years."
That type of production has kept Scarnecchia in New England through different ownerships as well as six separate head coaches since joining the team on Ron Meyer's staff in 1982. Following this season Scarnecchia will once again witness coaching changes as the Patriots are expected to lose both coordinators, with the possibility of other assistants as well.
But that doesn't mean Scarnecchia and the rest of the current group of coaches is looking at Super Bowl XXXIX as some type of last hurrah.
"For us it's always the goal at hand," Scarnecchia said. "We have a chance to win a championship. That always is the highest of priorities, anything else people can read or write into it whatever they want to. Our goal is just to see if we can get something done out there against the Eagles on Sunday."
In the end, that business-first attitude is what Scarnecchia is all about. It's part of why he's been so successful and why those who work with him have nothing but praise for the veteran coach.
"There are few coaches that I have ever been around that outwork this guy," Davidson said. "He watches more film and understands more concepts of the game than most people that are involved in football. That's something that I hope to take from him, the things that I have learned from him in how meticulous he is about his job and understanding how each team plays. Each game that we play there is not a snap of the [opponent's] season the guy hasn't watched. He is that good. I think that the way he understands how to teach the game – to get his guys to understand what it is that is expected of them, what they are supposed to do and how to do it -- that's the thing that makes him stand out."
And it's why he's been standing out for more than 20 years in New England.