INDIANAPOLIS – The Patriots parted with their biggest (and biggest-play) receiver last season and actually… got better?
Sounds strange, but the numbers, along with anecdotal evidence, would say it was true. When Randy Mosswas traded last October, New England's offense seemed to become more prolific with each passing week.
They brought backDeion Branch, the diminutive yet productive veteran and former Super Bowl MVP, who made an immediate, positive impact. Wes Welker, another of the team's small pass catchers, earned another trip to the Pro Bowl as an alternate, while the team relied on second-year men Brandon Tateand Julian Edelman (neither of whom could be considered giants) and a pair of rookie tight ends to augment its aerial attack.
Yes, the Patriots did just fine without Moss, but that doesn't necessarily mean New England wouldn't welcome a marquee receiver on the 2011 squad. If they're looking for one in this year's NFL Draft, they'll have plenty of options.
The most sparkling gem, according to most draft observers, is Georgia's A.J. Green (6-4, 212). More than likely, he'll be long off the board before the Patriots pick at 17, so, unless they trade up, he's probably not an option for New England.
Torrey Smith(6-1, 205), a team captain for Maryland last season, is coming out early, like Green and most of the other top receivers in this draft. Smith has impressed some scouts with his adherence to detail and fundamentals.
Maturity may also be an asset that shouldn't be overlooked. Smith grew up in a single-parent home and often had to play a father-figure role to his younger siblings.
"Yes, I was the oldest of seven," he explained. "It had its ups and downs. I was always with my family. There were certain times when other kids would be able to go and have fun doing something, and I had responsibility. But that's something I would not take back… I feel like I'm mature and will be able to handle what the next level brings."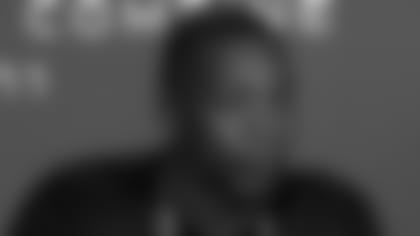 Pitt's Jon Baldwin(6-5, 230), another early entrant, has had his attitude questioned by some scouting reports, which say he complained about not getting the ball enough last season.
When asked about that claim at the Combine, Baldwin responded, "No, not at all."
He was quick to point out that he studied substantial amounts of film of another former Pitt star, Larry Fitzgerald of the Arizona Cardinals, as proof that he's dedicated to the game.
In addition to his size, Baldwin listed his other positive attributes.
"I'm fast. I'm smart as well. There's a lot of different things that come with just being tall. A lot of people think if you're tall you're stiff. I'm athletic. A lot of people that's 6.5, they can't really bend down. I'm flexible. I can do all of those things."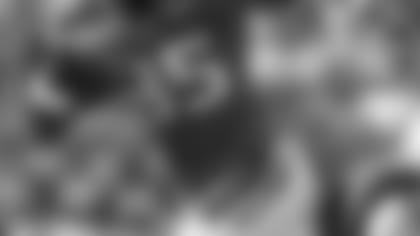 Miami Hurricane Leonard Hankerson(6-3, 208) cited many of those same qualities while describing himself as a player.
"Best part of my game is I'm a big receiver, run good routes, go up and catch the ball, catch the ball in traffic, finish," he told reporters at the Combine.
"I feel like I need to work on getting in and out of my breaks, turning my hips, focusing, and just making plays and finishing after the catch."
Though a smaller receiver compared to the top prospects in this draft, Kentucky's Randall Cobb (5-11, 190) more than makes up for his lack of size.
Often called "Tex" – a reference to boxer Randall "Tex" Cobb – the player was quite to make the distinction that he's not the same person. But like any good boxer, this Randall Cobb has a lot of good moves in his repertoire.
Cobb is a threat running, catching, even throwing the football on offense. On special teams, he can return kicks and even has significant experience holding for extra points and field goals.
"Some teams have mentioned [being a holder], and if they didn't, I would [bring it up]," said Cobb. "I'm willing to do anything to help a team and an organization out."
That kind of versatility and willingness to play wherever he's asked are the types of qualities the Patriots value more than most others.
"I'm willing to play anywhere," Cobb insisted. "I've said that ever since I was in high school. I just love the game so much. Anywhere I can get on the field and help the team out is where I want to play."
Versatility is the key word when talking about Greg Little(6-2, 230) of UNC. He is perhaps one of the more intriguing receiver prospects this year not only because of his size and experience playing both running back and receiver. His name has become synonymous with the agent-related scandal that rocked the Chapel Hill campus last fall, resulting in the season-long suspensions of numerous high-profile Tarheel players, Little included.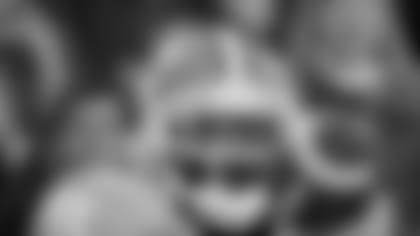 Little faced the barrage of questions about the affair in his media interview Friday.
"I knew what I was doing was wrong. For me to be that naïve and ignorant about it was stupidity on my part," he confessed.
And in an effort to take a negative and turn it into a positive, Little called his suspension and the surrounding controversy the best thing that could have happened to him because it helped him mature in a hurry.
"It was a very pivotal point and a defining moment in my life where I said, 'Hey, this is not who you are. This is something that you've done. You've made a mistake.' But you have to move on, and that's what I'm doing. This has definitely been a great start to my path of redemption. I'm just out to prove that even though we make mistakes, you can still progress and go through."
The year off from football also gave him the opportunity to train with mixed martial arts fighter Wayne Hunter.
"It's the most unorthodox workout I've ever done," Little recalled. He said the intense workouts helped him add 10 pounds to his 6-2 frame (he now weighs 230), but that he's "without a doubt" in the best shape of his life.
In the mid-to-later rounds, the Patriots might also find some big threats in Austin Pettis(6-3, 210) of Boise State and Jamel Hamler(6-2, 195) from Fresno State.
Pettis is used to being in a high-powered offense and winning a lot of games, so that shouldn't be much of a transition if he were to come to New England. His self-assessment of strengths and weaknesses showed that he is still a raw talent that could be attractive to the Patriots.
"My strength is my size, being pretty smart. I kind of understand the schemes pretty well and translate that to the field quickly," he began.
"I think I need to work more deep routes into my game. At Boise, we had Titus Young(5-11, 180), he was a pretty explosive guy downfield, so I didn't have to do too much of that. I was pretty much an underneath guy."
Hamler is a name to remember, if only for the fact that he comes from the Patriots' Pat Hillpipeline in Fresno. As a result, Hamler is already quite familiar with how Bill Belichick'steam does business.
"[Coach Hill] talked about [New England] a lot. Especially during camp," he disclosed. "We heard a lot of stories about Bill Belichick and the way he ran his organization – not just with football, but how he handles his players on and off the field, how they handle themselves in meetings. Coach Hill really uses a lot of that and incorporates that into his program at Fresno State."
New England will almost certainly target a wide receiver or two in April's draft. No matter where they choose to strike, they should find a player who can fit their needs.