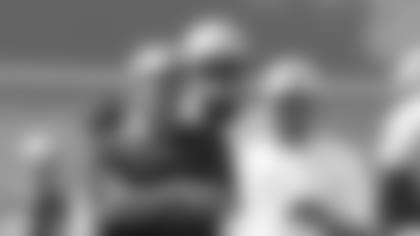 ]()Bill Belichick likes to stress that mini-camp is about teaching, not evaluation. With that in mind, what did we learn about the Patriots in our first look at the two-time defending Super Bowl champions?
First and most noteworthy, we learned Richard Seymour was missing from practice and Belichick termed his absence as "unexcused." Seymour, the three-time Pro Bowler and All-Pro defensive lineman has been in the Foxborough area for at least parts of the team's offseason work, including the recently completed passing camp last week. Mini-camp is the first and only mandatory workouts the Patriots will conduct during the offseason and it is unknown why Seymour chose not to attend the opening practice.
"No, Richard is not here," Belichick said when asked if Seymour was suffering from an injury that prevented him from taking part in Thursday morning's workout. "All the players under contract are required to be here. So this is different from any other thing we've done."
Seymour currently has two years left on the rookie deal he signed in 2001, which calls for him to earn around $2.87 million in 2005. Belichick refused to address any potential contract disputes that may have led to Seymour's absence.
"I don't have any comment on the contract situation," Belichick said. "I don't have any comment on the discipline situation. He's under contract and he's not here. That's really the only thing I have to say about it. Anything else you'll have to ask Richard about it."
Seymour's agents, Eugene Parker and Roosevelt Barnes, did not returned calls yesterday afternoon. Tom Brady, who recently signed a six-year extension on a deal that similarly had two years remaining, was asked if he could shed some light regarding Seymour's situation.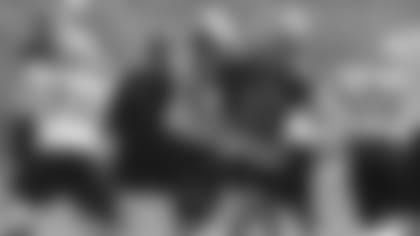 ]()"Everybody makes decisions to be here or not. Richard is a good friend of mine, but I haven't spoken to him, so I don't know why he's not here," the quarterback said.
Belichick said Seymour was the only player missing who was unexcused. Tedy Bruschi and Bethel Johnson also were not present on the practice fields during the two-hour morning workout. Bruschi's situation remains unsettled as Belichick continued his decision to let the linebacker do all the talking regarding the future, saying that "if Bruschi has something more to add I'm sure he'll say it."
As is typically the case at the start of any camp, Belichick reported that several players were in various stages of health. Johnson was seen recently wearing a protective boot on his foot at a local charity event, which likely explains the wideout's absence. Among those on hand but not participating included linebacker Ted Johnson, wideout Tim Dwight and safety Dexter Reid. No word on the extent of their injuries, although Dwight is recovering from foot surgery and said earlier in the offseason that he may need more time to get up to speed.
Three of the Patriots returning NFL Europe players – running back Kory Chapman and wide receivers Cedric James and Ricky Bryant – also sat out practice. Linebacker Grant Steen, the only other Europe returner (Joel Jacobs remains overseas in preparation of this week's World Bowl), did participate.
On the field, we learned a few things the coaches might have in mind for 2005. While Belichick stressed not to read too much into any personnel groupings in terms of the depth chart, it was interesting to see rookie first-round pick Logan Mankins lining up between Matt Light and Dan Koppen at left guard. Also, Brandon Gorin got the nod over Tom Ashworth at right tackle with Stephen Neal holding onto his spot at right guard.
Ashworth lined up at left tackle with the second group, which also consisted of Billy Yates at left guard, Gene Mruczkowski at center, Russ Hochstein at right guard and third-round pick Nick Kaczur at right tackle. It was the first look at Kaczur since he was excused from rookie camp for personal reasons.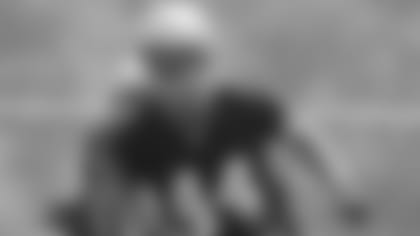 ]()Another lesson came during seven-on-seven drills when the linebackers seemed to serve as interchangeable parts capable of lining up at several spots. With Johnson on the sidelines, the "first" group had Monty Beisel and Chad Brown inside with Willie McGinest and Mike Vrabel outside.
As the drills continued, Vrabel moved inside occasionally. Belichick said mini-camp is an opportunity to move a lot of players around into different situations, which gives the team flexibility and helps to create depth. In Vrabel's case, the coach pointed out that he saw time inside during last year's Super Bowl and his size and versatility make him a suitable candidate for such a move.
We also learned that despite the abundance of offseason additions to the secondary that Asante Samuel and Randall Gay are very much in the running for starting spots. Both lined up with the "ones" during the aforementioned seven-on-seven drills while newcomers Chad Scott and Duane Starks rotated in.
Before practice, the Patriots four quarterbacks – Brady, Rohan Davey, Doug Flutie and Matt Cassel – plus members of the coaching staff took snaps from various centers. Koppen, Mruczkowski, Hochstein, Mankins, Yates and Victor Leyva all took reps working on the exchange. …
The workout was our first look at fifth-round pickRyan Claridge, who sat out rookie camp recovering from shoulder surgery. Claridge, a versatile linebacker out of UNLV, took part in all phases of the practice. …
]()Benjamin Watson, who missed most of his rookie season with a knee injury, took part in the entire workout and showed some of the versatility that had Patriots fans excited last preseason. He lined up in the backfield on a couple of plays, and also made a terrific move to free himself from safetyEugene Wilson** for a big completion from Brady. Wilson, incidentally, showed no ill effects from the broken arm he suffered in the Super Bowl. …
There has been no formal announcement made, but it the Patriots will wear their alternate silver jerseys on Oct. 2 against San Diego. ... The Patriots released cornerback Ike Charlton. Charlton, a four-year veteran who has spent time with Seattle, Jacksonville, and the New York Giants, signed with the Patriots Feb. 16.