They appear to be just as shifty off the field as they are between the hash marks.
Conventional wisdom suggests the New England Patriots will keep five running backs this season in an attempt to supplement the lack of depth at wide receiver and – to a lesser extent – the offensive line, but the way veterans Sammy Morrisand LaMont Jordantalk, you'd think they're fringe players in jeopardy of missing the final cut.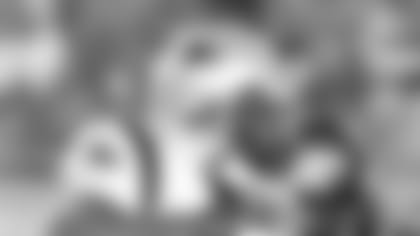 ]()If they are, in fact, guaranteed a roster spot, they do a pretty good job of hiding it from the general public.
"I've said it from Day 1 – I'm just trying to make this ball club," said Jordan, a seven-year veteran who signed with the Patriots at the start of training camp. "Once they make final cuts, hopefully I'm here, and once that happens it's just a matter of getting out there and playing football."
Likewise, Morris spoke Tuesday about looking forward to the team's preseason finale Thursday in New York – a game generally tailored toward the bubble players looking to make a final impression, not the established veterans with a roster spot all but guaranteed.
"A lot is said about how the preseason doesn't necessarily count, but in a sense it does, not in a matter of wins and losses but in preparation," Morris said. "This is our last game to get preparation against an actual opponent. It's big for us and, like I said, it's another opportunity to gain consistency within the offensive unit."
Granted, Morris isn't a projected starter, but he's an important cog in the offense following a season in which he averaged 4.5 yards per carry before injuring his clavicle against the Cowboys and missing the rest of the year.
Jordan, despite missing a significant amount of practice time with an undisclosed injury, figures to be a key player as the Patriots continue to search for reliable pass-catchers. In seven years with the Jets and Raiders, Jordan caught 158 passes, including a remarkable season with Oakland in 2005 in which he averaged 40.2 yards per catch on a career-high 70 receptions.
"We probably have one of the deepest backfields in the league with Laurence [Maroney], Kevin [Faulk], myself and Sammy," Jordan said. "It's a pretty crowded backfield, but in today's NFL you have to make sure you have a deep backfield. I think the thing about us is we all bring something different to the table, which gives the defense a different look, which ultimately will help this team out."
Asked if he could see the team keeping five running backs, Jordan smiled and said, "Right now, the only thing I see happening is getting out there and practicing today and getting ready for the game on Thursday."
Why the lack of candor in the locker room?
As usual, the Patriots refuse to reveal their hand with final roster cuts looming on the horizon. When pressed earlier in camp about the possibility of keeping five running backs, head coach Bill Belichicksaid, "I think we could." On Tuesday, he issued a different response when a reporter suggested it's unlikely he'd do so.
"We want to keep the best players and that may be a balanced roster or not," Belichick said. "It may include a few more players at one position and a few less at another, if we feel like that is where the talent is and that is the way we want to comprise it. I don't even know if I could sit here and tell you how many of this we are going to keep and how many of that we are going to keep."
With no clear-cut answer, Thursday's game against the Giants might help paint a clearer picture before final cuts are due Saturday. Based on what the parties involved have to say, don't be surprised by what happens when the 53-man roster is set in stone.
"I think all of our running backs have been productive," Belichick said. "We have good depth at that position and all of those guys have been competitive."
]()The Patriots made five transactions Tuesday to trim their roster to 75 players, placing guard Stephen Neal on the physically unable to perform list, releasing fullback Kyle Eckel, cornerback Jason Websterand offensive lineman Ryan Wendelland placing tackle Ryan O'Callaghanon injured reserve.
Neal, who is still recovering from offseason shoulder surgery, will be forced to miss the first six weeks of the season until he is eligible to return, while O'Callaghan is done for the year after playing in 15 games in 2007. A nine-year veteran, Webster signed with the team in March, but missed too much practice time due to injury and did not play in the preseason.
"It's hard," Belichick said of cutting players. "They work hard and give a lot. Some of them have given a lot for a number of years. You develop a relationship with the guys. At some point you have to make those decisions. It is one of the least fun parts of the job."
The clock is ticking for offensive lineman Mike Flynn, who signed with the Patriots on Thursday and has only one chance against the Giants to prove he's worthy of a spot on the 53-man roster.
"Everybody is. We all know that," said the 10-year veteran who spent an entire decade with Baltimore. "I knew coming in, when I flew in, that maybe they'd have this week to see that I can still play."
A native of Springfield, Mass., Flynn is primarily a center with the occasional ability to play right guard. He might get the chance to work at different spots Thursday against the Giants.
"I just want to give some depth and help out if I'm fortunate enough to make it past this week," Flynn said. "God forbid if something happens to somebody, hopefully I can keep this train rolling and that will be my role. It'd be a great role, because any time you can play with these guys, it's an honor. You'll always have a chance to win some games."
Since he's barely got enough time to learn the playbook in time for Thursday, Flynn won't waste precious minutes lamenting his current plight.
"It doesn't matter if you got here yesterday or six months ago," he said. "There's a lot of continuity amongst the players and the coaches. There are no excuses. When I go out there and play, I want to be active and keep things going. I don't want to go out there and be a liability because I don't know the plays."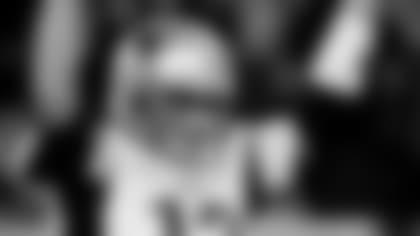 ]()Quarterback Tom Bradyand wide receiver Wes Welkerwere not on the practice field during media availability Tuesday, though someone put a pair of crutches at Brady's locker – perhaps an attempt to play a joke on the assembled media. Brady told WEEI 850 AM on Monday that his sore foot will not be an issue in Week 1 and ESPN's Chris Mortensen followed that up with a report indicating the two-time Super Bowl MVP is simply suffering from a deep bone bruise. Asked to describe Welker's status, Belichick said the veteran receiver is "doing alright." … Linebacker Mike Vrabelwore a defensive headset during one quarter of last week's game against Philadelphia as part of the NFL's latest experiment with technology and might do the same Thursday against the Giants. "I think there are some things we're going to have to work through from [defensive coordinator Dean Pees'] standpoint and our standpoint," Vrabel said. "Really, we just haven't had a lot of time to work with it, so I'm sure we're going to work with it Thursday." Belichick suggested different players might wear the equipment in the preseason finale. "This is kind of our last chance to do it here in preseason," he said. "The bottom line is the benefits have to out weight the operation that is added into the whole defensive communication. If it does, then great, and if it doesn't then it's really not worth it."