A day after a physical, energetic, brawl-filled practice under the bright lights of Gillette Stadium, Bill Belichick pulled back the reins a bit on his team on the steamy practice fields in Foxborough Thursday afternoon.
New England took the field in shorts for the first time since the second day of camp, breaking up a stretch of four-straight workouts in full pads.
"We're coming off last night's practice – I thought we had a good night there. We got a lot of things done – spent some time in the red area and dealt with a couple other situations. [We'll] probably slow some things down a little bit here this afternoon but I think the players are working hard," Belichick said. "They've taken the coaching and things we've asked them to do and really tried to work on them. I see some improvement here. We have a long way to go, we have a lot of timing and execution to build but I think that we're moving in the right direction. Hopefully we can just keep taking one good step every day here and we'll see where we're at about a week from now when we go against another competitive team."
The alteration in attire and intensity might also be a reaction to New England's growing list of players not participating in practice. Not only did Brandon Lloyd, Jonathan Fanene and Will Allen miss their second straight workout, but new absentees on included Jake Bequette, Spencer Larsen and Matt Kopa. That brings the list of players not in uniform at this point to a total of 21 players, if you include Brian Waters.
Based on what was a bit of a sloppy practice that saw a couple other players leave the field early, the Patriots look like they are very much in need of the team's next day off which is scheduled for Saturday.
WR depth tested
Beyond Lloyd missing his second straight practice, two of New England's other veteran receivers also missed reps on Thursday. Deion Branch, who's been dressed but participated minimally in the last three practices, left the field and returned to the locker room about an hour early. The good news is that Branch had a big smile when he jogged off and waived to fans on the way.
Shortly thereafter Jabar Gaffney walked off with a pair of members of the team's medical staff. Gaffney was walking gingerly and had been seen putting towels on his head, so it's possible he was dealing with a heat related issue.
With the trio of veterans out of action, Tom Brady threw a lot of passes to lesser-known targets like Britt Davis. Not surprisingly the results were rather mixed. Brady did not have one of his better days of practice, and part of that could have been due to not having some of his favored targets to work with.
Weems to be getting more reps
Undrafted rookieDarrion Weems has only been in New England for a few days, signing at the start of training camp, but the offensive lineman has held his own in his practice reps. The 6-5, 302-pounder started 22 of 39 games at Oregon, but was let go by the Vikings before even making it to camp.
Weems credits his teammates and coaches for helping get him up to speed with the offense quickly after signing with the team July 27.
"It's been good. All the guys took me in with open arms and everyone answered all the questions that I've had in regards to the way things are done around here," Weems said. "It's been a good group to learn from and watch, because if you watch them that'll tell you everything you need to know in terms of work ethic and things like that."
Weems seems to play with a physical presence, getting reps at tackle that included throwing third-round pick Jake Bequette to the ground in one pass rush drill. Physically Weems believes he has what it takes to fight for a job in the NFL.
"I feel like I can compete," Weems said. "That's the first thing you have to have, is just be a competitor. If you play this game you're a competitor. I'm just looking forward to tomorrow and what I can do to get myself better."
Fighting words
A day after the fracas that was all the talk from Wednesday night's season holder practice, Belichick was asked a few questions about the brouhaha in his daily press conference.
"Football is competitive. We're in a competitive camp. I think some of those things are just part of football," Belichick said. "We deal with a lot of things in football. I don't think it's a big deal."
The coach was asked if such an altercation can be a team-building exercise.
"I don't know about all that," Belichick responded. "A fight that crystallized the team? I don't know. Not any that I can think of."
On a more lighthearted line of questioning, Belichick admitted that it wasn't the worst practice fight he's seen in his 30-plus years in the NFL. And when such rhubarbs erupt, Belichick said he isn't overly interested in getting involved.
"The only thing I try to do is stay out of the way and not get hit, which that has happened more than once," Belichick said with a smirk. "I'll be the last one to try to break that up – [they'll] probably go after me."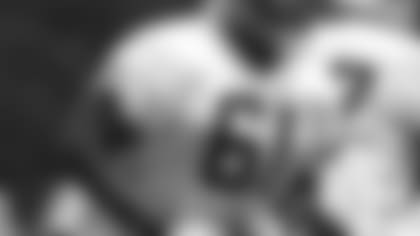 A year ago at this time Marcus Cannon was unable to practice as he was recovering from summer cancer treatments. Not only was the fifth-round pick fighting to get back to full health, but he was taking a crash course in the post-lockout world of professional football.
Cannon went on to see action in seven games as a rookie. But a year later – with a full offseason in the books – Cannon has taken the bulk of the reps at right tackle in camp, impart because Sebastian Vollmer remains on PUP as he recovers from a back procedure.
"I think what he was able to do last year was build a base and get an understanding of the offense and things that we were doing and his position and so forth. I think he started at a much higher point this year than he did last year when he came back in October from the PUP situation," Belichick said. "Of course the opportunity for him to be out on the field every day in the spring and in OTAs, the offseason program and now in training camp has been tremendous. That's so important for him. He's gotten a lot out of it. He's improved so many things from where he was at the end of the season because he just didn't have that base to build on last year. I would say he's way ahead of where he was last year. I don't think he would have been able to do a lot of the things that he's been able to do so far this year. He's still got a long way to go. He's still a second-year player with not much of a first year but relative to where he was last year, it's leaps and bounds ahead of that."
Dennis signed
With depth and reps along the offensive line continuing to be an issue, the Patriots filled their final roster spot with the signing of rookie free agent Temple offensive lineman Derek Dennis. The 6-3, 315-pounder had been with the Dolphins this summer, but was cut July 26.
Wilson working
Tavon Wilson got some nice praise from Belichick early in the day and then made a play in seven-on-seven when he picked off a Ryan Mallett throw intended for Jabar Gaffney. The second-round pick has been active so far in camp and seems to be doing a good job taking advantage of the practice reps he's getting at a position that was arguably New England's biggest weakness a year ago.
"I think he's been on a steady course since he got here. He's very – Tavon works hard," Belichick said. "He's very attentive, he asks good questions, he really pays attention and he's a hard working kid, both on and off the field. Steady improvement, long way to go, tough position to play and a tough position to transition into…
"I think he's coming along. As long as we can keep making progress and keep heading in the right direction, I think eventually it will come together for a lot of these young guys."
Notes
The 21 players not taking part in the afternoon workout were: Allen, Alfonzo Dennard (leg), Tony Fiammetta, Nate Ebner (leg),Larsen, Brian Waters (reserve/did not report), Tracy White, Nick McDonald (PUP), Bequette, Markus Zusevics (pectoral/NFI), Kopa, Logan Mankins (knee/PUP), Jamey Richard, Sebastian Vollmer (back/PUP), Jeremy Ebert (leg/PUP), Visanthe Shiancoe, Lloyd, Daniel Fells (shoulder/PUP), Jake Ballard (knee/PUP), Myron Pryor (PUP) and Fanene. … Some of injured players did do some work on the New England Revolution practice field. … Dan Connolly returned to action after missing the Wednesday night workout. … The special teams focus of the day was kickoffs. … Belichick explained that Alex Silvestro switching to number 49 from 69 was mostly a procedural switch, so that the defensive-end-turned-tight-end wouldn't have to report as eligible every time he played offense in game action. Silvestro has been practicing as a tight end all spring and summer, a role he began last season. … The Patriots announced the practice schedule for the rest of the week, with the team set to practice Friday afternoon, be off on Saturday, Sunday afternoon, Monday TBA before welcoming the Saints to town for both Tuesday afternoon and Wednesday morning. … Rob Ninkovich seemed to take more practice reps than he had in previous workouts, seeing action at left defensive end in team drills. … Talking in general about veteran players dealing with physical issues Belichick said, "Probably everybody on the field is fighting through something right now. [We've] been out there practicing for a week in training camp. Everybody has a little something – even the coaches are slowing down a little bit. Guys do things, sometimes they do more one day and less the next. Sometimes they're managing a situation from the practice before or something like that. If they're out there, then they're either doing what they can do or they're close to being able to do more – one or the other." … Brady struggled with his accuracy on the day, including throwing an interception to Steve Gregory in a two-minute drill. … Aaron Hernandez worked with Brady after practice, including some handoffs. Hernandez had five rushing attempts late last season and another eight in the postseason. ... The Boston Globe reported that McDonald has passed his physical and been removed from PUP, while Richard has been placed on IR with a concussion. The Globe also reported that New England claimed guard Dustin Waldron from the Dolphins.