Musings, observations and the occasional insight as we take stock of an uneven Week 4 in the NFL, consisting mostly of either blowouts or thrillers….
* If you're an Eagles fan — heck, even if you're an Eagle — you probably know by now nothing is going to come easily for Philadelphia this season. As predicted, opponents are giving the defending Super Bowl champions their absolute best shot each and every week, and that makes for an exhausting, grueling marathon of a season.
It was Tennessee's turn Sunday in Nashville. The Eagles led 17-3 in the third quarter and looked well on their way to their third victory in four games and a winning September. Instead, the Titans outscored Philadelphia 23-6 the rest of the way, pinning a demoralizing 26-23 overtime defeat on Doug Pederson's team.
The Eagles (2-2) have gone win one, lose one for a month now, and they're 1-1 when both Nick Foles and Carson Wentz starts at quarterback. It's been a struggle no matter who's under center and who Philly is facing. And that's the part of winning a ring that no one can completely prepare you for the next season until you've done it.
Against the plucky Titans, there were breakdowns on both sides of the ball. The Eagles offensive line is supposedly one of its strengths, but Wentz was hit entirely too often, taking four sacks and a pounding that included 11 quarterback hits. That can't continue if Philadelphia expects to keep their franchise passer upright and healthy, after his return from knee surgery last week.
On defense, the Eagles secondary was faulty and could not find a way to make plays against the Titans when they were most necessary. Tennessee converted on fourth down three times in the dramatic game-winning drive orchestrated by Titans quarterback Marcus Mariota, and the secondary blew a coverage when Mariota found receiver Corey Davis on the 10-yard touchdown pass that gave the home team the gritty victory.
The Eagles started last season 10-1 en route to their 13-3 regular-season, then re-ignited in the playoffs under Foles' direction, after Wentz went down. But the story will not be the same, or as comfortable this season, that much seems already apparent. At 2-2, Philadelphia is only a half-game out of first place in the NFC East, tied with second-place Dallas behind idle Washington (2-1). But the champs best buckle up and stay ready for anything, because the ride won't be smooth in 2018.
* I'm really not sure how, but the first-place Titans are 3-1 and the team to beat in the AFC South. Yet again we saw another gusty, difference-making performance by Mariota, who orchestrated a 75-yard, 16-play game-winning overtime drive that had several Houdini-like escapes.
Tennessee has won three in a row after falling Week 1 in Miami, beating Houston, Jacksonville and now Philadelphia. What the Titans lack in style points, they make up for in resourcefulness and resilience, and Mariota is their unquestioned leader in both of those departments.
Every time the Eagles thought they had him pinned back and facing a make-or-break moment in the game, Mariota delivered, instead breaking the spirit of his well-respected and accomplished opponent. He finished 30 of 43 for 344 yards passing, with two touchdowns, and kept Tennessee alive so many times I lost count.
Third and fourth down, as it turns out, is when Mariota bears down and does his best work.
* Well, what do you know? Malcolm Butler finally got to play against the Eagles and wound up on the winning sideline. Instead of just standing on the losing sideline.
The former Patriots-turned-Titans cornerback had his challenges against Philadelphia, though. Eagles receiver Jordan Matthews, himself an ex-Patriot who was in Foxboro this preseason, made Butler look bad, running past him like he was a newly erected statue on a 56-yard touchdown pass in the first half.
* Speaking of the Patriots, what an exquisitely executed con job of setting up the rest of the AFC East the previous two weeks. C'mon, we all thought the 3-0 Dolphins had at least a chance to march into Gillette Stadium and knock off struggling New England, but of course we were misinformed.
Patriots 38, Dolphins 7, in a game that re-established the natural order of things in the division. And we might as well go ahead and put the X for clinched the AFC East by New England's name in the standings, because while Miami may still technically be one game better, we all know the Dolphins are what I call hopelessly ahead at this point.
Can't wait to hear the radio talk-show hot takes after this one. The Patriots churned out 449 yards of offense, proving that they can still game-plan better than anyone in the league and they're not devoid of offensive weapons after all. Sony "How do you like me now'' Michel and James White were a two-headed monster in the ground game, and produced 224 combined yards from scrimmage on 41 touches.
And if New England can get and keep Cordarrelle Patterson, Josh Gordon and Phillip Dorsett all involved in the passing game, look out, rest of the AFC. Once Julian Edelman is back, and Rob Gronkowski (ankle injury) is healthy and rolling again, the Patriots will again out-class everything the AFC East has to throw at them. As they did Sunday against a Dolphins (3-1) team that proved woefully unprepared for a step up in weight class.
Miami still hasn't won in Foxboro since 2008's memorable Wildcat Sunday, and the Dolphins just failed miserably in their attempt to take a three-game lead over the Patriots for the first time in the Tom Brady era. After two long and anxious weeks, New England got to 2-2 — the same record they had last season after the season's first month, en route to another Super Bowl.
Exhale, Patriots Nation. Exhale.
* This may be the Falcons' loss that winds up being the back-breaker for their season, because it's consecutive home losses to New Orleans and Cincinnati now in gut-wrenching fashion. The Bengals (3-1) rallied for a last-second 37-36 win over Atlanta (1-3), and the Falcons have lost the last two weeks despite scoring 36 points or more both times.
It just looks like one of those years for Atlanta on the injury front, and you can see the toll the absences of defensive starters Deion Jones, Keanu Neal and Richardo Allen are taking. The Falcons couldn't get the Bengals off the field all day in key situations, and you can't ask that much of your offense every week in order to win.
With Calvin Ridley (two more touchdowns), Julio Jones and Mohammed Sanu to throw to, Falcons quarterback Matt Ryan has an embarrassment of riches. But that Atlanta defense is too much to overcome and it's looking like we won't have a team from the Super Bowl host city playing the game on its own home field for the 53rd year in a row.
* Hat tip to Andy Dalton and the Bengals, overcoming a lot of ugly in order to get the beautiful comeback win in Atlanta. Cincinnati scored five touchdowns, with four different players doing the honors: tight end Tyler Eifert, running back Gio Bernard (two), receiver John Ross and finally, the game-winning 13-yard catch by receiver A.J. Green with six seconds remaining.
Dalton stayed cool despite being swarmed by the Falcons pass rush at times (three Tak McKinley sacks) and overcame bad penalties, a blocked punt and a devastating and gruesome broken lower leg/ankle suffered by Eifert early in the third quarter. It was a game the Bengals probably should have lost, but wouldn't surrender and Dalton (29 of 41 for 337 yards, three touchdowns, one interception) was exceptional when it mattered most. At 3-1, the Bengals look like a playoff contender in the AFC North, and they maintained at least a share of the division lead with the win.
* So Mitchell Trubisky had a nice month, Sunday against Tampa Bay. Good gracious. I don't want to rain on the kid's parade, because he'll never have a bigger day, but how bad is that Bucs defense? Trubisky sliced and diced Tampa Bay every which way possible in Chicago's 48-10 win and ended up with a mind-blowing six touchdown passes, after entering the game with nine touchdown throws in his first two NFL seasons combined (15 games).
For one Sunday at least, all the comparisons made between new Bears head coach Matt Nagy and Trubisky to the Rams' Sean McVay and Jared Goff were lived up to. Chicago would have needed five full games in the John Fox coaching era to get six touchdown passes from Bears quarterbacks.
In the first half, Trubisky was 12-of-15 for 254 yards, with five touchdowns and no interceptions, producing a perfect passer rating of 158.3. The dual-threat quarterback even gained 53 yards on three-first half rushes. He finished with 354 yards, those half-dozen touchdown passes, and no interceptions, taking just one sack.
All in all, pretty good first month of the season for the league's young quarterback crowd, wouldn't you say? And it looks like Chicago is starting to like the sound of being called the first-place Bears.
* It was hardly all Ryan Fitzpatrick's fault, but naturally Tampa Bay went back to Jameis Winston at quarterback after the Bucs' bubble burst in dramatic fashion these past two games. Did Tampa Bay really beat New Orleans and Philadelphia in the season's first two weeks, or was that all a dream sequence? Present day is a nightmare now for the Bucs, who have been outscored in the first half the past two games by a combined 68-13.
Fitzpatrick had his fun and day in the sun in Weeks 1-2, but Bucs coach Dirk Koetter better have some ideas on how to stop the bleeding or he'll be the next one making his exit. Winston's numbers looked okay — 16 of 20 for 145 yards, with a touchdown and two picks — but they had virtually no impact in terms of making a game of it.
Crazy, fast-moving league, this NFL. A week ago Sunday, the 2-0 Bucs were one of the best stories of this young season. Seven days and two losses later, it looks bleak again in Tampa Bay.
* Have to admit the Lions showed me something at Dallas, even in a 26-24 last-minute defeat. Detroit rallied to take a late lead in a game Cowboys seemingly had control of most of the way. Maybe Matt Patricia's team has something building for itself after all, and it's season won't be confined to just that mammoth beatdown of the Patriots last Sunday night.
Detroit's defense failed when the game was the on the line, and that has to sting Patricia, given his expertise is on that side of the ball. There's no way Ezekiel Elliott should be able to get deep on the right sideline for the game-changing 34-yard reception on the Cowboys' final drive. But I still liked what I saw of the Lions in terms of their competitiveness, and even at 1-3 they're miles ahead of where they were after their dismal losses to the Jets and 49ers.
Lions receiver Golden Tate is a clutch play-maker with a knack for coming up huge when the pressure is its highest. You'd hate to think of where Detroit's offense would be without him. He had eight catches for 132 yards and two great individual efforts to score touchdowns against Dallas. But I can't stand his habit of show-boating and celebrating before he's even in the end zone — which he did twice Sunday — and there may come a day when his act costs the Lions.
* Nice resilience displayed by Dallas in coming back against Detroit in crunch time, and what do you know, Dak Prescott even topped 170 yards for the first time all season, finishing with 255 yards on 17 of 27 passing with a pair of touchdowns. But the Cowboys don't come anywhere close to winning that game without Ezekiel Elliott taking over.
Dallas's third-year running back rumbled 152 yards on 25 carries and added 88 yards receiving on four grabs, the biggest being the aforementioned 34-yard grab on the Cowboys' game-winning drive. The Cowboys (2-2) go pretty much as Elliott goes, and no, Jerry Jones, I didn't see a lot of similarities between the Rams offense and the Dallas offense. Not in Week 4, or Weeks 1-3 for that matter. Nobody slings more you-know-what than Jerry.
Oh, and how's that Tavon Austin as a secret weapon work going in Dallas? I saw him drop a very catchable pass in the end zone Sunday against Detroit, which must have elicited snickers from knowing Rams fans.
* It's back to the drawing board in Buffalo. The Bills didn't remotely resemble the same team that embarrassed the Vikings last week in Minneapolis, and I'm not sure that says more about Buffalo or Minnesota. But in losing 22-0 at Green Bay, the Bills (1-3) went absolutely nowhere in their quest to build on last week's monumental upset.
Rookie quarterback Josh Allen played out of control for most of the day and looked nowhere near ready for the No. 1 job that has been thrust upon him. He threw late over the middle into the end zone for one horrendous pick, ran into sacks, and lost ground on plays instead of knowing when to give up and chuck it out of bounds.
All told Allen was sacked seven times by Green Bay, threw two interceptions and lost a fumble in throwing for just 151 yards and a 36.3 passer rating. It was far uglier than the final score indicated.
* I really liked what I saw in terms of Aaron Rodgers' mobility in the win over the Bills. Every time I caught a snippet of the game, No. 12 seemed to be moving far better on that sore left knee than he did the previous two weeks. He scrambled for 15 yards to set up a Packers field goal just before the half, and his five carries for 31 yards were probably more encouraging than his 22 of 40, 298-yard passing performance.
It's simply. If Rodgers is sound, so are Green Bay's (2-1-1) chances to reach the playoffs and win the NFC North.
* For most of the game, that was the Texans team I expected to see this season: Deshaun Watson and J.J. Watt and Jadeveon Clowney and DeAndre Hopkins making big plays and helping Houston build a lead. But then, because the Texans are the Texans and tend to self-destruct, they didn't put the Colts away until the final gun of a 37-34 Houston win in overtime. What an ordeal the Texans put their fans through, but at least they snapped their league-high nine-game losing streak dating back to last November.
It was the first time in Watson's 10-start NFL career that he led his team to a win in comeback fashion, and the best news of the day was that he returned to his difference-making form against Indianapolis, completing 29 of 42 for 375 yards passing. He threw for two touchdowns, ran for one, and had just one interception.
Watt had two more sacks and two forced fumbles, after his three sacks last week, and Clowney was a beast, with two sacks and a fumble recovery for a touchdown.
* When you're 1-2 and playing at home, I've got no problem with what Colts coach Frank Reich decided to do, going for it on fourth-and-4 from his own 43-yard line with 27 seconds left in overtime, tied 34-34. The Colts threw the ball, it didn't work, and Houston had time to work a short field for a field goal, so Reich takes the blame. That's the easy take. But not the right one.
Reich learned the go-for-the-win approach last year in Philadelphia and he followed that thinking on Sunday. Trying to make sure you're 1-2-1 after four weeks, where's the glory in that?
Kudos to the short-handed Colts for putting up such a great fight against Houston. Playing a pair of backup offensive tackles and without tight end Jack Doyle — and lead receiver T.Y. Hilton (chest) for a time — Indy rallied from a 28-10 third-quarter deficit and forced overtime. And I think we can rest a bit easier about Andrew Luck's right shoulder. He threw a whopping 62 passes, completing 40 of them for 464 yards and four touchdowns, without a pick. He even heaved up a 50-yard-plus Hail Mary late in regulation. So, yeah, he's okay.
* Congrats to ageless Colts kicker Adam Vinatieri, who broke Morten Andersen's career record for field goals, converting his 566th, from 42 yards just before the half. Vinatieri is a marvel. The man was a rookie on the 1996 Patriots Super Bowl team, and he's still banging kicks home. He was playing in the NFL four years before Bill Belichick was hired in New England, five years before Tom Brady's first start, and eight years before the Red Sox broke the curse.
And to me he's like Carlton Fisk now. Fisk was a White Sox longer than he was a Red Sox catcher, but I still associate him with Boston. Same for Vinatieri, 46, who spent 10 years in New England and is in his 13th season with the Colts. When I think of him, it's usually in a moment of Super Bowl glory for the Patriots.
* I'm convinced the Jaguars offense is better when backup running back T.J. Yeldon is on the field, rather than starter Leonard Fournette. Jacksonville is more versatile with Yeldon playing, doesn't rely solely on the ground game, and takes the shackles completely off quarterback Blake Bortles when there's no Fournette. We saw it the Jaguars' win against the Patriots in Week 2, and we saw it again Sunday in Jacksonville's 31-12 dispatching of the ho-hum Jets.
Fournette had missed the past two games but started Sunday, leaving due to a tweak of his balky hamstring in the first half. He had 12 touches for 35 yards at the time. Yeldon entered and wound up with 21 touches for 100 combined yards of rushing and receiving, with a 31-yard scoring reception and a 1-yard touchdown run. As for Bortles, he was a crisp 29-of-38 for 388 yards, with two touchdowns and an interception as the centerpiece of the offense. Not sure why the Jaguars would ever want to change their approach now.
This was the third game of a season-high three-game homestand for the Jaguars, and they had to come out of this stretch at bare minimum 3-1 after beating New England. Last week's loss to visiting Tennessee is the only thing separating the Titans and Jaguars at the moment.
* The giddy, hopeful events of opening night in Detroit must seem like it was eons ago if you're the Jets, who dropped to 1-3 with their third consecutive loss. Here's hoping rookie quarterback Sam Darnold didn't peak in Week 1, in that 48-17 thrashing of the Lions.
New York generated a paltry 178 yards against the stout Jaguars defense, and Darnold was sacked three times, completing a so-so 17 of 34 for 167 yards and one touchdown. He's not playing badly, but he's not making much happen either. I took to Twitter and tried to warn Jets fans that Monday night against the Lions may be the exception and not the rule. But they weren't having it, of course, caught up in the excitement of the moment. I'm guessing they've come back to earth with a thud by now.
* That was indeed Jeff Fisher you heard as the color analyst on the CBS telecast of the Jets and Jaguars. Rams fans, if they came across that game while Los Angeles was on its mini-bye weekend, probably gave a collective shudder at the sound of Mr. 7-9's voice.
* No new roughing the passer drama in Week 4? What a surprise. This is the way the NFL works. There was a Roger Goodell-induced conference call Thursday for the league's competition committee to discuss the controversial new point of emphasis, and even though the call was said to inspire no changes to the rule, something nevertheless changed about the enforcement of the rule.
We saw the same phenomena with respect to the lowering the helmet rule that was instituted last offseason. There were plenty of flags thrown in the first two weeks of the preseason regarding the rule, then a conference call, followed by the calls decreasing dramatically. It's the same story this time, it would seem, even if the league hates to admit change actually occurred.
* Imagine a team more desperate for victory than the Browns. That was the reality for the Raiders on Sunday, and Oakland responded to that urgency, rallying in improbable fashion to beat Cleveland 45-42 in overtime — the third overtime game of the day in the NFL.
Matt McCrane's 29-yard field goal secured the win for the Raiders and spoiled the starting debut of Browns rookie quarterback Baker Mayfield. The game was a wild affair, with Cleveland seemingly having won the game until the spot of the ball on a Browns first down conversion was reviewed and changed after Oakland's challenge. Both teams rallied from two-score deficits, and McCrane missed a pair of field goal attempts that appeared to doom Oakland.
Oakland at 1-3 at last got a win for new/old head coach Jon Gruden. The Browns couldn't quite build a winning streak and are now 1-2-1 after a month of interesting and entertaining games. Mayfield threw a pick-6 and had another interception, but he was an up-and-down 21 of 41 for 295 yards, with two touchdowns and two fumbles.
* It seems almost unfair that Drew Brees and Alvin Kamara are on the same team in New Orleans. Even in the rare occasions Brees doesn't have a monster game, the Saints can still roll behind their second-year running back, who scored three second-half touchdowns in New Orleans' 33-18 road win against the Giants.
Kamara rushed for 134 yards on 19 carries and chipped in with five receptions for 47 yards. Brees was a mere 18 of 32 for 217 yards, proving that New Orleans again has a lot of different ways to beat you. After their Week 1 home loss to the Bucs, the Saints are back in playoff-contending form, and now hold sole possession of first place in the NFC South at 3-1.
The Giants (1-3) got 87 rushing yards from rookie running back Saquon Barkley, but they didn't do much to build on last week's win at Houston. And a tough game at Carolina looms next week for Pat Shurmur's thus-far mediocre team.
* The Seahawks earned their second win of the season and scratched their way to .500 by nipping the winless Cardinals 20-17 in Glendale, but star safety Earl Thomas was lost for the season with a fractured lower left leg that required an air cast. That's a blow Seattle really can't afford. Not only do they lose Thomas the player, they lose the potential trade value that was going to come back to the Seahawks if they traded him before the deadline next month, as he has requested and appeared likely of happening.
Thomas reportedly gestured toward the Seattle sideline with a middle finger as he left the field, perhaps for the last time as a Seahawk. That's a fitting way for this messy relationship to end, in a bitter final chapter before divorce. Seattle coach Pete Carroll declined to comment on Thomas' gesture, but I'm guessing he'll have something to say soon enough.
It has been a brutal Week 4 for injuries in the NFL, with Thomas and Bengals tight end Tyler Eifert suffering broken legs.
* Cardinals rookie Josh Rosen did enough to get a win in his first start, but veteran kicker Phil Dawson let him down, missing a late 45-yard attempt that would have given Arizona a three-point lead inside of two minutes.
I'd give Rosen a solid B for his first-start effort, but whatever can go wrong for the Cardinals this season is going wrong. Rosen was an unspectacular 15 of 27 for 180 yards and a touchdown, but that was better than what benched veteran Sam Bradford had been producing.
* The Chargers took care of business at home against a depleted San Francisco team, but the 29-27 victory was harder than it probably should have been, a trademark of Anthony Lynn's team through his first 20 games on the job. Melvin Gordon was one star of the game for Los Angeles, combining for 159 yards rushing and receiving, to support Philip Rivers' three touchdown passes.
The 49ers are a mess, thanks mostly to injuries. Jimmy Garoppolo went down last week, and even new starting quarterback C.J. Beathard briefly left Sunday's game, giving way to backup Nick Mullens for a bit. In addition, left tackle Joe Staey and receiver Dante Pettis were hurt and left the game. All the optimism of late last season and the offseason has quickly exited the scene in San Francisco.
* Uniforms matter, as us football fans well know, and it was a decidedly mixed bag on that front in Week 4. I always love when the Falcons wear their back-in-black throwback combination, as they did at home against Cincinnati. But may I suggest it'd that much more authentic and cooler if Atlanta paired their old red helmets with their black jerseys, like back in their expansion era days.
As for the Lions' debut of their all-gray look in Dallas, meh. Gray just doesn't pop, and sets such a mild and bland tone. They don't call it a neutral color for nothing. And then there were the Packers, who trotted out their Acme Packing Co. throwback duds against the Bills in Lambeau. Don't love 'em, don't hate 'em. They've just kind of run their course. But at least they're better than those ridiculous bumble-bee togs the Steelers have subjected us to in recent years.
Lastly, the Saints were in all-white against the Giants in the Meadowlands. Nothing special about that look, and for a minute I thought they must have attended Penn State's "White-out'' home game against Ohio State Saturday night.
* Has any recent NFL head coaching hire outside of Philadelphia looked not just smart, but incredibly shrewd, faster than the Rams' decision to take a chance on the 30-year-old Sean McVay in early 2016? The franchise was a running punch-line in the dismal Jeff Fisher coaching era, but since McVay walked in the door Los Angeles is 15-5 in his first 20 regular-season games, and the Rams offense is cutting edge in every way. Los Angeles' 38-31 conquest of Minnesota Thursday night was like watching a coaching clinic when it comes to McVay's play-calling and offensive approach.
Quarterback Jared Goff deserves a ton of credit for his rapid development as a franchise quarterback these past two seasons, but he should hit his knees every night and thank the football gods that McVay found his way to L.A. Goff was on his way to bust-ville with Fisher's staff, but McVay has unlocked the potential that made the Rams invest so heavily in the No. 1 overall pick in the first place.
There have been other strong first-time NFL coaching hires in recent years. Philly's Doug Pederson has to lead the pack given that he's got a Super Bowl ring on his finger after just two seasons on the job. Atlanta's Dan Quinn, Miami's Adam Gase, Minnesota's Mike Zimmer, Arizona's Bruce Arians and Washington's Jay Gruden also come to mind, given they all had varying degrees of early success in their first full-time head coaching jobs. But McVay is setting a pace that may be difficult to match, and you get the feeling we're going to be watching him win in the NFL for decades to come.
* While the focus understandably has been on the question of what in the name of Alan Page has happened to the once-formidable Vikings defense this season, the vaunted Rams defense didn't exactly sparkle in Los Angeles' 38-31 shootout win over visiting Minnesota Thursday night.
True, the Rams were missing injured cornerback Aqui Talib and fellow starting cornerback Marcus Peters couldn't have been playing at 100 percent with his calf strain. But the Rams were dented for 446 total yards, 25 first downs (22 via the air), 31 points and saw Vikings quarterback Kirk Cousins hang up 422 yards, three touchdowns and a 117.2 passer rating, without an interception.
L.A.'s 247.5 passing yards allowed per game ranked only 15th in the league going into Sunday's play, the Rams defense allowed Minnesota to convert 10 of 18 on third or fourth down. At least the Rams pass pressure stepped it up, with four sacks of Cousins, doubling Los Angeles' season total to eight (or a modest 2.0 per game). At 4-0, the Rams are in great shape and looking Super Bowl-worthy so far in the NFC. But this was supposed to be an elite defense after its high-profile additions this offseason, and that bar has yet to be met.
Ridiculously Cool Football Card of the Week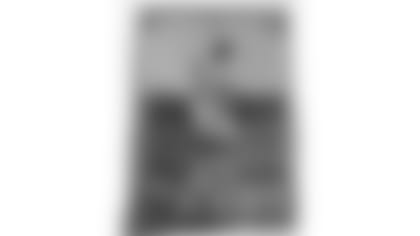 Apologies if this is a repeat entry — I really should keep a data base of my RCFCW selections — but it just seemed apt after watching the Rams' Jared Goff throw a perfect game at the Vikings in the raucous Los Angeles Coliseum Thursday night. Roman Gabriel was straight out of central casting as the Rams' star quarterback in the mid-to-late '60s and early '70s, and he was the first NFL player I ever called my favorite.
In the three-season span of 1967-69, Gabriel led the star-studded Rams to a 32-7-3 regular-season record, throwing for a combined 68 touchdowns and 7,692 yards, which were sizable numbers back in the days when establish the running game first was still the popular mantra in most pockets of pro football. Gabriel won the NFL's 1969 MVP honor — the last before merger — but somehow those Rams played in just two playoff games in that three-year pre-wild-card span, and Los Angeles lost them both, to Super Bowl-bound Green Bay in 1967 and Minnesota in 1969.
Here's Gabriel as I remember him best from my childhood, on his funky 1971 Topps, with that full head of jet-black hair, wearing those sweet white spikes. At 6-5, 225 pounds, Gabriel was a big man with a big arm playing the biggest position of all in one of the NFL's biggest markets. And if there was ever a more perfect quarterback name than Roman Gabriel, perhaps only he and Bart Starr should even be in the debate.