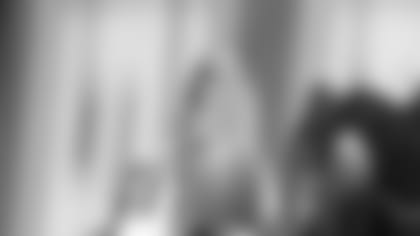 ]()
            While he isn't creating the headlines of more notable Berlin Thunder and Patriots teammate Rohan Davey, offensive linemen **Jamil Soriano** is doing many of the same things as his attention-grabbing quarterback in NFL Europe. Both players were sent across the pond to not only get a full season of game action, but also to prove to those on the North American side of the Atlantic that they could succeed on the field with other potential NFL players.  

And as with Davey, Soriano's decision to play in the spring league was pretty much a no-brainer.
"Coach Belichick called me over on the plane ride on the way back from the Super Bowl," the 6-4, 310-pound Soriano said from his Berlin hotel room. "It was presented as an option, but I felt that it was in my best interest. From the Patriots standpoint I think they really wanted to see me out here and see what I could do with some pretty good competition. I thought about it for a night or two and I thought it was my best shot at making the active roster or staying with the team for this coming season."
Just 22-years-old, Soriano entered the NFL landscape as an undrafted rookie free agent out of Harvard just a year ago. After short stints in training camp with the Packers and Bears, he came to New England via trade last Aug. 26 and spent most of 2003 on the Patriots practice squad. The Plainview, N.Y. native grew as a player on the practice fields with the Super Bowl champions and was more than ready to put that development to test against other NFL hopefuls.
"I learned a lot this past season as far as technique goes and I think I knew beforehand, going into the offseason, what I needed to work on," Soriano said. "And a big part of that was to get some game experience. You can't really work on game experience, obviously, in practice because there is no real way to simulate it. I think that was definitely one of the main things they wanted to see me get. It's something that I needed to get psychologically so I could feel comfortable or see if I could play at this next level. So far it is going pretty well."
The versatile Soriano has started each of the first five games of the season at right guard for the undefeated Thunder and is comfortable with the things he has accomplished in the trenches midway through the NFLEL season.
"I think I am playing well," Soriano said. "Obviously there are a lot of things to work on as the season goes on, but I try to eliminate at least one mistake from the previous week and try to get a little bit better each week. As a whole I am pretty happy with how things are going here. I think I am doing more than holding my own. I am pretty happy with the way I am playing. It's definitely given me a lot more confidence, especially coming into this next training camp (in New England)."
Soriano also realizes that his opportunity in New England is very real. He need look no further than to Patriots teammates like Russ Hochstein, Tom Ashworth and Brandon Gorin for examples of guys who have risen through the ranks of the depth chart to quite literally the front lines.
"If I have any problems or want to know what to expect I always talk to those guys in the locker room," Soriano said. "The first thing I noticed and probably one of the things that helped me in my transition when I was first picked up by the Patriots is that Coach (Dante) Scarnecchia takes a lot of interest in his players. He takes a lot of time with the players. He makes sure they get the right techniques down and get the assignments and it really seems that he wants all his players to succeed. So looking at those three guys that you mentioned, they are playing real well right now so it definitely gives me confidence in myself in that if I work hard also good things will happen to me too."
Along with Davey and the rest of the Patriots playing this spring for the Thunder, Soriano has helped bring the winning attitude from New England to Berlin.
"We came in here having a kind of winning attitude," Soriano said of the quick jump from being on the sidelines for Super Bowl XXXVIII to starting in Berlin. "Rohan is doing a great job leading the team and leading the offense. Chas (Gessner) is doing well as well as the other guys, (Lawrence) Flugence and Scott (Farley). They are all doing pretty well. The biggest thing about our team is that I think we click pretty well and jelled pretty well. We get along with everyone else. So we are playing good football and we have a bunch of good coaches on the coaching staff and we work hard in practice. We are taking one week at a time and hopefully we can get another ring. That's our goal right now, just to keep on winning and see if we can win another championship."
And much like most of the American players playing in NFL Europe, Soriano is taking advantage of living in a foreign land that is so rich in history. While realizing that his first priority in Berlin is to become a better football player, the off-field opportunities aren't lost on the Ivy League alum.
"This is my first time in Germany," Soriano said. "I've been to Europe once prior to this. I went to France when I was younger. I was always interested in checking out Europe and usually on the days off I try to take advantage of my free time and try to check out one historical place. I haven't been able to see too much because we only get one day a week off, but I am definitely trying to make the most of it.
"Probably the most interesting thing I've seen is when went to a former concentration camp on a team trip set up by Coach (Rick) Lantz. We went on that field trip last week and were spoken to for about an hour. They told us the function of the concentration camp and gave us a little history and background. It was definitely pretty interesting. It was kind of eerie walking on the grounds. Of course most of the buildings that were originally there during the time that it was in activity are not there presently, but they are doing a lot of renovations and they have a bunch of museums and stuff. That was a pretty interesting place to check out."
In the end though Soriano's real focus is looking ahead to a return to New England. Aware of the fact that the team already lost veteran offensive linemen Damien Woody and Mike Compton through free agency and did not select a lineman in the draft, the second-year pro knows there are jobs to be won this summer on the line in training camp at Gillette Stadium.
"I got a chance to take a look at the draft and free agent signings," Soriano admitted. "Obviously it's a good thing, at least from my standpoint it gives me a little bit more confidence going into this next preseason because they are basically giving the guys who they have a chance to show what they have and what they can do on the field. But by no means does it take any real pressure off me because if I don't live up to their expectations and play up to their expectations then they will bring in someone new. There are always people out there and so I just have to maintain my focus and play well in camp and get things done.