Just five days after suffering a serious knee injury against the Saints, linebacker Dane Fletcher was waived by the Patriots. The team also parted ways with receiver Britt Davis, giving him an injury settlement on his way out the door. He hurt a shoulder in the preseason opener versus New Orleans.
Director of Player Personnel Nick Caserio informed reporters of the move before practice, as he took the place of head coach Bill Belichick at the daily press briefing. At the time, Fletcher was still in waiver limbo, and Caserio would not confirm what was believed to be the Patriots' plan – to reclaim Fletcher and place him on their cleared injured reserve list.
"Any time that you remove a player from your roster, you designate him 'X' amount of ways," he said. "There's certain ways you can designate that player so we take all the information like we normally do and then we release the player and then we just move on."
Following practice, The Boston Globe reported that Fletcher had indeed cleared the waiver wire – meaning no other club claimed his rights – and he was placed on IR.
Fletcher's loss is certainly a hit for the Patriots in their depth at middle linebacker, but the return of Brandon Spikes, the oft-injured starter at the position, has injected some life into the last couple of otherwise lackluster sessions.
Spikes was particularly vocal on the field Tuesday, after scooping up a loose ball and reacting indignantly at himself for not knocking down a pass that sailed over his head.
"Absolutely. That's my nature. Be aggressive, be a shark – it's Shark Week [on the Discovery Channel], so, you know, of course," he joked after practice.
Spikes did not suit up for the Saints game, and his return cannot come at a better time for New England. He has missed significant time over the past two seasons, for various reasons, and now that the Patriots appear settled on a base 4-3 defense, the man in the middle of the linebacker corps – that would be Spikes – is essential.
"I feel like over time and over the years, I feel like I'm getting better, learning the differences of the defense, where I'm supposed to be and where the next guy is. Being the middle linebacker," he observed, "I've got to kind of direct guys and it's coming a lot easier this year, so hopefully I can just keep getting better."
As a unit, the defense appears to be competitive with the multi-threat Patriots offense, thanks in part to the linebacker combo of Spikes, Jerod Mayo, and rookie Dont'a Hightower. Rookie Chandler Jones has been making plays at defensive end, while the secondary has gotten a boost from free agent safety Steve Gregory and rookie Tavon Wilson.
"I think we're doing a great job. A lot of young guys are coming in, making plays," Spikes continued. "They're high energy guys, flying around [and] that's great. They're catching on to the defense and it's good, we can just build from there. So I think we're having a good camp defensively."
The Patriots made a splash in this year's draft with their high-profile first round picks of Jones and Hightower. The bar is certainly set high for the two rookies, who many expect to make major contributions to the defense in their first year in the league.
Still, Hightower knows that the transition to the NFL is not an easy one and is not something that happens over night. He said as much after Tuesday's practice, stressing the importance of the learning process and gaining experience.
"It's all about me learning; you can never learn enough right now," said Hightower. "I'm still in the back of the classroom still trying to learn, talking to Pep [Pepper Johnson] and Matty P [Matt Patricia] about everything. I'm still trying to learn, get advice from those guys as well as V [Vince Wilfork] and [Jerod] Mayo and everybody else."
With that in mind, Hightower says he can't wait for Monday night's preseason game against the Philadelphia Eagles to show his stuff and demonstrate how far he has progressed.
"I'm going with the same mindset that I always have, which is to go in and be dominant and be accountable to my teammates and do what I have to do get off the field and whatever I have to do to get the victory."
Tom Brady and the Patriots offense may have one of the entertaining passing attacks in the NFL, but the defense stole the show in Tuesday's practice. The secondary notched a total of four interceptions in team drills, and they all came at the hands of New England's safeties.
Steve Gregory got things started by reeling in a pass from Brady that bounced off the hands of Wes Welker. Gregory's back-line partner Patrick Chung followed that up with a leaping interception of Brady on a ball in the end zone intended for Julian Edelman (see today's Play of the Day for more details).
Safeties Derrick Martin and Nate Ebner also added interceptions later in practice. It was the second pick in as many days for Ebner.
After practice, cornerback Kyle Arrington noted that he was pleased with the way the defensive backfield communicated.
"[It's] huge, huge, if not the biggest factor back there," said Arrington. "We're putting a lot of hours in, that's what [this] time is for. The more we communicate, the more comfortable back there we are with one another."
If there is any time for the secondary to gel, Arrington says, it is in these next few weeks.
"This is definitely the time to do it. Just keep stringing these days along. It's tough – every day is like Groundhog's Day but it's the National Football League and that's what training camp is for."
Caserio was asked whether or not the team expected right guard Brian Waters to be part of New England's plans for 2012. The 2011 Pro Bowler is still under contract, but has yet to report to camp.
"I don't have any updates on Brian," Caserio replied.
A similar question was asked of defensive end Andre Carter, another 2011 Patriots Pro Bowler who is currently a free agent.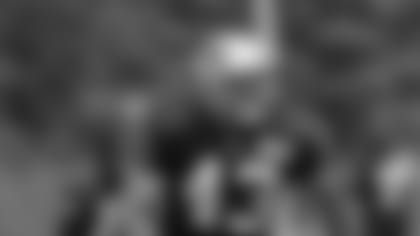 "We stay in contact with a lot of agents at this time of the year, have multiple conversations just in the event that something does come up," answered Caserio. "I would say we're no different now than we were a few months ago [with Carter]."
Buy: Nate Ebner – The rookie intercepted another pass today, his second in as many days and is contributing on the first kickoff team.
Sell: Pass catchers – With Brandon Lloyd, Rob Gronkowski, and Aaron Hernandez missing two straight sessions, the receiving corps wasn't at its best, marred by several dropped passes.
Play of the Day: Chung INT – During a situational team work period at the end of practice, Tom Brady heaved a 40-yard bomb into the end zone. The pass was intended for Julian Edelman, but he was triple-covered and the ball was slightly underthrown. Safety Patrick Chung, backpedaling, leapt up and tipped the ball to himself as he fell to the ground with the interception.