FOXBOROUGH -- Building toward the regular season is a step-like process. It begins with the offseason program, continues through OTA workouts and mini-camp and then really hits stride through training camp practices and preseason action.
On just the second day of Patriots 2013 training camp in Foxborough – by rule the second of two required days of work without pads – Bill Belichick discussed the work his team was going through in the infancy of camp action.
"We're really just in the mindset now [of] just trying to string them together," Belichick said, something his team leaders like Jerod Mayo echoed in post-practice interviews. "Take it one day at a time: take the things we did yesterday, correct them, go back over them, add new things to put in today, go out, work on those and just grind it through day by day. There's no magic wand, no special formula –just hard work, putting the pieces in place one at a time, day by day, period by period. Each guy has a lot of things that they all need to work on, we all need to work on, coaches included, at this time of year. Each of us individually is trying to address those things, take those challenges and collectively as a team pull them all together. We'll start to try to string together a few good days in camp. That's where we're at today."
Nowhere may that slow, gradual improvement be more necessary than with the passing game and the wide receiver position in particular. Six of the 12 receivers on the New England depth chart at this point are rookies. Three others are free-agent additions who are new to the system and life working with Patriots perfectionist passing game orchestrator Tom Brady.
That's a lot of learning to undergo for a team that's known for having a rather complex, adjustment-heavy passing playbook. Adding new players to that mix over the years – whether they be rookies or veterans – hasn't always been easy.
As such, Belichick was asked about potentially having to simplify the offense and the approach, at least at this point while developing a pretty green group of targets for No. 12.
"I think you always, in everything that you do, you go in with an idea of how you want to try to do it. You start on a certain course and then as you go along, you always end up making some type of modifications in some form or fashion based on the athlete's skills, the way the group fits together and what your success or lack of it might be as you start to do the things that you do," Belichick said. "Some things sometimes work out a little better than you think, sometimes not as good, sometimes about the same. That goes for each individual player and it goes for the entire group as to how they end up working together as well. It's an ongoing process; we'll deal with it day by day. As we see that the course needs to be altered a little bit, then we'll do it. If I knew how it was going to turn out...we're doing it in a way that I think will be right but I know we're going to have to make adjustments. That's the way it always is. If we knew exactly what that was, we'd start there but sometimes it takes a little time or trial and error to get there and I think that's where we're at."
Belichick acknowledged that he's overseen teams or groups that needed to have things simplified in the past, but that such a tact isn't always solely based on the age of the players in question.
"I don't think that necessarily has anything to do with experience but it could," Belichick said. "But yeah, there are times where you take things and water it down a little bit. There are other times where you expand more than where you think you're going to be or faster than you think you're going to be able to. You never know exactly. You have an idea of it, but you never know exactly how it's going to go. Sometimes it goes in stages, sometimes it starts slow and then picks up speed. Sometimes it starts at a level and then kind of fizzles out. That's part of what training camp is for, is to put a lot of training camp practice days out there together, get a lot of snaps, get a lot of reps, have a volume of evaluation and then be able to, from that volume, figure out what the best course is. That's, until you go through it all, I don't think you can really make the same type of intelligent decision that you can just trying to guesstimate how it's going to happen. There are too many variables."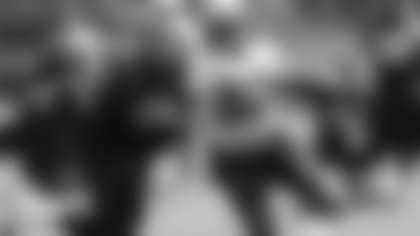 Fourth-round pick Josh Boyce missed all of the spring OTA sessions and mini-camp workouts while recovering from surgery to repair a foot injury suffered running at the NFL Scouting Combine. Through the first two days of training camp the former TCU playmaker has been full participant in practice. Though he's received mostly rotational reps and hasn't made a ton of big plays, he has shown that speed is clearly a strength of his game.
At one point on Saturday Boyce – who's sharing a room during training camp with fellow rookie Aaron Dobson -- hit stride down the hash before breaking to the left pylon. Safety Tavon Wilson dropped perfectly to defend the deep ball, but actually failed to come up with the interception, instead deflecting it into Boyce's hands for the big play. While it wasn't exactly how it was drown up, it did display the rookie's potential down the field.
Much like fans and the media, Belichick admitted he doesn't exactly know how Boyce will fit in after watching him ride the bike on the sideline for most of the spring.
"We're not much further ahead than you are," Belichick said. "He had a couple of the early camp days in there. Josh is a smart kid, he works hard. Long way to go, we'll just take it day by day. He's made certainly a lot of progress from where he was in the spring with this rehab. It looks like he's in good condition. We'll put him out there and let him compete with everybody else."
Boyce has moved past the frustration of having to sit out spring practice, and feels at least mentally he grew through the experience.
"Everything happens for a reason," Boyce said. "A learning process. I learned a lot. I'm just out here ready to go."
Tight end opportunities
While the group has a bit more experience than the receiver depth chart – both in the NFL and in the Patriots system – the tight end position also has a lot of faces vying for roster spots and playing time this summer. With Rob Gronkowski out of action while recovering from offseason arm and back surgeries – Gronk actually made his first appearance of the summer on the field wearing sweats and watching the latter half of Saturday's workout – guys like Daniel Fells, Michael Hoomanawanui, Jake Ballard, Zach Sudfeld and Brandon Ford all have a chance to prove themselves with an abundance of reps that wouldn't have previously been available.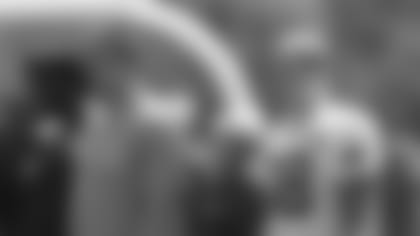 That's actually been the case dating back to spring OTA workouts.
"Unfortunately when the players that are on your team can't perform, it gives more opportunities to somebody else, wherever that is," Belichick said. "Then what those people can do with that opportunity, sometimes it comes at different levels but we've all seen it be, the people take advantage of those opportunities. I think that Mike Hooman and Zach have done that. They've worked hard, they've certainly taken advantage of the reps that they've gotten and they've definitely gotten more because some of the players that would normally be at the position weren't participating. That's good for them. I don't want to say this is Wally Pipp and Lou Gehrig, but that's the classic story. We've all gotten opportunities because of one reason or another, of something that happened to somebody who was in front of us and being able to take advantage of those opportunities is...it's there if they can do it."
Sunday's hits
Belichick confirmed that the Patriots will indeed be in full pads on Sunday for the third day of training camp practice, by rule the first the team could hold a full-contact session.
That seems to be music to the ears of many New England players, especially the bigger guys who realize the game isn't played quite the same way it looks in helmets and shorts.
"We look forward to it," Mayo said matter-of-factly. "Football is played in pads."
Slater a real leader
Belichick raved about Matthew Slater's leadership ability in his morning press conference.
"I think Matt is a real good leader – one of the best that we have," Belichick said. "I wouldn't necessarily say his style is overly vocal but I'd say he's a very good leader. I don't think that's any kind of criteria to be a leader. I think that's just a style, I don't think it's a true measure of leadership. But I wouldn't characterize his style as overly vocal, no. But I would characterize him as an excellent, outstanding leader. I think it gets better every year. He was a good leader, three, four years ago, but I'd say he's built on that and improved it up to this point. I'm sure, knowing Matt and the way he works and his diligence and his commitment to the team, I'm sure he'll continue to improve it as we go forward."
Belichick then was asked to describe what a true leader was to him, and he did so quite quickly and succinctly.
"A person that can perform his job effectively and puts the interests of the team ahead of his own personal interest."
Hall call
Tedy Bruschi and longtime radio play-by-play man Gil Santos will be inducted into the Patriots Hall of Fame on Monday in a ceremony in the plaza outside the Hall at Patriot Place presented by Raytheon. As such, Belichick was asked Saturday to comment on the two franchise legends.
"Gil had a long history with the organization and is very deserving. Tedy though, I think is just that whole different level, what he's brought to this organization. Very, very special – both his performance and the personality and the character that he brought to the team and the success that we've had during his time here has been remarkable," Belichick said. "He's played a huge, huge part in it all the way through. He was here when I came in 1996, we drafted him that year. As we all know the story of his conversion from being a defensive linemen – the two-time Pac-12 Player of the Year, Defensive Player of the Year, all that – to becoming a guy that had a totally, totally different role in the National Football League. The success that he was able to have doing that, relative to what he did in college, both at very high levels but at very different jobs. It's very unique. The energy, enthusiasm, competitiveness that he brought to this organization; the success that we had, that he was such a huge part of – there's no way that that could be understated. To me, he's one of the all-time greats that's ever played here and that's in large part because of the championships that were won while he was a part of it. There have been other great players but the team success that he was such a huge part of is really what it's all about. His impact on that cannot be understated."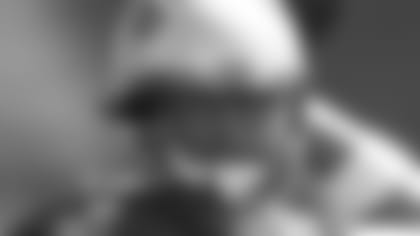 Tom Brady, Ryan Mallett and Tim Tebow all wore small video cameras attached to the sides of their helmet/face mask opposite their throwing arm. The cameras were believed to be for the use of the coaches/film staff, and not for any media purposes. It's the second new filming tool noticed this camp, in addition to filming from a ladder just behind the offense during team action. ... Former Patriots fullback Heath Evans was once again in attendance at practice in his role working for NFL Network. ... Six players from the 90-man roster did not take part in the workout. That included Julian Edelman (foot), Mark Harrison (foot), Nick McDonald, Cory Grissom, Gronkowski and Armond Armstead. ... McDonald was once again on the field in sweats doing conditioning work with the strength staff. ... Marcus Cannon has gotten a lot of early reps at right guard. Returning starter Dan Connolly has been on the field in helmet and jersey, but late in the practice on Saturday he was running with McDonald and assistant strength and conditioning coach Moses Cabrera while the offense did no-huddle work. It's possible that Connolly, who missed time this spring to injury, isn't quite back to full-health at this point. ... The Patriots will return to the field Sunday morning at 9 a.m. for a full-pads session that is open to the public. ... Undrafted rookie receiver Kenbrell Thompkins was back on the field after missing the first day of action. He made some impressive plays, but based on the extra tape on the back of his right leg he may be dealing with a minor injury at this point. ... Punt team was the area of special teams focus. Rookie Ryan Allen had a number of impressive booming kicks. Nate Ebner took the first reps as personal protector, while Leon Washington took early reps for the scout return team.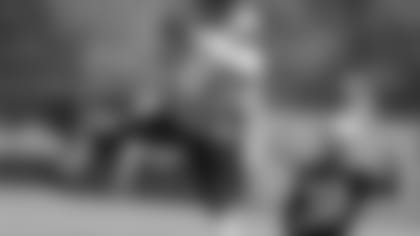 During seven-on-seven work Tom Brady looked down the right sideline for a seemingly well-covered Aaron Dobson. The quarterback lofted the ball and gave his young receiver a chance to go get it. That's exactly what the second-round pick did, leaping over No. 1 cornerback Aqib Talib for the impressive sideline grab. Dobson has easily been one of the more notable new faces on the practice field through two days.
Stock Watch
Buy: Alfonzo Dennard – A day after opening camp with the second unit and answering questions about his recent arrest, the second-year corner was back opposite Aqib Talib on Saturday. Dennard also made a number of nice plays and showed tight coverage for most of the day, including nice pass defense on a Brady throw for Aaron Dobson as well as an interception of a Ryan Mallett throw for Boyce.
Sell: Tim Tebow – From slow reads and wobbly throws to poor passes and head-scratching scrambles, the former first-round pick struggled yet again on Saturday. It's early in his time in the offense and in New England, but nothing looks quite right when the left-hander runs his group on the practice field.