With the players, coaches and general managers having already had their say at the Combine, Sunday afternoon's press conferences wrapped up with a couple NFL analysts taking center stage as NFL Network's Mike Lombardiand Mike Mayock held court at Lucas Oil Stadium.
"It's great to be at the Combine," said Lombardi, who worked in Bill Belichick'sscouting department with the Cleveland Browns.
The former Raiders top personnel man then went on to describe why the 2010 draft is considered a good one, in large part because of the talent along the trenches. Although he emphasized that the quality of a draft varies for each of the 32 teams, and what those teams do with their picks is all that matters to those organizations.
"Bill Walshused to tell us, scouts would say it's a bad draft, and he'd say, "We only need 12 players,'" Lombardi recalled when asked in general terms about the 2010 class. "So I think it's really a draft of how you get your team. When a draft is good on the offensive and defensive line, that makes it a great draft. When I look at mock drafts and I see seven receivers in the first round, that's really a bad mock draft. That shouldn't be the way it goes. You can find receivers. It's hard to find those offensive and defensive linemen. That's what ultimately wins games."
Lombardi also said he thinks Oklahoma quarterback Sam Bradford is a very good fit for a team looking to run a West Coast system thanks to his "great rhythm and anticipation and feel for the passing game."
Mayock's turn at the dais was much more about individual positions, players and the various skills of the prospects. Never shy to share his opinions, Mayock said openly that he's "not a Carlos Dunlapguy" referring to the Florida defensive lineman.
On a larger scale Mayock said it was, "the deepest group of defensive players [he's] seen in years." That includes the "deepest group of conversion guys" looking to make the switch from college defensive end to 3-4 rush linebacker.
Focusing on that position, as so many Patriots fans are at this point, Mayock said that Texas' Sergio Kindle is the top prospect. He said Kindle is "as good or better" than former teammate and Redskins Pro Bowler Brian Orakpo.
Looking at the offensive side of the ball Mayock believes that outside of quarterback and interior line spots, that it's a very good group of talent at the Combine. And wide receiver, in particular, isn't necessarily top heavy but has very good depth.
So let's summarize the opinions of the so-called experts at the Combine. Charlie Casserly called it the best first-round talent since 1983. Lombardi thinks it's a great draft because it's filled with line talent on both sides of the ball, including multiple offensive and defensive tackles worthy of top-10 picks. And Mayock says it's the best group of defensive players he's seen in years.
Sounds like a good draft. Also sounds like a good draft to have four of the top 53 selections, as is the case in the New England.
He knows from experience…
Plenty of people have offered opinions at the Combine regarding Belichick's decision to go without coordinators, at least in a titular sense, on his coaching staff in 2010. Nick Caserio, Scott Pioli, Jim Schwartzand supported the decision if it's the one that Belichick feels is best for his team.
But the guy with maybe the best insight on the topic is Broncos Head Coach and former Patriots offensive coordinator Josh McDaniels. McDaniels started as a low-level assistant in New England before moving up to position coach. After Charlie Weis'departure, McDaniels took over the play calling duties in 2005 and essentially the role of offensive coordinator, although he was not assigned the title. A year later he got the title to go along with the job description.
"I think in my history, I guess, I've been given responsibility to which I feel like I've earned. And when I wasn't given something, I just felt like maybe I didn't deserve it yet and I'd just keep working," McDaniels told a small crowd of reporters. "I think that that's the situation I know that I kind of use in Denver. If somebody, a staff member deserves something else then you give it to them. If they don't, you don't. The title in 2005 was insignificant to me. I was excited to call plays and excited to be part of the design of the offense and the game planning and all that stuff. Whether or not I had some…I've never had a business card since I've been in the NFL, so I don't know what the value of [the title] is other than you can say that. But when you are doing it and you're doing it well, you're going to get more things given to you. I think in this case, I know Billy O'Brien. Obviously I don't know the exact role he had last year. But if it was similar to the one I had, I know he did a good job."
Does the title matter when a coach is addressing his players?
"I don't think so. I really don't. I stood up in front of the defense when I was 25 years old with no title," McDaniels recalled. "As long as you're prepared and you give them something that can help them be successful, I don't think they really care about your title. They are just listening to what you are saying. And if what you are saying matters to them, I don't think they care if you're the offensive coordinator, the receivers coach or anything else."
That's why McDaniels didn't feel like he saw a change from the year with no title to the following season when he held court with his players as the official offensive coordinator.
"Not a lot changed. They didn't … I don't think they really listened or paid closer attention to me," McDaniels said. "Like I said, your preparation says everything about you and what you're about. That's what they care about. They care about trying to get better. And if you can help them get better they are all in. If you're talking and you really have no business talking then nobody wants to listen. It doesn't matter who's up there."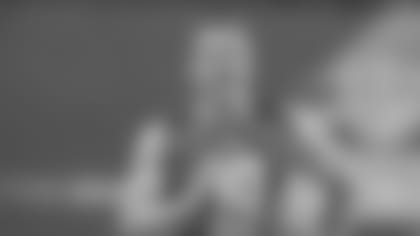 The white stuff Stanford running back and Heisman runner-upToby Gerhart **(6-0, 231) was asked about the stereotypes that come with being a white running back. His remarkably candid answer included references to a couple former Patriots.
"I was talking to John Lynch and kind of joking around because he was kind of in the same situation as a safety," Gerhart said. "I've been compared with the other 'white guys' that have played my position. I get compared to [John] Riggins,[Mike] Alstottand stuff like that. But I'm colorblind. I'm a running back. I compare my running styles to the likes of Eddie George or Corey Dillon, those type of guys."
As a bigger running back, the obvious question Gerhart needs to answer is about his speed and how his powerful game might translate to the bigger, faster defenders he'll face in NFL.
"What I put most emphasis on in my training was the 40 and that's been my biggest criticism, the speed thing," he admitted. "I plan on going out and running a good time. I don't know if it's pressure. I see it more as an opportunity to go out and compare myself with the other guys and compete."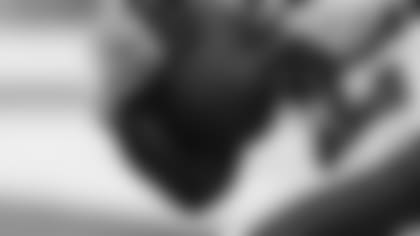 McCluster's luster? Mississippi running back/wide receiverDexter McCluster **is one of the more versatile players in the draft. At 5-8, 172 pounds he's also one of the smallest players invited to the Combine.
He said most teams have talked to him about being a running back, but he relayed that he met with the Patriots at the Senior Bowl and that the team talked to him more as a slot receiver.
"They put me at the board and had me drawing up routes," McCluster said.
"I create mismatches on the inside," he added of running pass plays out of the slot.
McCluster will also make a mark as a special teams guy in the NFL. Not only can he return both punts and kicks, but he also loved working as a gunner in college. He says he loves watching Tennessee's Chris Johnson, another guy with long dreads hanging from his helmet.
He's clearly got the right attitude and a ton of athletic talent, if not ideal size.
"Punt return, kick return, gunner, whatever, I'll do it."
Family treeEven though plenty of coaches and personnel men have left New England to pursue their own futures with other teams in recent years, they retain their ties to their Patriots upbringing. Atlanta GM Thomas Dimitroff acknowledged that factor that plays into things as the various teams go about their business, in many ways looking for players with the same makeup if not skill set. Dimitroff even admitted that he drafted wide receiver Harry Douglas a couple years ago with an eye on a Wes Welker-like role for his Falcons.
"No question about it. I was up there arguing with Pioli. We happen to have suites right beside each other. We're just talking about that very same thing," Dimitroff said. "Typically, you take all that you've learned form an organization like New England especially with as much success as we had, whether if it's on the trade side of things or acquisitions.
"I maintain that this league is about having a handful allies. I think it's very good group of us who have moved on from New England and have taken care of business in the right way. We've maintained very good allies and relationships to be able to do business i.e. like we did last year with Tony Gonzalez with Kansas City."
But that doesn't mean those who've left Belichick University feel they're making life tougher on their former boss and teacher.
"Bill Belichick does a nice job of realizing and understanding personnel matchups," Dimitroff said. "When you think you have it figured out, he'll come with a Julian Edelman. Before you know it, we are scratching our heads, thinking wasn't he a quarterback. He always tends to come up with something special. I think he's always figure something out. I don' think they'll be (wanting) for a lack of talent."
M&M boys?
Alabama linebacker Rolando McClain has turned himself into a first-round pick as an inside linebacker in Nick Saban'sdefense. At 6-3, 254 he's got an NFL build and expects to run his Combine 40 in the 4.5s. He's pretty confident as the smart leader and centerpiece of the Tide's championship defense.
But he still got nervous when he crossed paths with Belichick.
"I was nervous because of Coach Belichick," McClain recalled of their meeting. "He was there. I know him and Coach [Nick] Saban have a pretty good history. I was excited but yet I was nervous also. We just had a good conversation. We talked football. It's something I like to talk and I can talk.
McClain is versatile and some have projected he could play other positions than the middle spot he played for Alabama. Sorry, Patriots fans, that doesn't sound too likely. And why move him when he's so good at what he's done for Alabama?
"I play with a middle linebacker mentality," McClain said of the spot Jerod Mayo fills in New England. "It's what I'm comfortable with. I played the position.
"I played Mike. All Mike."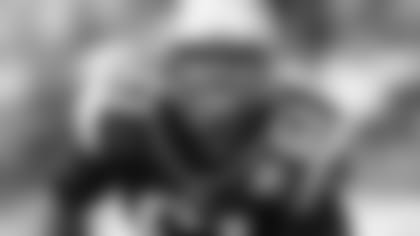 Neal next UFC champ?**
Stephen Neal is set to be a free agent. He openly discussed the possibility of retirement from the NFL in the immediate aftermath of the playoff loss to the Ravens, an idea that his agent has since aggressively shot down. There has also been speculation that the former world-class wrestler might pursue a career in the Ultimate Fighting Championship.
Comcast Sports caught up with five-time UFC champ Randy Couture this week in Indy and asked him if he was familiar with Neal. Apparently Coutre has known of Neal since the latter's days as a high school grappler.
"Out of high school, he hadn't grown yet, he was a 190-pounder," Couture told CSNNE. "Then I saw him a year later. He was huge. I got to wrestle with him a little bit when he was redshirted, great kid and he was a tremendous, tremendous athlete.
"Both in college and internationally he was a world champion. He wrestled like a lightweight. One of the things that's helped him is he has a humble, wrestling mindset. He had to work to have his success in wrestling and that's what's probably helped him make the transition to football."
In Coutre's expert opinion could Neal succeed in the octagon?
"I talked to him recently," Coutre responded to CSNNE. "Give me a little time to work with him I think he'll be tremendous. Any wrestler with the mindset that he has who works with that kind of vision will do well. I guarantee he'd have (current champion) Brock Lesnar's attention."
Notes and quotes
Former Patriots wide receiver Shawn Jefferson is currently a coach at that position with the Lions. With Detroit's staff working the Senior Bowl, Jefferson got to know many of the pass-catching prospects pretty well in Mobile. He offered some advice to Cincinnati's Mardy Gilyardon the pre-draft process. "He was telling me, Mardy, you've got to make sure you just stay out of the way. You don't need to get in any trouble. If you hang with a crew, tell your crew you'll hang with them when you have time. You got a dog and you got a girl?' I was like,Well, I got a dog. I don't have no girl.' He was like, `Well, then you need to spend all your time with your dog.'" For the record Gilyard's dog's name is Kane-O. "He's like my son." … Not surprisingly Oklahoma cornerback Dominique Franks is a big fan of Bradford. "He's like a baby Peyton Manning to me." … Oklahoma defensive tackle Gerald McCoy, who's vying with Bradford to be the potential No. 1 overall pick, pulled no punches when asked what he's going to do when he faces his quarterback at the next level. "I'm gonna kill Sam, I'm gonna kill him," McCoy joked, lamenting the times the coaches' whistle blew his chances to sack Bradford on the practice field. … McCoy, who proudly displayed his huge smile a number of times, joked about why his pro day date is different than Bradford's. "He's King Sam." … Lombardi described Notre Dame wide receiver Golden Tate, who ran a 4.36 40 to boost his stock, as having, "Wes Welker quickness and the speed to go with it." … After Dean Pees left New England there were plenty of reports and rumors that he would join McDaniels as the Broncos defensive coordinator. Pees eventually landed with the Ravens, and at the Combine McDaniels shot down those rumors as having no validity. "That was never the case at all. I had a relationship with Dean, obviously, in New England. I think it was just a case where he was kind of out there, available, we had an opening and people seemed to connect the dots, probably mistakenly. Most of that conversation, there was no fruit to it.'' … Georgia Tech safety Morgan Burnettwas a high school quarterback but knew all along he wanted to play defense in college. "I like giving the blow better than taking it." … While studying at Oxford University last fall, Florida State safety Myron Rolle attended the Patriots game against the Buccaneers at Wembley Stadium in London. "I saw every team represented there by a jersey, by a British fan, they were cheering for punts. It was fun, it was great to be there, a great stadium, great environment, great atmosphere. As far as my cohorts at Oxford, my classmates, my friends who were Rhodes Scholars they really didn't understand why I woke up at 6 every morning to train. I tried to explain to them the importance of it and why I had to go through these particular events and it still didn't make too much sense to them. So I tried to change the topic to a United Nations topic or world hunger or something like that." … Florida linebacker Brandon Spikes on his mentality toward the game of football: "I like to win but I hate to lose." And his thoughts on players who take the game for granted or take a play off her and there? "It's tragic."