Though Julian Edelman's future in New England still likely remains as a Wes Welker-like slot receiver and game changing punt returner, the third-year wide receiver's efforts in recent weeks at defense back certainly have been admirable.
They say that quarterbacks never meet on the field, but they did on Sunday in Philadelphia when a couple former college option quarterbacks met up in the red zone in the third quarter at Lincoln Financial Field.
Let's set the scene. Trailing 31-13 with 7:46 to play in the third quarter, Young faced second-and-eight from the Patriots 9. Working from the shotgun, he scanned the field and could not find a receiver. After buying some time in the pocket, the athletic quarterback decided to pull the ball down and run. He hit what looked to be a pretty wide-open middle of the field, free of Patriots defenders, before he approached Edelman 7 yards downfield. New England's slot receiver-turned-defensive back calmly broke down and wrapped himself around Young's right leg for the tackle.
Not only did Edelman's tackle stop Young 2 yards short of the end zone, but also 1 yard short of the first down sticks. It gave the Patriots a chance to continue to fight for a red zone stop, one of the keys to the defense's mild improvements in recent weeks. That ended up being important as New England stopped LeSean McCoy for no-gain on the next snap and then kept the Eagles off the scoreboard altogether as Philly went for the end zone on fourth-and-one with Young's throw falling incomplete.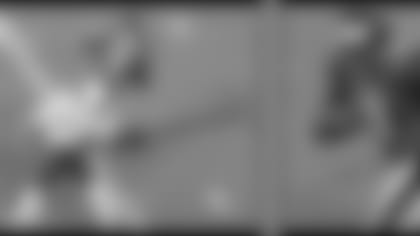 Had the Eagles found the end zone and pulled to within 31-20, just maybe they could have kept themselves in the game. But, thanks in large part to Edelman's open-field stop that probably impressed even a tackle machine like Jerod Mayo, Young and the Eagles stalled short of the scoreboard. Game, set, match.
It wasn't Edelman's first or only tackle. He finished the game with three tackles against Philly, the same as the All-Pro linebacker Mayo. He saw significant reps in each of the last two games as a reserve defensive back. He hasn't been perfect, but he certainly hasn't embarrassed himself while channeling his inner Troy Brown.
Edelman's three-way play has impressed his coaches and teammates.
"Julian's worked hard on that, he's had to keep up with what's going on on offense and also the kicking game," Bill Belichick said after the big road win. "But he's worked hard, spent a lot of extra time with [defensive backs coach] Josh Boyer and kinda splitting time between meetings, between offense and defense, and of course he does all the special teams stuff too. He's worked hard and he's really been a huge help for us."
"Julian's done a great job filling in wherever the coaches ask. It's great to have a versatile guy able to do all those things," Welker said. "It's always the more you can do in the NFL and he's living proof of that."
Edelman, who was an offensive playmaker as a running quarterback at Kent State, is just enjoying getting on the field as often as possible in New England. He's filled in for Welker in the slot in the past, has proven himself a dynamic punter returner over the last two seasons and now is putting his athleticism and physical style to use out of necessity in the New England defensive backfield.
"To be really honest I do not mind whether it is offense or defense," Edelman said of his role. "I just like being in on plays and doing what needs to be done to help us win."
With plays like his open-field stop on Young, Edelman will likely continue to see action in all three phases of the game for a banged up Patriots team that's proving yet again just how many ways there are to win as a team in the NFL.
http://polldaddy.com/poll/5711900/