David Thomas' mere presence on the practice field this week was an encouraging sign.
The Pats' third-year tight end, who's second NFL season was interrupted early by a foot injury, is still mending, but clearly making progress as he took part in New England's passing camp on Wednesday and Thursday.
He credited the Patriots training staff, particularly head trainer Jim Whalen and strength and conditioning coach Mike Woicik, with helping him recover to this point in the offseason.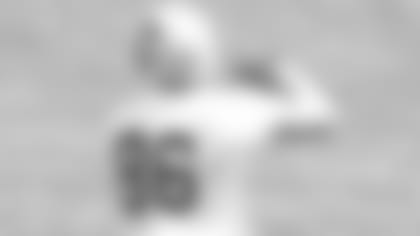 ]()"I think the offseason is important every year, whether you're injured or not. Just to work on the things that'll make you a better player. The little things," he observed. "The best thing you can do every year is just work as hard as you can in the offseason to be as healthy as you can and as strong as you can and be mentally prepared for everything."
Ironically, it was during offseason workouts last year that Thomas first injured himself. He was active for only two games (Buffalo and Cincinnati) last year before aggravating the injury – so much so that he was placed on injured reserve, ending his season when most of the leaves were still on the trees here in New England.
But having made it back on the field, Thomas wasn't interested in looking back, but ahead.
"It's always good to get back into the swing of things after you've been injured," he said. "The most important thing is to move on and look forward to being healthy. I'm just taking it day by day and just trying to get better every day and do what Jim and Mike say."
Provided he can stay healthy, this could be a breakout year for Thomas. With the release of veteran Kyle Brady, Thomas becomes the second-most tenured Patriots tight end, behind Benjamin Watson. Third-year vet Stephen Spach only joined the team midway through last season, while free agent Marcus Pollard, in his 14th NFL season, is in his first with the Pats. Rookie free agents Tyson DeVree and Jonathan Stupar currently round out the roster at tight end.
But Thomas understands that he can't take anything for granted.
Known primarily as a quality pass-catcher, Thomas will likely be asked to pull his own weight as a blocker when New England runs the ball – an area in which Thomas realizes he needs to improve.
"That's something, if you want to be a good tight end in this league, you have to be able to block and run and catch the ball. To be a complete guy, you have to do it all. So, I think it's important to work on all those things.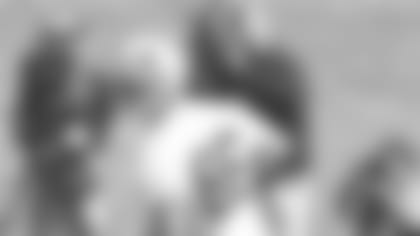 ]()"I think they always have guys ready to come in if a guy goes down or is not doing his job," he continued, "so I think the most important thing for me is to just block out who they bring in and do my best to be the best player I can be."
It was a challenging 2007 season on and off the field for Thomas, who became a father last September when his wife gave birth to their son, Jaxon. But with a new football season dawning, Thomas is grateful to have another chance to compete.
"I'm just looking forward to being on the field and getting out there day to day and having fun playing football again."