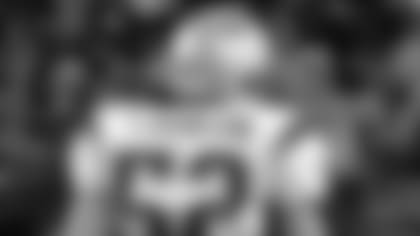 ]()FOXBOROUGH, Mass. - New England Patriots linebacker Ted Johnson has informed the team of his decision to retire, ending his NFL career after 10 seasons with the Patriots. He offered the following statement to formally announce his decision.
"It is with deep regret that I have decided to retire from football. The decision was not an easy one, but life sometimes has a timetable all its own. I can no longer ignore the severe short- and long-term complications of the concussive head injuries I have sustained over the years.
"Coming to New England 10 years ago gave me a lot more than the three Super Bowl rings I now own. I also found my family here and a strong community that has welcomed me as one of its own. I have forged strong friendships with many teammates past and present. I have had the honor of playing for some of the greatest coaches this game has ever known. I have enjoyed incredible support from the most passionate fans and had the opportunity to play a kid's game, if only for a while. I will miss every bit of it.
"The Kraft family has believed in me from the beginning. They have gone above and beyond in making me feel a part of their Patriots' family. I am proud to have been associated with the legacy they have created.
"Although it saddens me that this chapter in my life is over, I look forward to future endeavors with excitement and optimism. My hope is that I have given football as much as it has given me. Because of this game, I have been blessed with opportunities I used to only dream about. For this, I will be forever grateful.
Ted informed Patriots Chairman and CEO Robert Kraft and Head Coach Bill Belichick of his decision. They each offered the following comments.
"I am proud of all that Ted Johnson has done for the Patriots, both on the field and in the community," said Robert Kraft. "On the field, he played a very important role in helping this franchise win our first three Super Bowl titles and four conference championships in 10 years. He earned the respect of his coaches and teammates alike for his exemplary work ethic throughout his career. He earned my respect for his exemplary conduct, both on and off the field. I know that he positively impacted the lives of thousands of Patriots fans and I fully expect that he will continue to be a positive role model in our community."
"Ted informed me of his decision today and we had a good discussion," said Patriots Head Coach Bill Belichick. "Although his retirement is unexpected, we thoroughly respect his decision and support him as he moves on. It goes without saying, but Ted Johnson is a class act. He was a solid contributor to this defense and the New England Patriots organization his entire career. Ted's signature was a work ethic and toughness that were second to none. He retires a champion."
Johnson, 32, was originally drafted by the Patriots in the second round of the 1995 NFL Draft out of Colorado. He was the 57th overall player selected. The 6-foot-4-inch, 253-pound linebacker started 106 of 125 regular season games from 1995 through 2004 and was credited with 865 career tackles, including 576 solo stops and 11.5 career sacks. He recovered seven career fumbles, while forcing six and had 21 career passes defensed, including one interception. He also started seven of 14 playoff games for the Patriots, adding an additional 62 tackles and 2.5 sacks in postseason play.
In 2004, he started 15 of 16 games at inside linebacker and finished third on the team with 112 total tackles (74 solos), including a sack. His 15 starts were his most since 1997. It was the fourth time in his 10-year career that he eclipsed 100 tackles in a season and was the most since he recorded a career-high 142 stops in 1998. Last season he registered eight or more tackles in seven games, including a season-high 14 stops at Pittsburgh (10/31/04). Johnson's single-game career high came in 1998 when he amassed 17 tackles against the Buffalo Bills (11/15/98) and he recorded a pair of sacks in three different games during his career; vs. Baltimore (1/2/00), at New Orleans (10/4/98) and vs. the N.Y. Jets (9/14/97).