FOXBOROUGH, Mass. - Alicia Miranda and her father, Gabe, stepped through the threshold and were greeted by the sounds of a roaring crowd and Ozzy Osbourne's "Crazy Train." Just like their beloved Patriots bursting through the tunnel on game day, The Hall at Patriot Place presented by Raytheon welcomed fans for the first time on Monday with the feeling of running onto the field on Sunday.
After standing in line for more than an hour, the Mirandas, natives of New Bedford, Mass., were the first to scour The Hall's collections and relive the story that is the history of football in New England.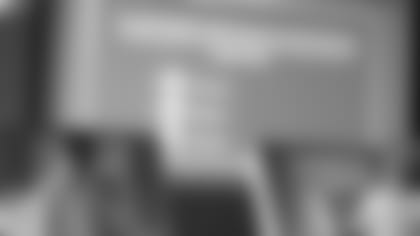 ]()"It's awesome, just awesome," said Gabe Miranda while strolling through the exhibits.
Skip Forsburg and his wife, Bridget, traveled all the way from Ohio to behold The Hall on its first day. The couple flew in to take in Saturday's inaugural Patriots Hall of Fame Induction ceremony, followed by Sunday's Patriots-Dolphins game.
But how did someone from the middle of Browns and Steelers country end up a devoted fan of the Patriots?
"I grew up idolizing Steve Grogan. It was 1976; that team that made the playoffs for first time in all those years really got me hooked. It was just their toughness. They played hard and they were fun to watch. I've been hooked ever since."
As the Forsburgs perused The Hall and reminisced about the Spirit of '76, Stu Campbell, of Hartland, Vermont, was transfixed by the "In the Numbers" game, presented by Raytheon. Patriots mascot Pat Patriot hosts the interactive game show where football situations are the basis for math and science trivia questions.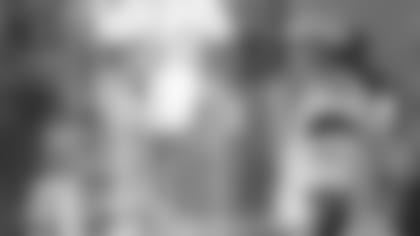 ]()"I've been a math tutor for many years," said Campbell as several youngsters tried their wits in the game. "And this is just terrific. It's so hard to get kids involved with math. You can give them an assignment out of a workbook, but it's not fun for them. This is just great."
The journey continued throughout The Hall's 36,000 square feet and two stories, until visitors reached its end: the Patriots' three Lombardi trophies.
"It's just amazing to see how far the team has come, from the old stadium to today," Gabe Miranda said.
Tickets are $10 for adults, $7 for seniors and military, and $5 for children 5-12. Children 4 and under are admitted for free. The Hall is open between 10 a.m. and 5 p.m. from Monday to Friday, 10 a.m. to 9 p.m. on Saturday, and 10 a.m. to 7 p.m. on Sunday. Please note that The Hall is not open during Patriots home games.