Much has been made of Bill Belichick's decision to open camp with seven straight days of double sessions. The players have certainly bought in and arrived ready to go over the first couple of days.
But there were some signs of fatigue for the first time during the Saturday afternoon workout as the players seemed to be dragging just a bit as they went through their paces. Belichick stopped the proceedings once to address the team for about a minute during a team period midway through practice. Later during some hurry-up work that seemed neither hurried nor up in terms of tempo, the coach convened the team again and brought the practice to halt.
That came at 5:20 p.m. so it's possible that practice was due to end at that point, but it certainly appeared as if the players were showing some signs of wearing down. Greg Lewisleft a drill at one point and spent time with trainerDave Granito, who placed a wet towel around the receiver's head.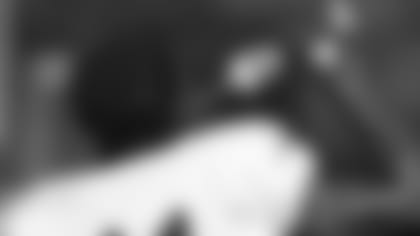 ]()Six practices may not seem like much, but the intense heat they've been conducted in has made the conditions less than ideal, and the short work period in which they've taken place also can't help matters.
All in all the performance has been pretty solid for the most part. The passing game has looked good at times and the running game has enjoyed some success, particularly in 9-on-7 drills during some of the morning practices. The defense has had its moments as well, particularly the secondary.
It will be interesting to see if Belichick felt the team was dragging and if so if he chooses to alter the schedule a bit going forward. They're scheduled to go at it again for two sessions on Sunday and we'll get a better read on how that stands then.
Who's hot: Eric Alexander – The linebacker has showed his versatility by playing inside and out during his career and he made some plays in pass coverage on Saturday. He came up with a terrific interception during a one-on-one drill against Chris Baker, stepping in front of the tight end and making a difficult catch look easy. He also forced a fumble (again against Baker) after allowing a short completion.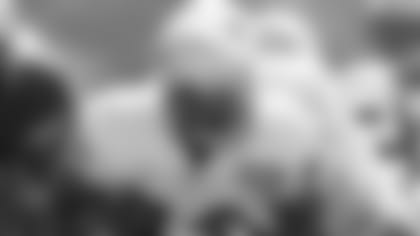 ]()Who's not: Fred Taylor –** The veteran back has looked good thus far in camp, catching some passes and showing a nice burst through the holes in 9-on-7 drills, but pass protection doesn't appear to be a strength. He was bull rushed by Jerod Mayo in a one-on-one drill, and then got caught lunging in his next couple of attempts, winding up off balance and out of position.
Play of the day:It was just a meaningless drill but Randy Moss never ceases to amaze his audience. The quarterbacks and receivers do a daily drill where five players go out on patterns and each has a pass tossed in his direction. On this rep, two quarterbacks threw to Moss, but that was no problem as caught the first conventionally, put the ball under his left arm and then reached up with his right hand to snag the other.
The Patriots announced their 50th Anniversary Team, selected by the Hall of Fame nomination committee of writers, television and radio broadcasters and team employees during a meeting back in March. Look for more on the team during Saturday's edition of "Patriots Today" on patriots.com. Here's a look at the members of the team:
Offense
OT Bruce Armstrong
OT Matt Light
G John Hannah
G Logan Mankins
C Jon Morris
TE Ben Coates
WR Stanley Morgan
WR Troy Brown
WR Irving Fryar
QB Tom Brady
RB Jim Nance
RB Sam Cunningham
Defense
DE Julius Adams
DE Richard Seymour
DT Houston Antwine
DT Vince Wilfork
OLB Andre Tippett
OLB Mike Vrabel
ILB Steve Nelson
ILB Nick Buoniconti
CB Mike Haynes
CB Ty Law
S Fred Marion
S Rodney Harrison
SpecialistsKicker Adam Vinatieri
Punter Rich Camarillo
SpT Mosi Tatupu
KR/PR Kevin Faulk
CaptainWR/K Gino Cappelletti
Head coach
Bill Belichick
Outside linebacker Adalius Thomasknows a thing or two about shirts. He is, after all, the force behind the ever-popular 'Humble Pie' T-shirts that made their way through the New England locker room over the last couple years.
On Saturday Thomas wore another special edition T-shirt under his pads and during media interviews, although this time around he wasn't quite sure of the meaning behind it. Across the chest of the blue shirt read: 'Fluff the Whalen.com.'
"I have no idea. It was in my locker. I put it on," Thomas said simply.
What he did know was that the Whalen in question was indeed Patriots trainer Jim Whalen. Attempts to log on to the potential site were unsuccessful as it appears no such web site exists.
"It is him," Thomas confirmed. "I think it was a joke that one of his trainers played on him. It's in my locker, so I'll wear it."
Count Thomas among those pleased to see Vince Wilfork on the field and in the middle of the Patriots defense.
"Yeah. Any time all the people are here and you are working on getting better and all your parts are here it always works better," Thomas said. "So that's always an important part of the process."
With Moss back on the field for what has become his normal afternoon appearance, fellow wideout Joey Gallowaytraded places with him, sitting out practice No. 2 after taking part in the morning work. Others missing the late practice included Tom Malone, Jonathan Wilhite (who's now missed three straight practices), Tedy Bruschi, Al Johnson, Stephen Neal, Ryan O'Callaghan, Matt Light, Benjamin Watson, Myron Pryor and Richard Seymour (who has been missing since the first practice of camp). There were no changes to the NFL/PUP lists.
Brian Hoyer, who previously hasn't gotten many regular reps, followed Tom Brady in a couple of drills during the afternoon practice, the second of which was running the hurry-up offense. Hoyer threw some accurate balls but appears to lack the arm strength of the other three quarterbacks. … Mayo continued the aggressive, physical style he showcased in the morning by throwing his weight around a couple of times. First he shoved Laurence Maroneyto the ground on an incomplete pass near the sideline, then he tackled Kevin Faulk on a draw play during down-and-distance work. Mayo looks like a beast out there. … With Light and Neal again missing, rookie Sebastian "Sea Bass" Vollmer and first-year player Ryan Wendell took their spots at left tackle and right guard, respectively. ... According to profootballtalk.com, the Patriots worked out former Dolphins quarterback Cleo Lemonon Friday, and a Saturday report on ESPN.com said the team is expected to sign him on Saturday.