The 2012 NFL Draft saw a whirlwind of trades take place in the first round. As we get closer to the 2013 event, it's only natural to wonder who will be wheeling and dealing this time around.
The 2013 NFL Draft lacks star power at the top of the board, but it boasts fantastic depth. Thus, several teams -- starting with the Kansas City Chiefs at No. 1 -- would love to move down and stockpile picks. The only problem is finding a trade partner, as teams only want to make a move when there's a prospect they want and can't pass up.
Based on what I know and what I'm hearing, I took a quick stab at identifying three teams that could trade down and three teams that could trade up, along with a group of prospects who could spur movement.
Philadelphia Eagles:** Philly already addressed several of its needs in the offseason. The Eagles added experienced starters to all three levels of their defense via free agency. The offensive line should be drastically improved, as long as key players like Jason Peters and Jason Kelce return to form following injuries in 2012. There is still a question mark at quarterback, but there isn't a glaring weakness at another position that could only be addressed with the fourth overall pick in the draft. The Eagles could easily slide down a few slots and still get an impact player who fits into their new defensive scheme.
Cleveland Browns: The Browns entered the offseason with a glaring need at outside linebacker and proceeded to nab free-agent upgrades Paul Kruger and Quentin Groves. They still have a major need at cornerback, but defensive back is shaping up to be a very deep position in this draft. If the Browns are in love with Alabama CB Dee Milliner, they likely will stand pat at No. 6 with him in mind. However, if they don't view Milliner as an "elite" cover corner -- or if he's no longer on the board when the Browns' turn comes up -- it would make a lot of sense for them to bail and make an effort to recoup the second-round pick they forfeited when they selected Josh Gordon in the supplemental draft this past summer.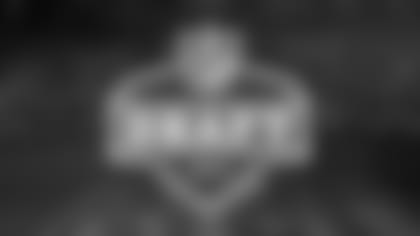 New England Patriots:** The Patriots are no strangers to trading down in the draft; they have mastered the art of accumulating extra picks while still staying within range of their targeted players. This is a unique situation for Bill Belichick's squad. The Pats currently possess just five picks in this draft. I would be very surprised if they didn't add to that total by dropping down a few spots in either the first (where they have the No. 29 overall pick) or second (No. 59) round.
Miami Dolphins: Miami has been one of the most aggressive teams during the offseason. Clearly, the main focus is upgrading the talent around young quarterback Ryan Tannehill. The Dolphins brought in Mike Wallace, Brandon Gibson and Dustin Keller. However, they failed to re-sign Jake Long, their starting left tackle. There are three top-tier LT prospects in this draft: Luke Joeckel, Eric Fisher and Lane Johnson. I don't see any of the three dropping to the Dolphins at No. 12. They could, though, target Fisher with the Eagles' No. 4 pick, or possibly Johnson with the Browns' No. 6 selection. They have plenty of extra picks to make a move happen.
Minnesota Vikings: The Vikings are coming off of a season in which their passing attack ranked 31st in the NFL. They can't rely on Adrian Peterson to shoulder the entire offensive load for a second straight season. During the offseason so far, they've lost one major weapon (trading Percy Harvin to the Seattle Seahawks) and picked one up (signing Greg Jennings). They still have a pressing need at the receiver position. All signs point toward the St. Louis Rams selecting a receiver with one of their two first-round selections (Nos. 16 and 22). The Vikings also have two first-round selections (Nos. 23 and 25), but they will have to wait in line behind St. Louis. I could see the Vikings seeking to move just ahead of the Rams to secure their top pass-catching target in the draft.
San Francisco 49ers:** The 49ers are right on the doorstep of winning a championship. Despite some key losses in free agency, they still possess one of the most talented rosters in the NFL. And they have an astounding 14 selections in the upcoming draft. There is no way 14 rookies will be able to make this roster. It makes sense for general manager Trent Baalke and Co. to either trade a few of this year's picks for future selections or aggressively package some picks and move up for an impact player. After the Niners lost two starting defensive linemen in free agency (Ricky Jean Francois and Isaac Sopoaga), it shouldn't be out of the question that they would make an aggressive move into the top 15 if a player like Star Lotulelei slides.
Eric Fisher and Lane Johnson, offensive tackles: All signs point toward the Chiefs selecting Joeckel with the first overall selection. If that does indeed happen, Fisher and Johnson will be the only surefire Day 1 starting left tackles remaining on the board. Teams like Arizona (No. 7 overall pick), San Diego (11) and Miami (12) have a desperate need at the position and could look to move up for one of these two players.
Tavon Austin**, wide receiver: No player in this draft has helped himself more during the postseason. Austin blazed a 4.34-second 40-yard dash at the NFL Scouting Combine and followed that up with a sensational field workout in Indy. He then wowed NFL evaluators with his pro day performance. He is the most dynamic offensive weapon in this draft. He has secured first-round status and could be a trade-up target for several teams picking from the middle to the bottom of Round 1.
Dee Milliner**, cornerback: Milliner might not be in the same class as some of the elite cornerbacks we've seen enter the draft over the past few years, but he's widely considered to be the best cover man in this year's crop. With the NFL continuing to lean heavily on the passing game, a player like Milliner could garner interest from many teams looking to move up and acquire his services.
Sheldon Richardson and Star Lotulelei, defensive tackles: This draft is loaded at defensive tackle. Usually, quality depth at a certain position limits the potential trade-up scenarios, but these two players could alter that thinking. Richardson is an ideal 3-technique for a team that runs the 4-3 defense; Lotulelei is an ideal 5-technique for a team that employs the 3-4. If either player were to slide, teams with a need at either of those spots could be compelled to make a move up the board.
---