If one player has stood out to date in camp, certainly on the defensive side of the ball, it's outside linebacker Adalius Thomas.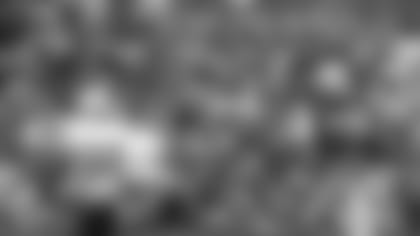 ]()Entering his third season in New England the former high-priced free agent addition has shown up in seemingly every workout. On day one it was knocking Sammy Morris to the turf with a thunderous shoulder in an interior running drill. The second day the highlight was an effort play that had the 10th year veteran coming from his backside outside linebacker position to try to chase down wide receiver Greg Lewis on a successful screen pass.
Through two-plus days of summer action in full pads in Foxborough Thomas has displayed an impressive energy that's made him seemingly unblockable as he's found his away to or around the football nearly every time he's taken the field.
"Leading is more than talking. So you just go out there and just try to practice like a game situation. In a game, you would chase him if that's the case," Thomas said of the Lewis play before adding with a laugh, "I wish he'd have stopped."
But Lewis didn't and neither did Thomas.
"So you try to catch him," Thomas continued. "That's just our game tempo. It's a conditioning thing. You are running; you have plays after that. I guess you lead by example in some shape, form or fashion. But at the same time it's just getting to the ball and that's one thing we want to do is get to the ball."
Thomas is getting back to football after missing the final seven games last season with a broken arm. He finished the year with 35 tackles and was second on the team with five sacks. He said his arm "feels good" and he hasn't worn any sort of added protection on it to this point in summer workouts.
But in the wake of the trade that sent mainstay outside linebacker Mike Vrabelto the Chiefs last February, a healthy Thomas returns to a group that's a bit different than the on he left last fall.
Don't expect Vrabel's absence, though, or the relative youth lining up opposite him vying for the spot held by the former All-Pro to change how Thomas approaches his role on Bill Belichick's defensive front.
"My job didn't change," Thomas said of not feeling any sort of pressure to step up this summer. "Regardless of who's here, that's part of the NFL. Every team loses somebody, somewhere, sometime. No team is the same. So my responsibility hasn't changed from last year to this year. It's still the same."
In fact while he may now be the veteran presence at outside linebacker and the most likely, proven playmaker in the group, Thomas is still focused solely on his own job and nothing more. That means he's relatively unaware of competition that's going on at the other outside linebacker spot between Pierre Woods, Tully Banta-Cain and, at some point if he can get off the PUP list and on the field, second-year player Shawn Crable.
"I have no idea," Thomas replied when asked how the young players looked. "I don't really watch them like that because I'm in there worrying about doing my thing and trying to work on myself coming back off an injury. So I don't really try to worry about anybody else. I let the coaches and general manager and all the scouts do all the scouting."
One of the many Pro Bowl linebackers that Ravens have produced in recent years, Thomas has yet to play up to that level for an extended period in his first two seasons in New England. He spent time starting on the inside in his first season as a Patriot in 2007 and injuries derailed him from a potential double-digit sack campaign a year. As such, he doesn't believe Patriots Nation has seen the best he has to offer at this point.
"No, I don't think so," Thomas said. "I think you just have to…that's what training camp is for is coming out here and getting better and doing the things you need to do as far as fundamentally and once you get better at that then you can grow from there. So working on fundamentals and trying to work on all the different things from hands, eyes and feet. Just trying to work on it every day."
In doing that work, especially with the contagious energy he's brought to the full-pads action early in camp, Thomas is pacing a group that's in need of leading. With Pro Bowlers and team leaders like Vrabel and the now-retired Rodney Harrison no longer on the roster, a Patriots defense that struggled mightily at times last fall is a work in progress this summer. So far, Thomas has been leading the charge on the field as the unit builds a foundation for potential regular season success.
While some may be doubting New England's defensive unit as the weak link on an otherwise Super Bowl-caliber team -- that it may lack the intimidation and playmaking abilities that Vrabel and Harrison brought over the years -- Thomas isn't in that group.
"People are going to think whatever they want to think," Thomas said confidently. "But all the speaking is done on Sunday. Not in the paper. Not early. That's what training camp is for, to get our here, to try to be physical and establish yourself and figure out what kind of identity you are going to have."
Based on the first few days of training camp 2009, it looks like Thomas is going to establish himself as a big part of the defensive identity in New England this fall.