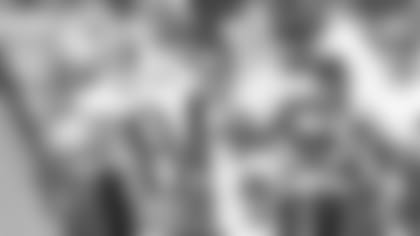 ]()When the Patriots used two first-round draft picks on tight ends Daniel Graham and Ben Watson, most fans figured the duo would be a big part of the Patriots passing game. So far this season, that hasn't been the case.
After four weeks, the trio of Graham, Watson and Christian Fauria have accounted for only seven catches for 113 yards. Despite their lack of receiving numbers, Bill Belichick thinks the tight ends have done what has been asked of them so far this season.
"I think it's been pretty competitive," Belichick said when talking about the play of his tight ends this season. The Patriots coach went on to say, "A lot of times backs and tight ends are involved in different aspects of the game. They're involved in protection. They're involved in outlet routes. They're involved in routes that go down the field. Whatever their role is, than that's what they have to do."
Belichick isn't concerned about the low reception total from his tight ends this season, pointing out the passing game isn't designed around any one player.
"The passing game is not designed to go to any one player, in any one position," said Belichick. "Sometimes you get a situation one week where one guy catches a lot of passes and you get a situation another week where it's somebody else. It's just not orchestrated to all go to one player."
At this point last season, the tight ends had a total of 17 receptions and appeared to be a bigger part of the offensive gameplan. Although he is in his second season, Watson is, for all intents and purposes, still a rookie after sitting out a majority of his first year with an injury. Since Watson is new to the offense, it's taking some time for him to build chemistry with quarterback Tom Brady.
"He's certainly building his relationship with Tom and trying to improve as a player on a lot of different levels, overall understanding concepts and experiencing them," Belichick said of Watson on Thursday. "He's a smart kid. I'm not saying he doesn't understand it, but understanding and applying and reading the same thing as the quarterback is reading on certain coverages and certain looks."
Even though he hasn't been a focal point of the Patriots passing attack, Watson isn't complaining. He is accepting his role in the offense and doesn't plan on asking Brady to throw him the ball more. "I've never played quarterback so I am not going to tell him [Brady] how to play quarterback," Watson said.
The passing game is the least of the Patriots worries right now. The team currently ranks third in the NFL in passing offense, even with little production from the tight end position. They may have started the year off slow but it's only a matter of time before the threesome of Watson, Graham and Fauria makes its presence known in the Patriots offense.
Dome sweet domeThe Falcons have enjoyed a big home field advantage at the Georgia Dome since Jim Mora took over in 2004, going 9-1 at home. Since the start of the 2004 season, the Falcons fans have helped cause 29 false start penalties by opposing offenses because of crowd noise.
The Falcons also jump on opponents quickly in the Georgia Dome. They have outscored their opponents 55-3 in the first quarter since the start of last season. Getting an early lead allows the Falcons to pound away at defenses with their power running game. This is something the Patriots will have to try and avoid come Sunday. Another thing the Patriots need to be weary of is turnovers. In their last 10 home games, the Falcons have recorded 42 sacks and forced 15 fumbles.
Patriots and Falcons connectionsLarry Izzo and Falcons running back Warrick Dunn both took part in an NFL-sponsored USO tour to visit US troops stationed overseas this past spring…Watson, Richard Seymour and Patrick Pass all played their college football at the University of Georgia…Falcons fullback Fred McCrary was a member of the 2003 Patriots, starting three games during that Super Bowl season…Falcons cornerback Christian Morton was drafted by the Patriots in the seventh round of the 2004 NFL Draft…Tight end coach Pete Mangurian was a member of the Falcons coaching staff from 2001-2003…Falcons running back coach Ollie Wilson is a native of Worcester, Mass. and served as the offensive coordinator at Northeastern University from 1976-82.
Notes
The Patriots will play in a dome for the first and only time this season when they head south to face the Falcons on Sunday. The Patriots are 8-2 in domes under Belichick and currently own an eight game winning streak. The Patriots have not lost in a dome since Thanksgiving Day, 2000 when they fell to the Lions 34-9…The Patriots have won 12 out of their last 14 games against the NFC, including the last two Super Bowls…Adam Vinatieri has never missed a field goal in an indoor stadium that has artificial turf. He is a perfect 34-for-34…Troy Brown needs one reception this week against the Falcons to pass Ben Coates for second place on the Patriots all-time receptions list. Brown currently has 490 receptions. Seymour missed part of Thursday's practice and is still listed as questionable for Sunday's game.