CANTON, Ohio – When a golfer wins the Masters, he receives the traditional green jacket. Not to discount the importance of that presentation or the prestige of the competition, but the Masters is one tournament. The Pro Football Hall of Fame's gold jacket signifies a lifetime's worth of pain and passion and a career-long legacy of pride and perseverance.
For Andre Tippett, the weight of the gold jacket's significance is nothing to scoff at. In the weeks leading up to this weekend's festivities, he listed the jacket presentation and the Hall of Famers-only pre-enshrinement luncheon as the two events he was most anticipating outside of the actual enshrinement ceremony this weekend.
Tonight, with nearly 4,000 spectators and fellow Hall-of-Famers packed into the Canton Memorial Civic Center, Tippett finally received the coveted gold jacket at the Enshrinees Dinner.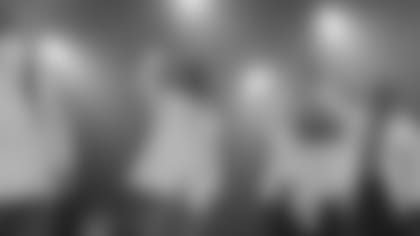 ]()After everyone had eaten, Ashanti Murdock, a member of the Pro Football Hall of Fame Queen's Court, escorted Tippett onto the centrally located stage. Tippett was introduced fifth in tonight's alphabetically ordered introductions, and according to tonight's announcements, he'll also be presented fifth tomorrow.
Then, each of the other Hall-of-Famers in attendance was introduced to the class of 2008, one-by-one, with special interactions taking place between Tippett and his former Head Coach Raymond Berry, as well as his former teammates Mike Haynesand John Hannah.
A highlight video of Tippett's career compiled by NFL Films was played. Then he was introduced, approaching the stage with Patriots Chairman and CEO Robert Kraft. NFL Commissioner Roger Goodellhanded the gold jacket to Kraft.
Tippett slid it on coolly and smiled from ear to ear, waving to the crowd. The jacket settled into place as if it had always belonged there, and rightly so.[