If you could ask Tom Brady anything, what would it be? Would it be about his favorite play of all time, or what his career would be if he didn't play football? Nine Make-A-Wish children got that chance when they sat down with Tom Brady on Wednesday morning.
Before getting the chance to chat with Tom, Nick Arruda, Ramon Bustamente, Chad Chlebowski, Sebastian Diaz Palmero, Shravya Kallakurchi, Parish Mahoney, Colson Ross, Gabriella Salemme and Gabriel Triguis could not contain their excitement as they stepped into the visitors' locker room with eyes wide open and smiles the size of the stadium field. There they found customized jerseys and prepped for their time with the quarterback.
Families from across the country made their way to Gillette Stadium with Make-A-Wish Massachusetts and Rhode Island. They were greeted by Tom in the Optum Field Lounge as they snapped photos with the five Lombardi Trophies.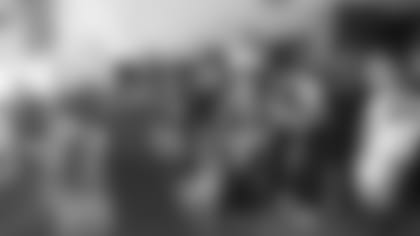 The group sat down with Tom and watched clips of the previous season, while Tom narrated his thoughts on the Super Bowl.
Tom then chatted about the AFC East and asked the kids questions about each opponent. It was then that nine-year-old Sebastian talked about the Patriots playing the Chicago Bears.
"They're not in our division," Tom said. "We haven't played them in a few years. Maybe if we make it to the Super Bowl, we'll play them.
"Hopefully, it's hard to do" Tom quickly joked when a parent wondered why he said "maybe."
More questions. Tom talked about why he looks at the big screen to review the previous play, how the football is like a hot potato and he has to get rid of it quickly and, what he would do if he wasn't a professional athlete.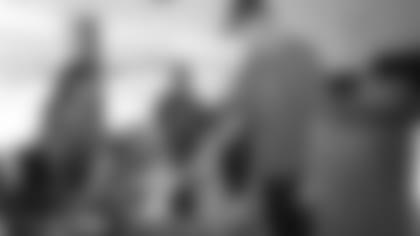 "You know, I don't really think about it," Tom said. "I love football so much I didn't really think of a back-up plan."
After Tom answered everyone's questions, they headed out onto the patio by the field and took some photos with him before they headed over to Patriot Place for some lunch. "I loved everything," said Sebastian, who flew up from Miami, Fla. "It felt like a dream come true."
To hear some of Tom's answers, check out the Patriots Snapchat story and take a look at the gallery below for more photos.
Full Gallery
Patriots QB Tom Brady met some of his biggest fans and made the dreams of nine children come true during a Make-a-Wish event on Wednesday, July 26, 2017. In addition to meeting Brady, the kids got a tour of Gillette Stadium and were treated to autographed jerseys, photos and other gifts.