The New England Patriots' Tom Brady, Green Bay Packers' Aaron Rodgers and Cincinnati Bengals' Andy Dalton each came through when the moment called to contribute to thrilling wins in Week 6. Read up on this week's nominees and then cast your vote for the GMC Never Say Never Moment of the week.
NEVER SAY NEVER MOMENT NOMINEES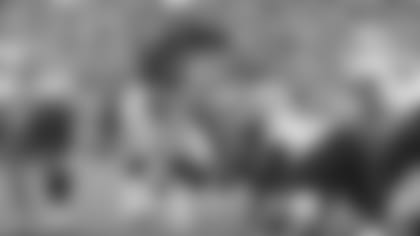 Tom Brady, New England Patriots**
Brady leads stunning late-game comeback: New England Patriots quarterback Tom Brady connected with undrafted rookie receiver Kenbrell Thompkins for a 17-yard touchdown with five seconds left in the game to earn a shocking 30-27 win over the previously unbeaten New Orleans Saints. The scoring play capped a 70-yard drive in which the Patriots marched down the field with no timeouts after getting the ball with just over a minute to play. The Patriots also managed to win despite Brady throwing an untimely interception after the Saints took a 27-23 lead with two-and-a-half minutes remaining.
Aaron Rodgers, Green Bay Packers
Rodgers, Packers win without two top receivers: With an injury-depleted defense and a suddenly thin receiving corps, the Green Bay Packers managed a narrow 19-17 road win over the defending Super Bowl champion Baltimore Ravens. Quarterback Aaron Rodgers delivered the decisive blow late in the third quarter, a 64-yard touchdown to Jordy Nelson. The Packers had lost two of their top receivers -- James Jones and Randall Cobb -- to injury in the game, but 120 yards rushing from rookie Eddie Lacy helped make up for the loss of offensive production. The Packers' win ended the Ravens' 14-game home winning streak against NFC opponents.
Andy Dalton, Cincinnati Bengals
Dalton, Bengals work overtime to top Bills: Cincinnati Bengals quarterback Andy Dalton ended a two-game touchdown drought, throwing for three touchdowns as the Bengals earned a 27-24 overtime road win against the Buffalo Bills. The Bills rallied in the fourth quarter after being down 24-14 entering the period. After the Bengals' opening drive in overtime didn't result in a score, Kevin Huber's punt pinned the Bills deep in their own territory. A three and out set up the Bengals nicely for Mike Nugent's 43-yard game-winning field goal.