Q:** What does someone like Shane Vereen bring to the field that maybe someone else can't?
TB: He's a very dependable, consistent player. The more of those guys you have on your team, the better you are. He's really been that and played a really important role for us the last few years. Whenever he's back out there, whether it's this week, next week, the following week, we'll be excited to have him but those things are kind of out of my control. But he's a really good player for us.
Q: Can you talk about the Carolina defense and what they bring to the table?
TB: They've won five straight. They're a great team – defense, everything. They have every stat, every category: third down, red area, sacks, they turn it over. They have it all. They're one of the best defenses in the league. We have to play really well. I think our execution has to be at its best. It'll be fun. It's Monday night. It's getting later in the year. These games are more and more important. We'll see what we can do.
Q: You haven't played this team in four years. You can watch all the film you want but is it a situation where until you get out there against the players that you can really judge what they do? Does it take on the field time to get used to it?
TB: You try to anticipate the speed and so forth, their playmaking ability and they have a lot of really good players. So, you do the best you can to simulate that in practice. They're good for a reason, because the players make the plays when they need to make them. Their coach has a lot of confidence in them, as he should. They played a great game last week against San Francisco and really stopped the 49ers offense. They've stopped a lot of offenses this year. We have to put together a game plan and we have to go out there and try to execute it. It has to be a really solid game plan and we have to go out and have a great, solid night of execution. You just can't give them plays. False starts, missed opportunities, needless things to happen, really kill you against this team. They really thrive on those things.
Q:** How much can you build off what you guys did in the last game against Pittsburgh?
TB: Well, it's a different week for us. It's a different team, matchup – everything is different. This week is an entirely different thing and we have to bring the same approach. They challenge you in different ways; different than probably any team we've faced all year. We have to really step up and meet the challenge.
Q: Are there things you did well against Pittsburgh that you previously struggled with that maybe you feel like that day was a major step forward for you? Are there things within what you guys do that you did well on?
TB: We struggled at different times, different reasons and different things: third down, red area, things like that. We're trying to make improvements in all those areas. This isn't a game where you can really not be good in those areas. You can't turn it over, you can't have negative plays. Everything we talk about, keys to winning the game – they lead the league in time of possession, second in scoring defense. There are no shortcuts, it's just us going out and executing the plays that are there. There's really great execution that we need to have. I don't think there's anything that happened in September that can influence this game or last week for that matter, it's really about this week and what we wind up doing on Monday night.
Q: In what way do they challenge you differently than other defenses you've faced so far?
TB: They have different strengths than the other teams that we've faced. They have a very good team. They rush the quarterback. That tandem that they had last year, is the same group they have this year that led the league in sacks from those two positions: [Greg] Hardy and [Charles] Johnson, and then [Mario] Addison is a great rusher. They have a great front. They rotate all these guys in. they can all rush the quarterback and they've got linebackers that can tackle, [Luke] Kuechly is a great young player and makes tackles everywhere. If you miss a throw, it's usually an interception. You just have to know the challenge, know what it takes, 60 minutes of great football. You're not just going to go in there and put together 30 good minutes and think you're going to win. We have to play well all night.
Q: Does the fact that the Panthers have won five straight, does that get you extra excited?
TB: Monday Night Football, we don't have many of those. This is our only one this year. It will be a fun night. It will be a great atmosphere down there for football. They're going to be fired up, we're fired up. That's the way it should be, it's football in November. [They're] one of the best teams in the NFC playing right now, they've won five straight. [They're] playing well on offense, playing well on defense, they have good special teams. We feel like we have a pretty good team, so we'll see how it turns out.
Q: What jumps out to you about Luke Kuechly and is there a comparison to be made across the league to another linebacker?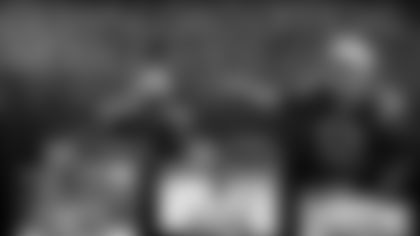 ](/media-center/mobile.html)TB: He's a really solid player. He has great instincts. When you have that type athleticism that he has, as well as the instincts, not only in the run game but the pass game, he just really goes sideline-to-sideline takes on blocks. He just has a knack for knowing where the ball is going to be and that's hard to teach. I've played guys that had that same knack at linebacker. Everybody is different players, everybody has different strengths and weaknesses but when guys are around the ball, making tackles, making tipped passes and covering guys and they're never out of the play, they're never fooled. There are guys you play against like Ed Reed, who are great players, Ray Lewis, Zach Thomas, guys that I've had the chance to play against that have just a knack for the ball and he has a great knack for the football. That's a great trait for a defensive player.
Q: Ed Reed was released a few minutes ago. Will you be lobbying your bosses to bring in Ed Reed?
TB: Those things are so far out of my control. I have a lot of other things to worry about. Coach [Bill Belichick] always makes those decisions.
Q: Does Monday Night Football still excite you after 13 years?
TB: Sure, yeah, no question. It's fun, now with Thursday Night Football and there's Saturday Night Football, but Monday Night Football is always pretty cool, especially when you play a really good team on Monday Night Football. It's a fun night. It's November, you feel the weather is changing out there. This is when the most important games are. You want to be playing in the biggest moments.