The evolution of the NFL into a passing league has seemingly devalued the running back position, but the 2012 NFL Draft class features several prospects capable of impacting the game as runners or receivers out of the backfield.
Alabama's Trent Richardson is the crown jewel of the class with his unique blend of speed, quickness and power. He is not only one of the top runners in the draft, but he might be one of the few players capable of making an immediate impact regardless of system.
Virginia Tech's David Wilson and Miami's Lamar Miller are regarded as the top home-run threats at the position, but their "one-year wonder" label could cause teams to pause before making a selection early. While Boise State's Doug Martin and Oregon's LaMichael James boast extensive résumés chock full of production, the NFL Scouting Combine will provide a platform to address concerns about their size, durability and potential to fill a role as a full-time runner.
Here are the top five running backs in the 2012 NFL Draft class heading into the NFL Scouting Combine:
1. Trent Richardson, Alabama: Richardson is the most complete runner to enter the league since Adrian Peterson. He excels at grinding out tough yards between the tackles, but is also nifty enough to produce big runs on the perimeter. His dominant play in the SEC, college football's toughest conference, suggests that he is poised to make an immediate impact as a pro. At the NFL Scouting Combine, Richardson can make a strong case for inclusion within the top five picks with an impressive workout in front of evaluators.
Good fits: Cleveland Browns, Tampa Bay Buccaneers and Seattle Seahawks.
2. David Wilson, Virginia Tech: Wilson might be the most explosive runner in the draft with his unique blend of speed and quickness. He led the ACC in rushing with over 1,700 yards in 2011, but it was his ability to score from anywhere on the field that has scouts enamored with his talent. To solidify his status as a first-round pick, Wilson must pass the eyeball test at the weigh-in and post impressive numbers during the workout. If he can leave Indianapolis ranked as one of the top athletes in the draft, he will undoubtedly come off the board in the first stanza.
Good fits: New York Jets, Cincinnati Bengals and New England Patriots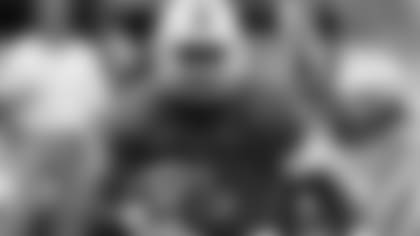 3. Lamar Miller, Miami: Miller displays a game that is eerily similar to Clinton Portis, and scouts are curious to see if his explosiveness stands out in the workout. He emerged as one of college football's top home-run threats in his only season as a starter, but one year's worth of exceptional production might not be enough to cement his status as a top-25 pick. However, a strong workout in front of scouts complemented by a solid set of interviews with team personnel could send his stock soaring by the end of his four-day visit in Indianapolis.
Good fits: Cincinnati Bengals, Denver Broncos and New England Patriots
4. Doug Martin, Boise State: Martin has been on the rise on draft boards across the league since impressing scouts with his rock-solid game at the Senior Bowl. He is a slippery runner with nifty feet and hips, but also displays the power and pop to run through arm tackles in the hole. Although scouts rave about his efficient running style, there are questions about his speed and quickness. If he can clock average times in the 40 while also displaying balance and agility during the position-specific portion of the workout, he could solidify his status as an early Day 2 prospect.
Good fits: St. Louis Rams, Seattle Seahawks and Denver Broncos.
5. LaMichael James, Oregon: James is an elusive jitterbug with the speed and quickness to score from anywhere on the field. His ability to slip through cracks between the tackles is impressive considering his size, but his ability to do damage on the perimeter has coaches projecting James as an ideal third-down back as a pro. While his size and durability rank as significant concerns in the minds of evaluators, he can minimize those issues by reporting to the workout in tip-top condition and receiving a solid evaluation from the league's medical personnel.
Good fits: New York Giants, Chicago Bears and Minnesota Vikings.
Sleeper to watch: Isaiah Pead, Cincinnati. The Senior Bowl MVP has created quite a buzz in scouting circles with his ability to function as a multipurpose playmaker as a runner/returner. He displays an exceptional gear with the ball in his hands, but clocking a superb time in the 40 could cement his standing as a mid-round prospect.
Good fits: San Diego Chargers, Minnesota Vikings and Jacksonville Jaguars.
Follow Bucky Brooks on Twitter @BuckyBrooks