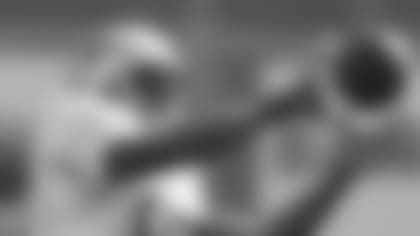 ]()For the third straight practice, Tom Brady was not present with the rest of his teammates when practice got underway behind Gillette Stadium. That left second-year quarterback Matt Cassel a real opportunity to get some much-needed reps with the first unit.
Based on Monday afternoon's work, the Patriots may still be in need of added depth at quarterback.
The first two of those practices featured more of an emphasis on the ground game so Cassel's performance was more difficult to monitor. But Monday afternoon's workout, in which the players wore helmets, shoulder pads and shorts, was more passing oriented and Cassel was not sharp.
In fairness, the receiving corps he's working with is not exactly stellar with Deion Branch (Day 4 of his holdout) andChad Jackson (PUP) still not available. Troy Brown and Reche Caldwell are legitimate targets, but the rest of the group features John Stone, Erik Davis, Keron Henry, Rich Musinski, Matt Shelton and newly-signed Kelvin Kight. Even Brady might struggle trying to generate offense with that group. (Incidentally, Bill Belichick said earlier that players not practicing were either on their normal individual schedules or day-to-day but would not place Brady in either camp).
But that doesn't explain Cassel's indecisiveness and periodic inaccuracy. Aside from a stretch midway through practice when the offense ripped apart the defense during a seven-on-seven goal line drill, Cassel struggled to find any consistency.
Both during a team period and some late two-minute work, the offense seemed to get overwhelmed at times. Cassel never looked comfortable in the pocket, often waiting too long to deliver the ball or choosing instead to scramble and run. While he has more athleticism than Brady and has the capability to make plays with his feet as well as his arm, the coaches are looking to see him make his throws and progressions and not tuck it under.
This was a problem particularly during the two-minute drill where the passes are designed to come out quickly. Cassel at times looked like former backup Rohan Davey, who constantly sat in the pocket too long before ultimately deciding to run.
Toward the end of practice Cassel's throws even seemed to lack the same crispness they normally feature. Perhaps the added workload recently has led to a bit of fatigue in the former USC backup's strong right arm, but a few of his throws seemed to float. This allowed defensive backs (Ellis Hobbs, Asante Samuel and Vernell Brown) to make some nice diving deflections.
One practice certainly doesn't mean that Cassel isn't capable of handling the role of Brady's backup. In fact, considering his lack of game experience, he probably is further along in his development than most believed was possible at this stage of his young career. But Belichick was likely hoping for a better performance on Monday.
Who's hot: Reche Caldwell – During a seven-on-seven drill near the goal line, the offense heated up and notched four straight touchdowns, three of which went to the former San Diego Chargers wideout. Caldwell slipped free near the left sideline twice, then made a nice cut across the back line of the end zone for his third touchdown.
Who's not: Cassel – Basically, he appeared indecisive and late with several of his throws. During a two-minute drill late in practice he failed get the team in the end zone on three separate occasions. Several of his passes hit defensive backs before his intended receivers, and more than one could have been intercepted.
Play(s) of the day: During the aforementioned seven-on-seven drill, the defense opened with a terrific play when Asante Samuel stepped in front of Troy Brown and nearly intercepted Cassel's pass. On the next play, the offense got its revenge whenBenjamin Watson took advantage of an obvious blown coverage and caught the easiest touchdown pass he'll ever get.
Before practice, Brad Seely spent some time overseeing a drill where players took reps downing punts near the goal line.Laurence Maroney, James Sanders, John Stone, Hank Poteat, Tebucky Jones, Guss Scott and Vernell Brown alternated during the drill and Maroney made a terrific play leaping into the end zone to prevent a touchback. Later, when the team convened to put that pre-practice work to use, Maroney made a tough over-the-shoulder catch of Josh Miller's punt. He then gathered himself just before hitting the goal line and tossed the ball back to the 1-yard line where Larry Izzo downed it.
The Patriots made a few moves before the afternoon session. In addition to signing defensive lineman Eddie Freeman, who suited up and worked out during the morning practice, the team also brought wide receiver Kelvin Kight aboard. Kight played one game for Green Bay in 2004 and also spent time in St. Louis, Jacksonville and most recently Minnesota. The Vikings released the 6-0, 213-pound wideout July 26. Also, wide receiver Michael McGrewwas placed one the reserve/left camp list. … After taking the morning off, Matt Light, Troy Brown and Watson returned to practice. However, Tedy Bruschi took the afternoon off. … Cassel spent some time working as a holder taking snaps from Jon Condo before practice. … Marquise Hill and Jarvis Green missed practice for the third straight day. … The Patriots have double sessions schedules for Tuesday but only the morning practice (8:45 a.m.-10:45 a.m.) is open to the public. The evening practice will be held inside Gillette Stadium and is available to season-ticket holders only.