]()If Matt Cassel is going to be the Patriots backup quarterback, the last two days of training camp will go a long way in helping the coaching staff make that decision. That's because Tom Brady wasn't on the field for the second consecutive practice, giving Cassel the majority of reps with the Patriots first-team offense.
Actually, with Brady, Deion Branch, Troy Brown, Ben Watson, Daniel Graham and Matt Light all missing practice, it's hard to classify the players that were on the field Monday morning as the Patriots first-team offense. However, the young quarterback got quality playing time nonetheless and seemed to take advantage of the opportunity presented to him by showing off a strong arm and making some nice timing throws.
Head coach Bill Belichick didn't give a specific reason for Brady's absence, only offering, "Guys that aren't out here, it's either because of their practice routine or they are day to day."
One player who is back on his regular practice schedule is Lonie Paxton. The Patriots long-snapper was the first player to be taken off the PUP list by the team. That now leaves the Patriots with nine players still on PUP.
Paxton was glad to finally be back on the field with the rest of his teammates.
"I hate sitting out," Paxton said. "It's good to be back out here with the rest of the guys getting back to work."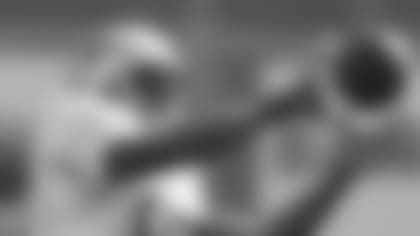 ]()Tedy BruschiandReche Caldwell** also returned to practice after taking the day off on Sunday.
Defensive linemen Jarvis Green and Marquise Hill joined Brady in missing their second straight practice. To add depth along the defensive line, the Patriots signed Eddie Freeman. The one-time UAB standout has spent time with the Chiefs and Jaguars during his four-year NFL career. At 6-5, 315 pounds, Freeman appears to be yet another defensive lineman who has the versatility to play both inside and outside. Freeman's most productive season came in 2002 with the Chiefs, where he played in 15 games and recorded 17 tackles and four sacks.
Because of another commitment, Belichick was unable to do his normal post-practice press conference. He did, however, answer some questions from the media while he was walking off the practice field. Belichick said it's a little too soon to start evaluating which players are performing well and stated that the team still has a long way to go over the next two weeks.
"I think it's a little early to get into big evaluations on players," Belichick said. "I think all the players are trying to get back into their timing and their routine. But that goes for everybody. Some plays are better than others. We're working with a lot of different people. We've all got a long way to go, but we take it one step at a time."
Who's Hot: Laurence Maroney – The rookie had by far his best practice to date and flashed some of the skills that made him a first-round selection. Maroney made some nice cuts during goal line drills and showed good patience in the hole, something he was known for in college. On one play, Maroney caught a 10-yard pass over the middle, stopped and changed direction, then turned on the afterburners and was gone. Maroney still needs to work on his blocking but he has the kind of big-play ability that is going to keep Patriots fans on the edge of their seats for years to come.
Who's Not: Freddie Roach – A lot of people like Roach's chances to make the team but he rarely gets on the field during practice. Even when he is on the field, Roach doesn't stand out. One could argue that he's an undrafted free agent and it's taking him time to learn the system. However, Corey Mays and Pierre Woods are undrafted free agents and they've made some plays when given the opportunity to get on the field. So far, Roach has been a non-factor in camp and that's not the way a player who wasn't drafted makes the team.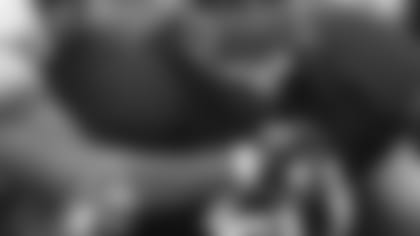 ]()Play of the Practice– **Mike Vrabel returned a tipped interception for what would have been a touchdown and Maroney's catch and run was nice, but Caldwell turned in the best play of practice. Caldwell hauled in an overthrown pass by Cassel when he split two defenders down the seam and lunged to make an acrobatic catch. Other than a couple of hiccups at the afternoon practice on Friday, the newly acquired receiver is having a stellar camp so far.
The Patriots practiced in full pads for the second day in a row.
With Matt Light and Nick Kaczurstill out, Brandon Gorin continues to get most of the reps at left tackle, while Ryan O'Callaghan and Wesley Britt manned the right side for the majority of practice.
The team started off practice with position drills, before working on goal line running plays. This time, however, the team faced the crowd in the bleachers, allowing the fans to get a better look at the drill. Both Maroney and Corey Dillon ran hard in the hole. Dillon using more power, while Maroney displaying some nice cuts and quickness.
Martin Gramatica did most of the kicking during the morning practice. At one point, Gramatica kicked from extra-point range to the 50-yard line and back without missing a single attempt. Disregarding his one shanked kickoff out of bounds today, the former Buccaneer is having a solid camp.
Eugene Wilson continued to line up at cornerback. When the defense first took the field, Wilson and Asante Samuel were at corner, with Guss Scott and James Sanders playing safety.
Dan Klecko, who was playing a lot of linebacker at mini-camp, was being used at nose tackle behind Vince Wilfork and rookie LeKevin Smith.
Kevin Faulk, John Stone, Ellis Hobbs, Willie Andrews, Maroney and* *Caldwell were back returning kickoffs. The youngsters Maroney and Andrews continue to show off their speed and explosion during these drills.
Linebacker Mike Vrabel talked about some of the reasoning behind the team moving players around to different positions on defense. "We're not playing different people in different places just because it's a gimmick," Vrabel said. "I think the only reason we're doing it, or ever have done it in the past, is because ultimately Bill [Belichick] thought it was going to be in our best interest. Not just because it was 'cool' to move me inside, or 'cool' to put somebody else to a different position."
The Patriots afternoon practice will run from 2:30 pm eastern time until 4:30.