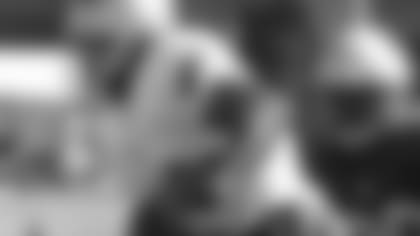 ]()The Patriots were back on the practice field Monday after falling to the Falcons 26-23 in their first preseason game. The team's focus now shifts to Saturday night, where New England will host the Arizona Cardinals in their first home game of the 2006 season.
Tom Brady was a little off in practice today. He overthrew Reche Caldwell deep down the middle during a passing drill. However, to be fair to Brady, it didn't appear that Caldwell started running hard for the ball until it was in the air. The Patriots quarterback also missed a wide-open Laurence Maroney on a wheel route when Brady's pass sailed over his head. The rookie running back returned the favor by dropping a perfectly thrown pass coming across the middle earlier in practice. Brady also overthrew Kevin Faulk on a fly route after he had created separation from linebacker Larry Izzo. Once again, the Patriots passing game wasn't hitting on all cylinders Monday.
After some passing drills, the team continued to work on a running game that racked up 162 yards against the Falcons. Once again, New England practiced a lot of inside power runs; with Maroney and Corey Dillon taking most of the reps. Maroney continues to look impressive, making a lot of nice runs during drills.
One area that was a concern against the Falcons and seemed to carry over to practice was the play of the inside linebackers. Barry Gardner and Don Davis started on the inside against Atlanta but both players were pushed around early on in the game as the Falcons ran for almost 200 yards. During the 9-on-7 running drills, Gardner was repeatedly pushed backwards at the point of attack, which isn't an encouraging sign for the interior of the Patriots defense.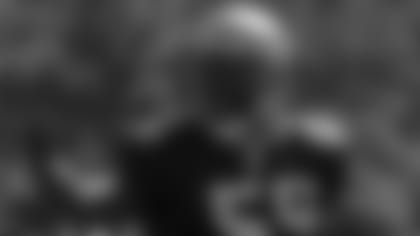 ]()In the 7-on-7 drills, the Patriots opened in a 4-3 defense, with Gardner manning the middle and Mike Vrabel and Rosevelt Colvin lining up outside. During the drill, Antwain Spann made a nice play when he knocked away a Brady pass intended for Troy Brown. Brady did finish his inconsistent practice on a high note, hitting Kelvin Kight in stride with a bullet that was perfectly placed right between the receiver's numbers.
Players missing Monday's practice were Tedy Bruschi, John Stone, Rodney Harrison, Chad Jackson, Freddie Roach, Dan Stevenson,Dan Koppen, Marquise Hill, Richard Seymour, Chad Brown, Patrick Pass and Nick Kaczur. Faulk practiced wearing a red non-contact jersey and Tebucky Jones – who injured his thumb against Atlanta – was on the field wearing a cast.
Bill Belichick led off his press conference noting this upcoming week is an important one for his football team.
"We're back grinding through the two-a-days," Belichick said. "I think this is an important week for us. It's important as far as us getting better as a football team."
The Patriots have a closed practice Monday night. The team's next public practice will be Tuesday at 4:30 pm.
Who's Hot: Young Running Backs – Pass better hope he's able to practice soon or he may be out of a job. Maroney was clearly one of the opening weekend's most impressive rookies. The young back looked like the real deal in Atlanta and he continued to run well Monday during practice. The surprise has been Patrick Cobbs. We've noted on here that he's shown some skills in practice but he blew everyone away with 105 total yards and one spectacular touchdown against the Falcons. Cobbs looks like he may be able to do some of the things Faulk does for the Patriots offense in the future. After two weeks of training camp and one preseason game, the Patriots are sitting pretty at the running back position.
Who's Not: Monty Beisel – What is God's name happened to Beisel? The projected starter by many at inside linebacker for the Patriots now finds himself lining up next to undrafted free agent Freddie Roach in the second half of a preseason game. Beisel did miss some practice time last week but he was obviously healthy enough to play in the game because he was on the field for a majority of the third and fourth quarters. One play, in particular, against the Falcons epitomizes Beisel's performance in New England thus far. Falcons backup receiver Kevin Youngblood caught a pass across the middle and Beisel was in perfect position to stop him in his tracks. Instead of laying a good lick on him, Beisel reached up high and brought Youngblood down by the jersey. That allowed the receiver to fall ahead for three more yards. Tackling high was Beisel's problem last year and it doesn't appear that he's broken the habit. Perhaps the Patriots coaching staff was just shuffling things around to get a look at some other players but this can't bode well for Beisel.
Play of the Practice: The best play on Monday came courtesy of two players fighting to make the team. Quarterback Todd Mortensen threw a pass to Erik Davis who was being covered tightly by Eugene Wilson. Somehow the ball eluded Wilson's fingertips and Davis fully extended his arms to bring in the pass. It was one of those plays where the pass, coverage and catch were all perfect.
Jon Bon Jovi was present at Monday's practice. The rock star was on the field talking to Jonathan Kraft and some of the players after practice. When the fans were calling for him, Bon Jovi made his way over to one fan in particular. In an incredible case of irony, a young lady in the stands was wearing a "Philadelphia Soul" t-shirt. That's the Arena Football League team that Bon Jovi is part owner of. Belichick talked about what a good friend the singer has been to him over the years and cited "Living on a Prayer" as his favorite Bon Jovi song.
Willie Andrews, Kevin Faulk, Hank Poteat and Vernell Brown all returned punts today. The team has also found another role for Kelvin Kight. The first-year receiver was lining up as a gunner on punt coverage. Belichick discussed Andrews' performance against the Falcons, saying he did some good things but also took a couple of chances he didn't need to take. "There's an old expression," Belichick said. "There are old returners and there are bold returners but there are no old, bold returners. There's a reason for that."
Belichick said at his press conference today that Tully Banta-Cain is having an impressive camp up to this point. "I think this has been Tully's best camp and the one where he's gotten the most opportunities. He's had a good camp so far and I think he can help us if he keeps progressing."