While the NFL may never see another season like the one New England put together in 2007, expectations for the 2009 Patriots appear to be no less lofty than they were in that record-setting year.
The most obvious reason for the high hopes: the return of former league MVP Tom Brady. Evidence of that came earlier this year. At a no-pads practice in late May, nearly 100 credentialed media descended on Gillette Stadium to watch Brady take the field for the first time in public since he limped off it last September. But Brady's return is just one reason to be excited about 2009.
As with every new season, there are changes that will take some getting used to – and the Patriots are no exception. Gone are long-time veterans and team captains Mike Vrabel and Larry Izzo, fan favorite Lonie Paxton, as well as younger players like Ellis Hobbs and Matt Cassel. The coaching ranks are different, too, with offensive coordinator and quarterback confidante Josh McDaniels heading west to coach the Denver Broncos. He roped Paxton, Jabar Gaffney and LaMont Jordan into joining him in Colorado, too.
However, when players and coaches depart, they leave behind opportunities for other players to step up and perform. Cassel's move to Kansas City allows his backup from last season, Kevin O'Connell, to solidify his hold on the backup QB job behind Brady. A battle seems to be brewing, however, for the final slot between veteran Matt Gutierrez and rookie Brian Hoyer.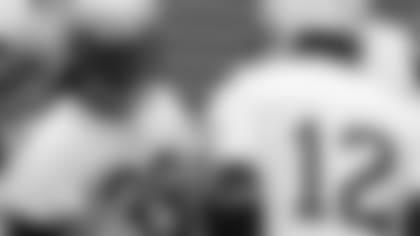 ]()The Patriots backfield, meantime, is perhaps in one of its deepest and most talented periods in recent memory. Former first-round pick Laurence Maroney looks to be fully recovered from the shoulder injury that prematurely ended his 2008 season, while reliable veterans Sammy Morris and Kevin Faulk have yet another year's experience under their belts. Add to the mix veteran free agent Fred Taylor and the Pats have the makings of the most dynamic running back stable in the league.
And then there are the receivers. Randy Moss is back, as is Wes Welker, fresh of his first-ever Pro Bowl. They're joined by newcomers Joey Galloway and Greg Lewis and a host of younger players who are anxious to prove themselves. At tight end, there are new faces as well. Chris Baker and Alex Smith are vying for spots with Benjamin Watson, David Thomas and Tyson DeVree in what could be one of the most interesting of position battles this summer.
As always, the offense is anchored by one of the most talented, versatile and deep lines in the game, with some new talent hoping to do enough to find a spot on the 53-man roster.
THE ROSTER
(players listed alphabetically by position)
12 Tom Brady (10th year)
7 Matt Gutierrez (3rd year)
8 Brian Hoyer (rookie)
5 Kevin O'Connell (2nd year)
33 Kevin Faulk (11th year)
42 BenJarvus Green-Ellis (2nd year)
39 Laurence Maroney (4th year)
34 Sammy Morris (10th year)
21 Fred Taylor (12th year)
88 Sam Aiken (7th year)
11 Julian Edelman (rookie)
13 Joey Galloway (15th year)
17 Greg Lewis (7th year)
81 Randy Moss (12th year)
10 Terrence Nunn (rookie)
18 Matthew Slater (2nd year)
19 Brandon Tate (rookie)
83 Wes Welker (6th year)
16 Shun White (rookie)
87 Chris Baker (8th year)
85 Tyson DeVree (2nd year)
80 Alex Smith (5th year)
86 David Thomas (4th year)
84 Benjamin Watson (6th year)
65 Wesley Britt (4th year)
66 George Bussey (rookie)
63 Dan Connolly (4th year)
71 Russ Hochstein (9th year)
60 Al Johnson (7th year)
77 Nick Kaczur (5th year)
67 Dan Koppen (7th year)
64 Mark LeVoir (3rd year)
72 Matt Light (9th year)
70 Logan Mankins (5th year)
61 Stephen Neal (8th year)
68 Ryan O'Callaghan (4th year)
62 Rich Ohrnberger (rookie)
75 Jermail Porter (rookie)
76 Sebastian Vollmer (rookie)
69 Ryan Wendell (1st year)
74 Billy Yates (6th year)