Rodney Harrison, Eugene Wilson, Randall Gay and Asante Samuel – that was the Patriots starting secondary the last time the team took to the field in Jacksonville for Super Bowl XXXIX. Since all four players remain with the team and are expected to be healthy participants when training camp opens on Friday at Gillette Stadium it might seem logical on paper that the foursome would be the odds on favorites to retain those same roles heading into the new season.
But with the addition via trade of veteran Duane Starks, the signings of experienced players like Chad Scott and Antuan Edwards, the return of former starter Tyrone Poole and youthful options such as Guss Scott, Ellis Hobbs and James Sanders the roles in the New England secondary are anything but set. From starting jobs down to final roster spots, the competition in the defensive backfield will be tough over the next month-plus as the Patriots prepare to defend the team's back-to-back Super Bowl titles.
Harrison, coming off a year in which he started all 16 games and led the team in tackles for the second consecutive season with 138, is the only definitive constant in the defensive backfield. The co-captain strong safety has become one of the team's true leaders in his two seasons in New England, a job he handles well both on and off the field. With the losses of Tedy Bruschi, Ted Johnson and Ty Law this offseason, Harrison's leadership may be even more important in 2005.
]()While Wilson is a roster lock and one of the best young defensive backs in football, there is still some question as to whether he will still make the switch back to his drafted position of cornerback at some point in his professional career. Depending how the rest of the secondary jobs unfold, that switch can't be ruled out. A year ago, Wilson's second in the league and second as a free safety, the former second-round pick continued to make big plays and show impressive football instincts. The 2003 second-round pick led the team with four interceptions, tied for the team lead with three forced fumbles and was named the AFC Defensive Player of the Month for September. With the ability to lay the big hit, cover in the passing game and play the run, Wilson's developing talents are one of the less publicized keys to New England's defensive success over the last two seasons.
Behind Harrison and Wilson on the safety depth chart sits Scott, second-year man Dexter Reid, Edwards and 2005 fourth-round pick Sanders. Scott impressed early in camp a year ago, earning reps with the first unit at times, but missed the entire regular season with a knee injury. If he is fully recovered, the 5-10, 205-pounder out of Florida is a player to watch throughout the preseason.
Edwards is a former first-round pick of the Packers who split last season with the Dolphins and Rams. For his career the free safety has started 31 of 68 games played, recording 211 tackles, seven interceptions two forced fumbles and two fumble recoveries. The veteran will be battling the youngsters Reid and Sanders for playing time this season. Reid played primarily on special teams as a rookie a year ago, finishing with 16 special teams stops in 13 games played. Sanders was a highly productive player and favorite of the Fresno State coaching staff in his three seasons with the Bulldogs. In 40 collegiate games with 32 starts, Sanders recorded 238 tackles, seven interceptions, two forced fumbles, seven sacks and also blocked three kicks. He may not have the pure physical skills or measurables of some safety prospects, but Sanders' heady style and instincts could make him a good fit in New England.
Undrafted rookie free agent Raymond Ventrone rounds out the training camp depth chart at safety. The 5-10, 200-pounder out of Villanova recorded 251 tackles in 35 career games with the Wildcats although is senior season was cut short due to injury.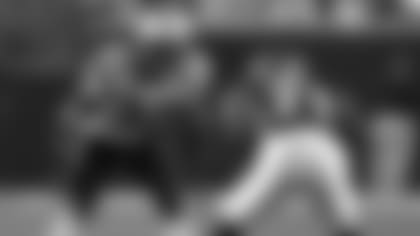 ]()Unlike the mix at safety, the competition at cornerback would appear to be wide open from top to bottom. Samuel enters his third season looking to lock down a starting job after making eight starts as an injury replacement for Law and Poole in 2004. His physical style, attitude and youth make him one of the favorites for one of the two starting jobs in 2005, although it won't come without a fight.
Gay, who like Samuel started thanks to injury in 2004, may face an even tougher fight to retain the starting job he had in Jacksonville. The undrafted rookie free agent out of LSU started 9 of 15 games last fall, finishing with 38 tackles, two interceptions and two fumble recoveries after surprising many by making the roster out of training camp.
Poole missed all by five games a year ago with a knee injury, but was a key reason for the team's defensive success in 2003. That season he started all 16 games and recorded six interceptions playing opposite Law. If he returns healthy and motivated in 2005 he has a legitimate shot at regaining his starting job.
The newly acquired Starks brings similar history to New England. The former first-round pick joined New England along with a fifth-round pick from Arizona in exchange for third and fifth-round picks. Starks started eight of 15 games for the Cardinals in 2004, recording 58 tackles, three interceptions, one sack, one forced fumble and two fumble recoveries. He missed all of 2003 on injured reserve. The 10th overall pick in the 1998 draft, Starks has the talents to be a starter in New England but is certainly no lock for the job heading into camp.
Other veterans on the depth chart include Hank Poteat and free agent addition Chad Scott. Poteat played in three games in the injury-decimated New England secondary last winter, but has never started in his 42 career games and joined the Patriots off the street last season. Scott started all seven games he played in for the Steelers in 2004, the only team he's played for in his eight seasons in the NFL. The 1997 first-round pick started 87 of 91 games played in Pittsburgh, recording 413 tackles and 19 interceptions.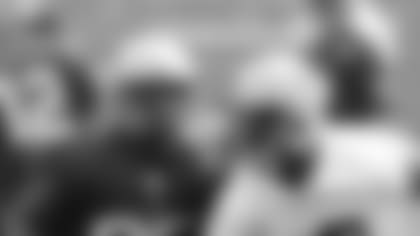 ]()Hobbs, New England's third-round pick this spring was a dynamic athlete in his four seasons at Iowa State. He started 38 of 49 games, including each game in his final three seasons, recording 209 tackles, two sacks and nine interceptions. He also returned kickoffs for the Cyclones, finishing with a 20.4-yard average on 24 career kickoff returns. While Hobbs might not be ready to step on the field and play right away, he should be a strong candidate for one of the backup roster spots in the secondary.
A year ago New England broke camp with eight players from the secondary on the 53-man roster. Of those eight, only Law (unless something rather unbelievable happens with the free agent) and safety Shawn Mayer won't be in the mix for training camp 2005. And of the 14 defensive backs the Patriots will bring to camp at least 12 have to be considered to have a legitimate chance to make the final roster. So even if the team carries more defensive backs this season than it did a year ago, a season in which wide receiver Troy Brown and linebacker Don Davis were forced into secondary action, the battle for those roster spots over the next month should be interesting and entertaining.