No position in all of New England sports is currently as stable as the job of starting quarterback at Gillette Stadium. With a new contract extension in one hand and three Super Bowl rings on the other, Patriots quarterback Tom Brady enters his sixth NFL season on top of the football world.
Since taking over the starting job in 2001 Brady has been the unquestioned face of the franchise, while serving as a team leader in the locker room as well as on the football field. And thanks to the unprecedented winning ways he's enjoyed in his young career, Brady has made the leap from simple star athlete to pop-culture phenomenon. Another winning season in 2005, as the Patriots attempt to challenge football history by winning a third-consecutive Super Bowl and fourth in five seasons, would only add to Brady's already impressive legacy.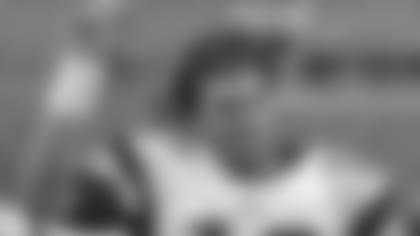 ]()A year ago, Brady set a career high with a 92.6 passer rating to earn his second Pro Bowl trip in four seasons as a starter. The Patriots offensive captain also tied a career-best with 28 touchdown passes, while completing 288-of-474 passes (60.8 percent) for 3,692 yards with 14 interceptions. As has become custom for the former Michigan star, Brady capped the 2004 season with a strong Super Bowl performance completing 23-of-33 passes for 236 yards with two touchdowns for a 110.2 rating in New England's 24-21 win over the Eagles in Super Bowl XXXIX.
Brady has been a model of both consistency and durability over the last four seasons, starting all 16 games in each of the last three seasons and 62 in a row overall. His career totals now include 64 games played with 1,243 competitions on 2,018 attempts (61.6 percent) for 13,925 yards with 97 touchdowns and 52 interceptions. Another stellar, healthy season would only add to his already Hall of Fame caliber resume.
Behind Brady on the depth chart sits a trio of bodies that will get plenty of practice reps and preseason action as they fight for the backup roles. Fourth-year passer Rohan Davey has spent the bulk of the last two seasons as the Patriots backup, although thanks to Brady's good health has been asked to do little more than perform mop-up duties. The 2002 fourth-round pick out of LSU completed 4of-10 passes in four games for 54 yards in 2004, while his career totals include 8-of-19 passing for 88 yards with no touchdowns or interceptions.
Davey has one of the strongest passing arms around, and has clearly impressed the coaches in New England to some degree to earn the backup job over the last two years, but likely has to continue to improve in his accuracy and timing if he is to ever earn consideration as an NFL starter.
]()Heading into the final year of his rookie contract, Davey will compete in training camp for the backup spot with highly experienced free agent addition Doug Flutie. The Natick, Mass. native is a veteran of 11 NFL seasons, including previous time as a starter in New England, Buffalo and San Diego, as well as six league MVP awards in eight seasons playing in the CFL He's spent the last three seasons as a backup for the Chargers and including his time in the CFL the 42-year-old is one of the most productive players in the history of the game. Over the course of his NFL career Flutie has started 66-of-87 games, completing 1,172-of-2,141 passes for 14,686 yards with 86 touchdowns and 68 interceptions for a 76.4 rating.
Flutie has seen just about everything in his well-traveled, 20-plus seasons in the game and at the very least could help Brady and the rest of the quarterbacks from a mental standpoint. At the most, the wily, diminutive veteran could be the ultimate experienced fill-in should the seemingly inevitable injury bug ever finally catches up with Brady.
The fourth quarterback on the roster, and biggest wild card in the group heading into training camp, is rookie Matt Cassel. The 2005 seventh-round pick out of USC spent his entire college career backing up a pair of Heisman Trophy winners in Carson Palmer and Matt Leinart. He brings a strong arm and good size (6-4, 222) with him into the early stages of his pro career and has already impressed the New England coaches in his short time working with the team. While lack of experience is a real question mark for Cassel, how he handles his opportunities in training camp practices and preseason games could go a long way toward what his future holds in New England.
So like most positions for the two-time defending Super Bowl champions, quarterback will be worth the watch this training camp. While the job of starter is more than locked up, the battle for the backup job for 2005 and the potential development of guys like Davey and Cassel moving forward should make for interesting passing action even when two-time Super Bowl MVP Tom Brady isn't the one throwing the ball this summer.
Flutie will host the 6th Annual Doug Flutie Jr. Celebrity Golf Classic on Tuesday at the Pinehills Golf Club in Plymouth, Mass. The tournament will benefit the Doug Flutie Jr. Foundation for Autism, a charity Flutie and his wife, Laurie, established in honor of their son, Doug Jr., who was diagnosed with autism at age three. "This is the sixth year we are holding this tournament and we are grateful to all the sponsors for their generous support. We are looking forward to a great day of golf," Flutie said of the tournament. "Most importantly, we are raising money to help those who need assistance in caring for their children with autism." For more information contact the Doug Flutie Jr. Foundation for Autism at (508) 270-8855.