Many people believe that bad things come in threes, but in the case of the tight end spot in New England these days the exact opposite can probably be said. The two-time defending Super Bowl champions head toward training camp with three legitimate contributing tight ends on the roster in Christian Fauria, Daniel Graham and Benjamin Watson.
While Fauria and Graham have combined to give the New England offense a solid mix of blocking and pass receiving options over the last few seasons, the addition of Watson to the mix, a guy who missed all but a single game of his rookie season a year ago with a knee injury, brings added potential and ability to the spot.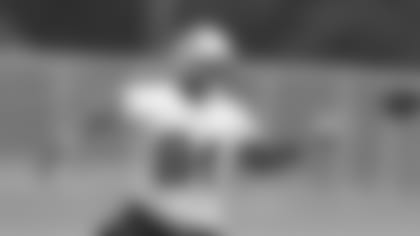 ]()Watson is a unique package of size, strength, speed, athleticism and play making ability with the potential to turn into a true weapon for Tom Brady in the passing game but should also contribute at times as a blocker. The 6-3, 253-pound walking muscle showed flashes of brilliance during an abbreviated training camp and in his one regular season game a year ago, finishing his rookie season with just two receptions for 16 yards.
Watson took part in all aspects of the team's June mini-camp at Gillette Stadium without even so much as a knee brace and if he can return to the level that made him a first-round pick a year ago he should inject a new life and level of versatility into New England's offense in 2005. His ability to line up in the slot, work in motion and out of the back field from the full back spot should give the New England coaches a great deal of flexibility in terms of formations and personnel packages as the unit continues to strive for increased production. Watson's intriguing combination of talents, combined with those of the two returning veterans, should form a talented trio that could make New England's two and three tight end sets as formidable as ever.
Graham has developed into a dominant blocker in both the running and passing games over his three seasons in the NFL. And despite occasional problems with dropped passes the former first-round pick set a career-high with seven touchdowns in 2004. He finished his junior season in New England with 30 receptions for 364 yards (12.1 avg.) in 14 games, while his three-year totals include 29 starts in 40 games played with 83 receptions for 923 yards (11.1 avg.) and 12 touchdowns. While Graham may never develop into the dominant offensive force that many fans expected when he was drafted, a burden that now falls on Watson's shoulders, his overall abilities in all phases of the game have made him a key contributor for the team's offense.
In Fauria New England has a consistent veteran who not only should continue to serve as a positive influence on the young tight ends, but the 11th year veteran can contribute when called upon as either a blocker or sure handed receiver. Fauria started 10 of 16 games played in 2004, finishing with 16 receptions for 195 yards (12.2 avg.) and two touchdowns. A solid red zone target, Fauria scored a career-high seven touchdowns in his first season in New England in 2002 and for his career now has 237 receptions for 2,416 yards (10.2 avg.) with 18 touchdowns. He may not have the pure physical talents of Graham and Watson, but the experienced veteran should remain a solid contributor for at least one more season, his final under contract in New England.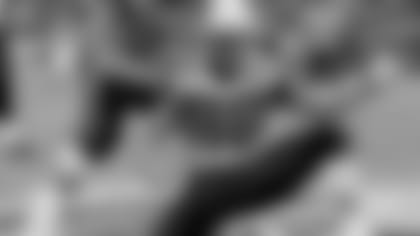 ]()Beyond the top three on the depth chart at tight end, New England has a group of players that includes veteran Jed Weaver, seventh-round pick and Mr. Irrelevant Andy Stokes and 2005 NFL Europe allocation Joel Jacobs. Weaver is a six-year veteran who played in 10 games a year ago after joining the team to help fill in for the loss of Watson. He finished the season with 8 receptions for 93 yards. Over the course of his career in Philadelphia, Miami, San Francisco and New England Weaver's notched 88 receptions for 1,090 yards with six touchdowns, with a career-best 35 catches for 437 yards with the 49ers in 2003. Outside of an injury to one of the top three on the depth chart, Weaver faces long odds at making the final 53-man roster.
The odds are even longer for Stokes and Jacobs. Drafted out of William Penn, a small NAIA school, the 6-5, 245-pound Stokes has the measurables to be an NFL tight end but probably has a long road to travel before he is ready to step on the field. At least year on the Patriots or some other team's practice squad is probably the best the St. George, Utah native could hope for in the early stages of his pro career.
Jacobs faces an even taller task in attempting to earn a roster spot. After spending the spring in Amsterdam and Berlin playing in NFL Europe, the 6-3, 250 pounder returns to New England with just one reception in limited playing time to show for it. Like Stokes, Jacobs will use the preseason in New England to showcase enough skill to extend his professional football career any way he can, though his chances of sticking in New England are clearly slim.
So with three legitimate starting-caliber NFL tight ends, as well as veteran depth and youthful prospects, the tight end spot is well stocked this summer in New England. And in a town where Ben Coates served as such a dominant force not too long ago, the search for an elite option at the position finds a new candidate as fans anticipate what a healthy Watson might add to team's already championship-tested offense. Like so many of the other positions this training camp, tight end will be worth keeping an eye on when the defending champs hit the practice fields in two weeks.
NotesThe NFL's supplemental draft will take place on Thursday via email. USC defensive lineman Manuel Wright is expected be selected from the list of eligible names that also reportedly includes Clemson wide receiver Roscoe Crosby, Toledo defensive end Jerome Walker, Texas Tech running back and returner Ivory McCann and UNLV cornerback Charles Ealy. Any team that selects one of the available players in one of the rounds of the supplemental draft would forfeit their pick in that same round for next springs NFL draft. The last time the Patriots made a selection in the supplemental draft came in 1999 when the team used a fourth-round pick on Arizona State cornerback J'Juan Cherry.