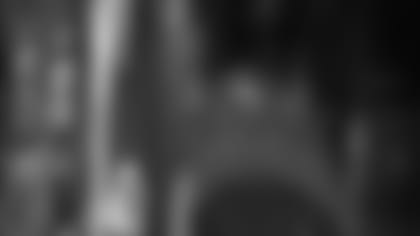 ]()
             It all started with two fans, Chris, who after having spent a short time on NFL UK official forums, met up with another Patriot fan on the Internet, Robby.  They noted there was a significant number of UK based Patriot fans, but they didn't know if a UK based Patriot fan club existed. If not, they both agreed they should start one.  

Chris searched the Internet for information regarding any NFL teams' UK fan clubs. He found addresses for the Raiders, Dolphins 49ers etc., but none for a Patriots fan club. Chris then undertook the task of setting up the fan club as a web site in January 2004. He is by the way, a web site designer by profession.
Within three months of starting, the site had reached the 100 members mark. Of those 100 members, the following fans could call themselves amongst the first and so are worthy of mention: Stalker, Jamie, patriotsfan, Motherwell Patriot, are all from the UK; Leviramsey and NEM are from the States and have made a terrific contribution to the fan site, as has a guy by the name of Foiler.
Chris has parents from New England, so I guess for him it was almost as natural as breathing. Though he did admit that until four years ago he wouldn't have called himself an ardent fan.
For me the reasons weren't quite so easily explained, as I had no connections with New England whatsoever (I do now, however, have a stepson living in the Granite State). I didn't want to be part of the herd afflicted by visits to Florida from the UK, and coming back wearing Dolphins jerseys, nor was I particularly interested in "glamour" teams like the 49ers or the Cowboys. I wanted to be different, so I picked the Patriots because no one else I knew had, and because I liked the Pat Patriot logo, and a certain quarterback by the name of Steve Grogan. I've been a fan ever since.
I asked this question of some of the other members, and it would be fair to say their reasons for becoming Pats fans are not too dissimilar. The majority of us became Pats fans around the mid 80s, so we've witnessed the bad times, but now we're seeing the good times -- make that the GREAT times.
An equally tricky question to answer is, why the interest in American football? After all, it's not our national game, and as far as I know it's not taught in any of our schools.
I can do no better than to quote the answer given by one of our members, papa lazarou:
"My Dad got me into the game, he was watching C4 TV coverage in the early days, and I got hooked in the early part of the '85 season.
"What appealed right from the start, was the tactical element – anticipating run or pass, fourth down decisions and the like – just as much as the spectacle, and razzmatazz that stood out from anything in UK sports. This was at a time when soccer grounds had wooden scoreboards, and entertainment consisted of dodging darts at Elland Road (home of Leeds United soccer club) … I think a lot of people like me were receptive to a game where the violence was restricted to the field (authors note: He's never watched a Raiders game!) and Liverpool Football Club weren't going to win any trophies. So, that was how I was converted … a few weeks later I saw the Pats run a flea-flicker, and decided to follow them for the time being. The rest as they say is history."
I think if you take out odd bits here and there, what papa says may well cover things for all of us when it comes to reasons why we picked American football to follow.
Our future? Well, for the immediate future, we have probably three small groups coming over to New England to see the Pats play at Gillette Stadium. One group will be over for the Jets game, another for the Dolphins game, and a couple of guys, -- Andywales who's a well known visitor to Pats Chatter (the Patriots.com bulletin board), and papalazarou -- will be going to the Seahawks game.
Looking beyond the immediate, we'd like to expand the fan club, being Internet based does pose some limitations, so we need to look at ideas about getting known beyond. Unfortunately the options open to us aren't that many but we'll keep plugging away at it.
Before I finally put this article to bed, I should point out that we do have a couple of gripes. A major one is the number of Patriots games that get broadcast over here. If the Pats hadn't made it all the way to the Super Bowl, we would have been down to less than a handful of games broadcast live, and because of the time difference you'd have to keep your eyelids open with a couple of matchsticks to watch some of them!
The other gripe is the cost of merchandise! The initial cost we can live with, but you add in shipping and import duty, and the cost when it finally arrives on your doorstep has almost doubled. We know it's worth it to show the world you're a Pats fan, but it's still painful all the same.
Well, to close this article, I have to say Patriots fans are the best in the world as is the team, and UKPatriots are pleased to be a part of that.
GO PATS! http://www.ukpatriots.com
Are you part of a a Patriots Fan Club overseas or in the States? Patriots.com would like to know about it. Send an article to webmaster@patriots.com and it might get published!