INDIANAPOLIS - Like most positions on the Patriots defense this offseason, the sense of urgency at safety largely depends on what happens in free agency. New England will bring back starters Devin McCourty and Patrick Chung, but valuable third safety Duron Harmon is set to test the open market.
Bill Belichick and Matt Patricia liked to use all three in various packages a year in a big nickel look, and Harmon's comfort level in the system is a luxury for the coaches, who often use him a deep center fielder in an effort to eliminate big plays.
If Harmon returns the position would not be a huge draft weekend priority. The Patriots also have special teamers Nate Ebner and Brandon King at the position, and both are likely to remain in the teams plan in those roles moving forward.
But NFL teams in this passing age can never have too many quality athletes who can cover, and if Harmon winds up signing elsewhere, the Patriots will need to find someone who can potentially fill the role. That's especially true if the team winds up losing starting corner Logan Ryan in free agency as well, which would leave a shortage of proven cover guys in the New England secondary.
The draft might be a decent place to look for some young replacements. NFLDraftScout.com lists 32 safeties as possible draft picks – 15 free safeties and 17 strong safeties. The Patriots like to use a lot of their defensive backs interchangeably and that's especially true with safeties.
The cornerback class is exceptionally strong but safety isn't far behind. NFL media analyst Bucky Brooks believes three could be selected in the top 10 with two in the top five. That would mark the first time that many were taken in Round 1 since 2014 when four were selected, but not anywhere near the top 10.
Brooks has Ohio State's Malik Hooker (6-2, 205) going second to San Francisco, LSU's Jamal Adams (6-0, 211) third to Chicago and Michigan's Jabrill Peppers (5-11, 205) seventh to the Chargers. Three safeties going in that neighborhood would be historic, but some experts wouldn't be stunned to see it happen.
"Today's NFL is a pass-first league, and the safety position is changing playing against three wideouts and a tight end at a minimum, 65-70 percent of the time," NFL Network draft analysts Mike Mayock said. "So safeties that can cover are at a premium.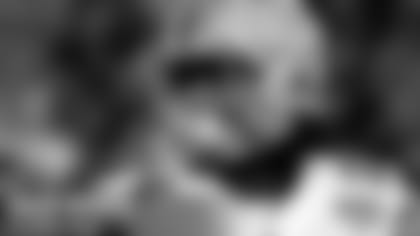 "There's a good chance you could get one of those two quality safeties at No. 5, either Malik Hooker or Jamal Adams. Both of whom I'm bullish on. They're both potential All-Pro safeties. Jabrill Peppers is the next one from Michigan, and he's more of an in-the-box nickel linebacker. He's just always around football."
Hooker and Adams are elite prospects with loads of versatility. Adams is trying to continue the strong reputation of LSU defensive backs and reminds many of former Tiger and current Cardinal Tyrann Mathieu.
"On the field I feel like I can play everywhere," Adams said. "I'm comfortable playing deep, covering in the slot, lining up over the A and B gap, covering tight ends, pretty much anything. I feel that's what makes me a special player. But I feel like my main strength is my leadership and that's something I pride myself on."
Hooker underwent surgeries to repair a torn labrum in his shoulder as well as damage to his core muscles in January and will not be available to work out at the Combine. He does expect to be ready for rookie mini-camp however.
"I feel like I'm a special player," he said. "At Ohio State we had so many special players that I felt the competition every day working against the very best."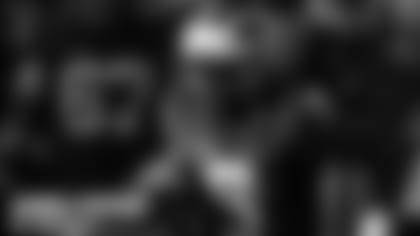 Peppers entered the Combine as one of the most intriguing players in the draft. He was a modern-day Charles Woodson with the Wolverines, playing all over the defense and even spent time on offense on occasion.
His athleticism is apparent but what is not is his natural position. There was plenty of speculation about where he'd play in the NFL, and then he checked in at slightly less than 5-11, those who believed he could continue playing linebacker as well as safety in a hybrid role began to second-guess themselves.
Peppers stepped to the podium for his interview with an LB on his prospect shirt and told reporters he would be working out with both groups in Indy. He also had a playful tone when asked where he might wind up.
"What do I look like?" Peppers said with a serious tone before immediately answering with a smile. "I'm a safety. Yes, I'm a safety."
"I control the controllable and I'm pretty much effective wherever I'm going to be put," Peppers added. "I don't have a lot of tape at safety but I'm a pretty damn good safety … There's a lot of unknowns and I don't know what all of those things are. But the bottom line is, I'm a ballplayer and I'm a hell of a ballplayer. I intend to run fast, I intend to look smooth doing whatever it is that I'm asked to do."
Despite the lack of a defined role, Peppers' versatility and athleticism figured to have him selected in the first round.
"The biggest compliment I can give [Peppers] is he's a football player. That sounds stupid, but he is," Mayock said. "I don't think you can put a label on Jabrill Peppers. He was asked to do a bunch of different things at Michigan, and he did them at a high level.
"How does he get the biggest impact for you? And I think he can do it in several ways. The kid was a punt returner. He's been a deep safety. He's been a box safety. He's been a linebacker. Each team's going to look at him differently. At the end of the day, to me, he's a first-round draft pick, but you better have a plan for how you're going to use him."
Beyond the top three there is still plenty of talent to be found. Washington's Budda Baker (5-10, 192), Utah's Marcus Williams (6-0, 195), Alabama's Eddie Jackson (6-0, 194), Texas A&M's Justin Evans (6-0, 193) and Florida's Marcus Maye (5-11, 216) all have the potential to go on Day 2.
"For me it's all about watching Earl Thomas," Baker said of the Seahawks All-Pro safety. "I love the way he plays the game. He's always around the ball. Same with Tyrann Mathieu because of his versatility. I'm trying not to look at any mock drafts because I'm just focusing on what I can do."
Jackson is coming off a leg injury that cost him much of the season but he's trying not to let the negatives surrounding the situation impact his mindset.
"When I got hurt I feel like I fell off a lot of people's maps," Jackson admitted. "I'm trying not to let that affect me. I'm just going to keep grinding. I'm trying to show people how well I know the game and that I can be a productive player."
But the most interesting off all the safeties may be Obi Melifonwu (6-4, 219), a massive prospect out of UConn that Mayock believes the Patriots might have interest in.
"He's 6-4, 219 and he's probably going to run sub-4.5, and if he runs in that range, I think teams are going to look at him as a corner," Mayock said. "I think New England with Matt Patricia, they're the best match-up group in the league. You look at what they did with Eric Rowe from the Eagles, what they did with [Kyle] Van Noy, two guys that were kind of castoffs, and they brought them there for match-up reasons. So I look at Melifonwu, and he's a guy that could cover tight ends one week and go out on a big wideout the next week. I think he'd be interesting."
Melifonmu played at Grafton (Mass.) High School and was an ESPN Boston All-State selection as a senior before heading to Connecticut. He enjoyed a strong week at the Senior Bowl where he performed well and opened eyes with his sheer size.
"My size helps me with my range," said Melifonwu, who added that he is close with former Huskies teammate and current Cowboy Byron Jones. "The league has definitely been transitioning to a lot of tall, athletic tight ends like Rob Gronkowski and I can use it as an asset.
"I'm a hard worker and a dependable guy who can fill a lot of roles. I want teams to know drafting me would be the best decision they could make."
Maye isn't as tall as Melifonwu but he's almost as big and was part of an extremely talented defense and secondary with the Gators.
"I'm a very versatile player who can play in the box and deep," Maye said. "I feel like I'm a rangy player who can play the deep ball well and I enjoy tackling – so I'm hoping to show that to teams this week."
Williams was part of a secondary with Rowe at Utah and was excited to watch his former teammate win the Super Bowl. Williams believes his instincts will separate him from the pack.
"I have great ball skills and I'm very rangy. I can go sideline to sideline and go up and get the ball," said Williams, who added that he would be meeting with the Patriots on Sunday evening. "But I need to be the smartest guy in the secondary and on the defense. The safety is the quarterback of the defense and needs to make sure everybody is on the same page."
Later in the draft there are still a few players Mayock was enthusiastic about. Lorenzo Jerome (5-10, 202) of Saint Francis (N.Y.) is a tremendous athlete he thinks is working under the radar due to his school
"And a really good football player that nobody talks about is Lorenzo Jerome of Saint Francis," Mayock said. "And what he runs this week is going to be important. But I think he can play both safety positions, and he's really, really a good football player. Like him a lot."
Colorado's Tedric Thompson (6-0, 211), Louisiana Tech's Xavier Woods (5-11, 203), Michigan State's Montae Nicholson (6-1, 219), Auburn's Rudy Ford (5-11, 200) and Boston College's John Johnson (6-1, 205) also factor into the Day 3 mix.
Johnson, who some project as a fifth-round pick, is obviously familiar with the Patriots after playing his college ball so close to Foxborough. But the Maryland native has another connection to the local team having Anthony Campanile as his defensive backs coach with the Eagles.
"Coach Campanile came from Rutgers so he worked with Logan Ryan and Duron Harmon," Johnson explained. "Coach Campanile tells me I'm the best defensive back in the draft, and he's obviously worked with a lot of the Patriots guys so that means a lot to me."
Thompson was part of a resurgent Colorado program and looks forward to carrying that success into the NFL. Like many of the others, he felt his ability to fill a variety of roles will help his stock.
"My strength is covering the middle of the field," Thompson said. "Junior and senior year I was in man coverage a lot in the slot, too, so I matched up a lot and have that versatility as part of my game."
While safety may not be at the top of Belichick's priority list, Mayock and others at the Combine have talked at length about the growing need and importance for the position. Both corner and safety are filled with versatile athletes who project into the types of roles that many teams are searching for with players capable to working in the box as well as in the deep middle.
If the Patriots look in that direction, they'll have lots to choose from.