There is some excitement in the air, and a sense of anticipation.  Maybe a little nervousness too, if only because we're about to embark again on the great unknown.
But it's not an actual game we're referring to - instead, it's the game within the game.  You can't play the game in the fall well enough if you don't have at least some success with this game in the spring.  
And which game is it, exactly, we're referring to?
The extreme game of chance otherwise known as the NFL Draft, and she is coming 'round the corner, here she comes.
For all practical purposes, you might as well queue up to the craps table and roll the dice, hoping for a favorable result.  And I don't say this to demean what guys like Mel Kiper, Jr., Todd McShay, the legendary Gil Brandt and others have done for a big part of their careers - and that is, to scout, rate and ultimately list potential pros for teams to hire and fans to follow.  
When you consider that the average playing career spans a mere 3.3 years, putting a premium on how these players rate is a big-time gig.  Not to mention that all NFL teams (including the Patriots) devote personnel and team resources into scouting, rating, interviewing and identifying potential players themselves with the hope of eventually bettering the team on-field performance.
It is true that first-round picks have the best possible chance at success, based on historical trends.  But how is success defined?  Playing longer than 3.3 years, becoming a starter, reaching all-Pro status, gaining a big free agent contract and participating in the postseason are all measurable qualities.  
But this type of success isn't merely limited to the upper-echelon picks each year, either.
The Patriots have had enviable success with mid-to-late round selections in the recent past, and usually always have a diamond-in-the-rough come from out of nowhere in free agency to make the team.  They have also had many of their starters in place for some time, necessitating moves that are primarily made to increase depth at several positions.  
This explains the team practice in recent years of often 'trading down' in the draft, rather than looking for a potential star and holding onto higher picks.  And this year might also be a chance to buck this recent trend, with New England holding picks at #23 and #31 in the first round.
But you never know.  It's doubtful the Patriots will stray far from what has largely been a successful formula when it comes to charting their future roster and drafting potential players.  
If the 2018 NFL Draft is considered deep, you might see a tendency to gain a few picks for later as the draft progresses.  If it isn't, the tendency to play the hand they currently hold (eight picks in seven rounds overall, from Number 23 in the 1st Round to Number 219 in the 7th), wouldn't be a bad way to go, either.
And just what are the Patriots' needs going into 2018?  You undoubtedly have your opinion, just as the teams has theirs.  An offensive lineman, maybe a linebacker or defensive end...how about a QB?  Probably all on the table this year, and most likely there are others on that table as well - ready to contribute if and when their number comes up in that roll of the dice.
There is a reason the NFL Draft is as anticipated an event as any on the football calendar, save for Kickoff Weekend or the Super Bowl, perhaps.  You get to match wits with everyone else as your opponent.  Your countless hours of research are put to a supreme test, surprises can often occur and there's no immediate way to determine who the real winners and losers are.  
That must wait until the playing part begins in the summer and fall, so everyone wins at this game.  For now.
Yeah, the Draft is comin' round the corner.  And we'll all go out to meet her when she comes.   
He wants to be here
In the immediate aftermath of the Super Bowl loss to Philadelphia, criticism came from comments made by Eagles' offensive lineman Lane Johnson, who said Patriots' players played in fear, and didn't have any fun.  
While I would argue that winning games and upholding a winning tradition to establish a legacy is fun (and a lot of hard work, Lane), I certainly don't have any direct experience or knowledge to refute his opinion.
Ex-Patriot linebacker and ESPN analyst Tedy Bruschi did his best to offer some insight into Johnson's comments.  "Lane Johnson, I don't know what he's talking about.  I had a lot of fun," Bruschi said on ESPN, as reported by ProFootballTalk.  "We had so much fun when I was there.  I can't understand what he's saying." 
Perhaps the ultimate compliment to this part of the 'Patriot Way' should come from a non-expert, like wide receiver Jordan Matthews.  Matthews signed a one-year deal as an unrestricted free agent from Buffalo this past week, for less money in New England than he perhaps could have gained elsewhere.  
ESPN's Mike Reiss reported this week Matthews simply wanted to play with Tom Brady, and that's why he signed with New England over others.  Was he being selfless?  Maybe not, but it appears Matthews has been, at the very least, observant during his previous four years in the NFL as a member of both the Bills and Eagles.
Maybe playing with the G-O-A-T is F-U-N enough for some.  Especially when you usually W-I-N at the same time?
It's just an opinion, but...dream on
It's really tempting to look at two first-round draft picks and think about the possibilities for moving up, isn't it?
Especially with the quarterback availability high in this year's draft, the temptation to make a move northward could arguably be as high as it's been since Bill Belichick became head coach, especially with TB12 getting ready to play next season as a member of the Over-40 set.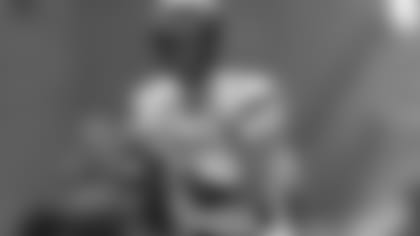 I'd argue that means the need to protect what you have, for as long as you have it, becomes the greater need.  And with a definitive need for help on the offensive line, starting tackles don't exactly grow on trees.  
But there's one or two noteworthy tackles out there, potentially attainable for New England (UCLA's Kolton Miller, Notre Dame's Mike McGlinchey, Ohio State's Jamarco Jones) to shore up what will be missed with Nate Solder's departure.
Short of jumping into the Allen-Rosen-Darnold-Mayfield QB derby, Louisville's Lamar Jackson could still be on the board near the Patriots' picks.  And even if he isn't, the early clubhouse leaders (Kyle Lauletta, Luke Faulk) in the QB discussion could be had for what the Pats own for picks after Day One (picks #43, 63, 95).
Sorry, didn't mean to rain on your Draft Parade Wish List.  But there are linebackers, defensive ends, tight ends and maybe even a defensive back or two to consider in these spots as well.
Common sense has no place when you decide to dream, right?
John Rooke is an author and award-winning broadcaster, and has completed 25 seasons as the Patriots' stadium voice.  Currently serving in several media capacities - which include hosting "Patriots Playbook" on Patriots.com Radio - Rooke has broadcast college football and basketball locally and nationally for 30 seasons and is a member of the Rhode Island Radio Hall of Fame and RI's Words Unlimited Hall of Fame.