Some thoughts on three New England Patriots as the new season officially begins with voluntary workouts this week.  Although, none of the three players are present at the start, and one won't be present at all.
Should there be any concern?
Focusing in on numbers 87, 12 and 92 in your game programs:
#87 Rob Gronkowski
This may be heresy, but it's what I've been thinking for several weeks now.
Gronk, we love you.  Love the player you are, love what you've done for the team, the organization, the franchise.  Love your football abilities, which are incomparable for someone at your position.  Love what you've done for the community.  Love what you've done for the disadvantaged, the sick, the infirm.
You seem every bit the good guy you purport to be, even if you are a bit goofy-but-likeable-lug of a guy.
But this whole 'I'm thinking about retirement' thing is starting to wear thin.  Take this advice for what it's worth, but here's what you should do:
Either come back ready to contribute to another championship effort or leave us be.  Dragging this on into a holdout, or a contractual standoff won't look good for anyone - especially you, since you're under contract.  You signed it.  Mandatory workouts begin in early June.
A holdout won't allow you the chance to retain that 'good guy' persona you've worked so hard to create and maintain, and it won't allow a team and organization that took the first chance on you, developed you and turned you into a potential Hall-of-Famer to move on.  If you stay on this path, we all probably know how it will end.
We get it.  It's stressful for you.  Fort Foxboro is not for the weak-minded, and I think we all know it.  But you and several of your teammates (and ex-teammates) have also known this drill for a long time.
By the numbers you put up on the field last season (and I know that's probably a big part of the problem – you feel underpaid) it doesn't seem as if you're ready to walk away from football.  Sure, you've been injured, and that's never much fun.  You've put yourself and your health on the line for the team, and all you want is a little extra love in return for the results you've turned in.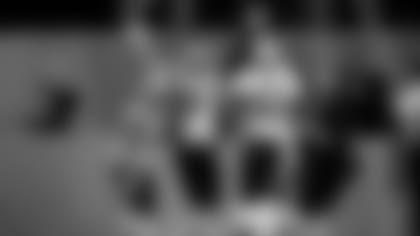 Can't say I blame you there.  But you love this sport too much.  You're too good at it to walk away.  There's still some football life left in you, or you would have left for Hollywood or the squared-ring by now.  Playing coy is only playing us all for fools.  Including yourself.
You need leverage in trying to achieve what you hope to achieve, to earn a better contractual situation for yourself, am I right?  That's fine, and you have the right to pursue what you believe is in your best interests.  Hopefully, we're making some progress in this regard, based on media reports.
I'm simply telling you a holdout won't work.  You know the history, you know the people and personalities.  You'll end up destroying much of the goodwill you've built.  Don't let this go on too much further.
Come back soon ready to go, ok?  Because you're playing with fire, scarecrow.  It's time to put up or shut up, and not for nothin,' we'd all rather you do the former.
#12 Tom Brady
Happy 18th anniversary, TB12.
You probably know by now that Monday was the 18th anniversary of the Patriots selecting Tom Brady in the 6th round of the 2000 NFL Draft with the 199th pick, out of Michigan.  It also just so happens that April 16th is Bill Belichicks' birthday.
Fate?  Coincidence?  It's probably the best birthday present a coach has ever given himself.
Six quarterbacks were selected ahead of TB12 that day 18 years ago.  Chad Pennington (now coaching middle school football), Giovanni Carmozzi (a farmer), Chris Redman (a partner in a company that makes mouth guards), Tee Martin (offensive coordinator at USC), Marc Bulger (also a farmer) and Spergon Wynn (an energy broker) were the six, now arguably as famous as they've ever been – and for most, maybe more so.
Why?  Because they were chosen before the Greatest Of All Time.  It's not their fault.  The fickle finger of football history just pointed in their direction before finally settling on Brady.  Fate has a strange way of telling a story.
You may also recall that when Brady arrived at Michigan, he was an astounding 7th on the depth chart in Ann Arbor.  So think about the odds here in overcoming the start to his collegiate career, as well as to the beginning of his pro career – and where he his now.
And he's still playing QB at age 40, as an NFL MVP and owner of five Super Bowl rings?  Come on, now.
Fate, you've outdone yourself here.
#92 James Harrison
Harrison was only a Patriot for part of one season.  He'll be remembered mostly for the havoc he wreaked on opposing offenses as a member of the Pittsburgh Steelers, winning two Super Bowl rings in 16 years and being named NFL Defensive Player of the Year in 2008.
Oh, and the all-time leader in sacks for the Steelers' franchise.  Not a bad career for a guy who entered the league undrafted in 2002, having spent time in NFL Europe before reaching the Steel City.
Harrison played in Cincinnati as well, and he spent the final four games of his noteworthy career with the Patriots.  Those four games were also noteworthy themselves.  Three QB sacks, three QB hits and seven QB hurries all say he could still bring the heat, and he managed to set the edge for the run defense as well as anyone was capable.
Could he have continued to play like that as he approaches age 40?  Probably.  The thought here was he could have contributed to the Patriots next season, in the right situations.  That he made the choice to leave football on his own was also, probably, the right situation.
"I've missed way too much for way too long, and I'm done," Harrison wrote in a photo caption, alongside pictures of his children, Monday on his Instagram account. "Many thanks to my family, coaches, the fans, and everyone who played a role in my football life."
Your time as a Patriot was short, James, but also pretty sweet.  And we thank you for that.
John Rooke is an author and award-winning broadcaster and has completed 25 seasons as the Patriots' stadium voice.  Currently serving in several media capacities - which include hosting "Patriots Playbook" on Patriots.com Radio - Rooke has broadcast college football and basketball locally and nationally for 30 seasons, and is a member of the Rhode Island Radio Hall of Fame and RI's Words Unlimited Hall of Fame.