When it comes to name-calling, you can probably create your own descriptive phrases on what the New England Patriots have become in recent years.
Winners?  Super Bowl Champions?  A dynastic team?  What about royal-pains-in-the-*?  
You get the idea.  Not everyone who comes this way is appreciative of recent history.  As the saying goes, 'haters gonna hate.'
But here's a trait you might not have previously pinned on the Patriots - what about New England as 'the Land of Opportunity?'
It's true, and we're not necessarily referring to the regions' historical, colonial beginnings.  But rather, dreams have materialized for many under-the-radar and undrafted football players through the years.  In New England, it seems as if this team ALWAYS finds a diamond (or two) in-the-rough, who manages to stick around, surprise and contribute to a winning campaign.
After examining opening-day rosters beginning with the 2000 season (the start of Bill Belichick's tenure), the Patriots appear to have had at least one UDFA (undrafted free agent) earn a place on the final, season-opening 53-player squad for 14 consecutive years.  That's a solid track record of success for players who might be nothing more than cannon-fodder for other teams, all hoping to earn their way onto an NFL roster.
From the team perspective, it also underscores the value of scouting, and simply recognizing if a guy can play.  There will always be "stars" and high draft choices to occupy the spotlight, but usually these players can only carry a team to a point.  
What about the quality depth needed to keep you competitive through injuries and the long grind of a 17-week season?  
We've learned in New England, depth is the real key to having success in both long and short-term situations.  Having players that can play, sure, but also players who can adapt and respond well to coaching and playing 'in the moment' has been a consistent factor in creating the aura around Gillette Stadium many know as 'The Patriot Way.'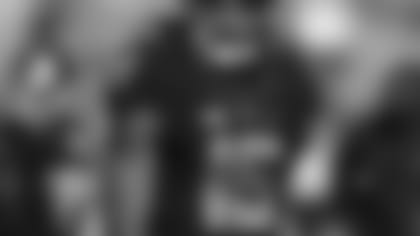 In addition to the nine draft selections for 2018, the Patriots have also signed nine rookie free agents, each hoping to become the next under-the-radar, undrafted player to grab a coveted spot on the Patriots' roster, much like Adam Butler and Harvey Langi did at this time almost a year ago.  
You may already have your own thoughts on a candidate to stick around for a while, based on perceived need or roster depth, but it's a fair statement to say at least one of these guys will find a way to surprise us, and maybe surprise the coaching staff, too:
Ralph Webb, RB Vanderbilt
J.C. Jackson, CB Maryland
Chris Lacy, WR Oklahoma State
Shane Wimann, TE N. Illinois
The coaches probably already know what they have.  Some have received (or will receive) larger signing bonuses as an indication of their expectation.  But the bonuses don't guarantee anything.
The coaching staff will wait for the lessons learned to be absorbed, and for the talent to start showing itself.  The long road to a roster spot for these guys began this past weekend, and this road won't end until Labor Day.  
That's when the name-calling will probably start all over again.  Chances are strong that someone on this list will be called a 'New England Patriot.'
Opportunity also knocking here
When he played linebacker at Boston College (1999-2003), Brian Flores was a bit undersized at his position.   Generously listed at 5-11 and 218 pounds, Flores had a nose for the football that the Eagles' coaching staff knew at the time they had to put closer to the action.  
He began his BC career in the secondary at safety and played on special teams, and he made plays in both roles.  Flores moved into an outside linebacker role as a junior, finishing fifth on the team in total tackles (with 74) and had six solo stops in a bowl win over Toledo in 2002.
As a senior, Flores flourished in his role with 66 solo tackles, 106 total stops in all - which was 2nd best on another BC bowl-winning team.   He was always around the ball and one of my favorites; athletic, tough and dependable...just like his coaches at that time needed him to be.  
And just like his fellow coaches now on the New England staff are asking him to be once again.  Flores steps in this season as the primary play-caller for the defense, after earning and working his way up the coaching ladder for the past 14 seasons.
[wysifield-embeddedaudio|eid="664141"|type="embeddedaudio"|view_mode="full"]"There is a long history of this defense," Flores said to the media this past weekend as Patriot rookies opened mini-camp, and he opened his own career in a new role.  "Bill's been here for a number of years, so I would say we're going to continue to play defense like we've played the past 18 seasons he's been here."
In terms of look, style and feel, the Patriots' defense under his tutelage may not be moving far from what we've already seen.  "Tough, smart, dependable, (one) that can play under pressure," is how Flores described his style of defense.  "That's been a good formula.  I'll go with that one."
Does this mean a change in scheme, formation or philosophy could come about?  There's room for interpretation here, as every coach in a new position has ideas on how things should look or feel.  But if his playing (and early coaching) career is any indicator, he'll want this defense to 'fly to the ball.'  
Attack, rather than react.  Take advantage of what you do have, without worrying about what you don't have.  Play tough, be athletic and dependable, and be disciplined in whatever you do.
"That's my coaching style," he told ESPN.com.  "I'm tough on the players.  I think you need to be tough on them so they can be disciplined.  You need discipline to play this game."
A roll of the dice?
Monday's Supreme Court decision to strike down federal law that prohibits gambling on football (including basketball, baseball and other sports, too) in most states means the NFL now has another issue to consider.
Keeping the game real.  And fair.
The four major pro sports leagues in the U.S. (NFL, NBA, NHL, MLB) and the NCAA had previously urged the court to uphold federal law, arguing that expansion of gambling would harm the integrity of their games.  The State of New Jersey, supported by more than a dozen other states, argued that Congress had exceeded its authority when it passed laws barring states from authorizing sports betting.
New Jersey, apparently, gets the win here.  The Supreme Court, on a 6-3 vote, ruled that the 1992 Professional and Amateur Sports Act was an important policy, but not one to make at the federal level.  Each state is now free to act on its own.
With stories of point-shaving scandals and illegal gambling activities existing for years, at first glance it does appear the NFL (and every other league entity) might have a problem without checks and balances in place.  
But let's also consider Nevada, which has had sports gambling in place for decades, recently receiving the news it would have an NFL team to call its own - the Raiders.  It certainly didn't look like the NFL was against this move into the "desert den of sin," did it?
And of course, any other state hoping to reap expected monetary benefits will need to pass legislation and regulate sports gambling before any bets can be placed.  New Jersey, West Virginia, Mississippi, Pennsylvania, New York and Delaware already have passed legislation in anticipation of Monday's ruling. Analysts predict another 14 states may follow suit by 2020.  
The American Gaming Association estimates Americans already illegally wager more than $150 billion a year.  
Time to see if the states can put some of this 'ill-gotten gain' to good use in their homes, their schools, their streets and cities.  It's about time.  Rest assured the NFL has already given its tacit approval.
John Rooke is an author and award-winning broadcaster, and has completed 25 seasons as the Patriots' stadium voice.  Currently serving in several media capacities - which include hosting "Patriots Playbook" on Patriots.com Radio - Rooke has broadcast college football and basketball locally and nationally for 30 seasons and is a member of the Rhode Island Radio Hall of Fame and RI's Words Unlimited Hall of Fame.