There are some questions out there that need answering.
The start of a football season always leaves a few things hanging out there - some low, some a bit out of reach, others impossible to answer - nevertheless, inquiring minds need to know.
Forget want - we're already onto a 'we-need-to-know' basis around here, right?
Question 1: Why does the heavy-hand of NFL Discipline appear to be so uneven?
Nothing like starting with the hardest question first. Impossible to answer?
It will be, as long as the National Football League continues with inane attempts to apply a schedule of fines and suspensions to wildly disparate issues and infractions.
What we need, plain and simple, is a good dose of common sense applied to each and every problem.
Jon Runyan is the NFL Vice President of Policy and Rules Administration. As a former player, Runyon should understand that every issue has its own cause, its own result and therefore, should have its own punishment regardless of what 'the book' may say. However, Runyan is primarily in charge of on-field discipline, which includes a role as uniform compliance cop.
There's little to bend in many of those rules, as we're all aware. But working closely with the competition committee, as a former player, is where someone who has actually played the game should provide some smarts.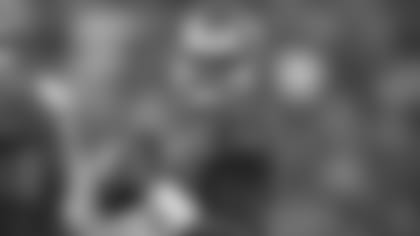 And the coaches and owners should be sure to listen to what he says.
Pro Football Hall of Famer Derrick Brooks, along with former NFL player James Thrash, both serve as player appeals officers. Every player has a right to have his punishment go through the appeals process.
And perhaps this is where the biggest problems reside.
Straight from the NFL Operations guide:
The rules exist for the good of the game and complying with them is a shared responsibility. During the offseason, players receive clear instructions on violations and penalties. The NFL and its Compliance Department apply those rules consistently and fairly for all 32 teams and their players.
Except this doesn't happen.
Tampa Bay QB Jameis Winston wasn't arrested or criminally charged yet found himself in violation of the NFL's personal conduct policy in a case involving his conduct with a female Uber driver more than two years ago. He has said he'll accept the league's three-game suspension, after cutting a deal, that will begin September 1st.
Tom Brady received a four-game suspension for maybe knowing some footballs were underinflated. Ray Rice had a suspension reduced to two games for knocking out his fiancé. Michael Vick got two games for his involvement in dog-fighting.
Right-to-privacy rules being what they are, and public knowledge or information being what it is, disciplining off-field conduct is a slippery slope. Which is precisely why every case needs to be handled differently, and with an extreme amount of good, ol' fashioned common sense.
After covering the league for parts of five decades, I'd be happy to volunteer my services and apply some of that common sense where it's needed most. And yet, I'm certain that somewhere I'd be vilified for it.
Question 2: Why do the Patriots have, and continue to hold, such a stranglehold on the AFC East?
This question might be the easiest to answer.
There are a few plausible reasons for success, ranging from having ownership like the Kraft's, to having a generational coach like Bill Belichick, to having a firm understanding of how the game should be managed and played in the 21st century. And all of these would certainly be interchangeable and relatable to each other.
But the primary reason why the Patriots have won nine straight AFC East titles, 14 out of 15 and 15 of the past 17?
Since 2000, the New York J-E-T-S have had 13 different players start at the position. Buffalo has had 16 quarterbacks start at least one game during this time.
And the Miami Dolphins? A whopping 19 QB's have started under center over the past 18 seasons. Stability, thy residence is not in South Florida.
It is true that injuries and suspension (as well as poor personnel choices) have played a factor in several instances with each division team, including the Patriots. But when Tom Brady is, and has been, your backbone for nearly two full decades?
Chris Price from the Boston Sports Journal wrote a recent piece on where the AFC East competition stands coming into 2018, and in each case, the quarterback position resonated as a position with more promise today than in recent years.
Suffice to say, the other guys know they need an upgrade - one with potential stability - at the position in order to potentially supplant the Patriots as Kings of the Hill.
Question 3: Out of the list of Top 100 NFL players, why do the Patriots only have two?
First of all, this "list" serves as a pet peeve. It's a marketing ploy and nothing but a mechanism for the NFL (and the NFL Network) to raise and maintain interest in pro football when other sports (NBA, NHL) are in championship play, and when baseball has begun anew.
I get that part. But seriously, NFL. Do Your Job.
It is true, for the third time in his career, that Tom Brady has been listed #1. Rob Gronkowski was 15th. And no other Patriot player was good enough to be included?
As Robert Kraft recently intoned about the Gronkowski trade rumors, "that's hogwash."
When you have a football team that annually contends for the postseason (see above) and usually competes well enough to be considered championship-worthy, your roster ain't full of chopped liver. There's quality at every position (Devin McCourty, Stephon Gilmore, Dont'a Hightower, Julian Edelman, Matthew Slater, Shaq Mason and Stephen Gostkowski are a few of note) and the overall depth is a major reason for New England's longevity among contending teams.
But when you learn that it's the players themselves who vote on this Top 100 list, you should have your "aha" moment.
If you've been paying attention, you know there's little love out there for "The Patriot Way" these days. Respect for guys like Brady and Gronk, sure. Talent and ability always transcend jealousy or hatred. But overall?
The Patriots? Again? The majority of players in this league will stand up for their teammates before standing up for others. And there's nothing really wrong with that, either.
But if you're looking for a true Top 100, it should be compiled by those who actually watch everyone, talk to everyone, observe and learn from everyone. Not by players who are focused (or should be focused) on their own jobs and their own teammates, playing in different cities who don't get the chance to follow other players as closely.
Take that list with a large grain of salt. And take pride in the fact that if there are only two Patriots on it, someone else on the roster is Doing Their Job.
John Rooke, an author and award-winning broadcaster, is entering his 26th season as the Patriots' stadium voice. Currently serving in several media capacities - which include hosting "Patriots Playbook" on Patriots.com Radio - Rooke has broadcast college football and basketball locally and nationally for more than 30 years and is a member of the Rhode Island Radio Hall of Fame and RI's Words Unlimited Hall of Fame.