INDIANAPOLIS – There have been few offenses as prolific as the Patriots in recent seasons. Tom Brady has thrown 75 touchdown passes and just 16 interceptions the past two seasons and he's overseen a unit that has finished in the top three in both yards and points.
Despite that enormous production, Brady and his mates have fallen short in the postseason. In 2010 it was the Jets who came to Foxborough and limited the Patriots attack to 14 points until a meaningless touchdown in the closing seconds made the 28-21 defeat appear closer than it was. This season the offense was once again prolific – until it counted.
After dismantling an overmatched Denver squad in the divisional round, the offense was largely silenced the next two games. Baltimore kept New England under wraps most of the day but couldn't find enough offense of its own to come away with the victory in the AFC title game. Then the Giants matched the Ravens defensive performance in the Super Bowl and this time it was enough to win.
After scoring 30 or more points in 13 of its first 17 games, the offense managed just 23 and 17 in the final two.
There are several schools of thought as to why the production drops off so dramatically in the postseason, but the one that seems to generate the most attention is the lack of a big-play receiver on the outside. If Bill Belichick and his scouting department agree, this is a great draft to fill just such a need.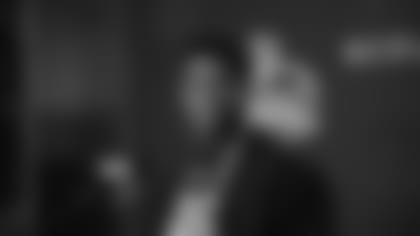 This crop is loaded with tall, fast, dangerous receivers who come into the NFL with plenty of production on their resumes. Of the top 12 wideouts listed on NFL Draft Scout, 11 are 6-0 or greater, and the lone exception is Baylor's dynamic Kendall Wright, who despite his 5-10 frame is considered a surefire first-round pick.
Most experts agree Oklahoma State's Justin Blackmon stands atop the list. The 6-0, 207-pound playmaker said while it was important to him to be the first wideout chosen, it wasn't something he was fixated on.
"At the same time I'm happy to be in this situation," Blackmon said. "There are a lot of great receivers in this draft. I have a lot of confidence but I know there's still a lot I need to work on."
The wideout said he hadn't yet decided if he will run the 40 at the Combine but added that he figures to be in the 4.5 and perhaps 4.4 range. Blackmon also had a word for those who question his speed.
"I know I'm not slow," he said. "Just check the tape. I've never been caught from behind."
Wright acknowledged his smaller frame has him a bit out of place among the giants at his position but believes there's something good that comes from that.
"I have other attributes that make up for that," said Wright, who has drawn comparisons to Philadelphia speedster DeSean Jackson but prefers Carolina's Steve Smith. "Maybe if I was taller there would be parts of my game that wouldn't have developed as well."
Notre Dame's Michael Floyd is another big target with a first-round grade. He could be of particular interest to the Patriots given his experience playing for Charlier Weis during his first two seasons in South Bend. Floyd believes the work in multiple systems will be beneficial in the NFL.
"[Weis' offense] was a pro style offense. It was a lot different from Coach [Brian]Kelly being in the spread," he said. "Being in this position now and going into the NFL I think Coach Weis is more into the NFL schemes and stuff like that. It's good that I learned both of them and I have a little bit of experience in both."
Another guy to keep an eye on for the Patriots is Mohamed Sanu out of Rutgers. Belichick's connections to Greg Schiano's former program (Schiano is now the head coach of Tampa Bay) are well documented and Sanu's size (6-2, 215) and versatility should be pluses.
South Carolina's Alshon Jeffery (6-2, 216) is one of the more polarizing wideouts in this class. A monster sophomore season with the Gamecocks had Jeffery highly regarded but his production plummeted last season and raised questions.
One was obvious to anyone who watched South Carolina and saw how bog No. 1 is scarlet appeared to be around the middle. Jeffery said he played the season around 230 pounds and shed about 15 pounds off that bulky frame. He did so in an effort to prove he was willing to work hard and to show teams he was capable of running away from coverage.
An intriguing talent with plenty of raw ability, Jeffery has had a hard time shaking comparisons to Detroit bust Mike Williams. But showing up fit and trim was a major step in the right direction.
Moving further down the line, Arkansas' Joe Adams is another of the smaller wideouts in the crop. At 5-11, 179 pounds, Adams appears more suited for slot work than the outside – which is more along the lines of what the Patriots need – but he said he was comfortable in any role, which he proved with a strong Senior Bowl showing. He also comes from a pro style offense under Bobby Petrino.
"I think I raised [my stock] a lot because other people doubted me being a receiver and they just really didn't get a chance to see me at receiver," Adams said. "But playing X at the senior bowl just opened a whole bunch of eyes. I played X and Z before, but coach used me a lot in the slot, so he could throw me bubble passes and stuff like that.
"I would love playing for the Patriots. They throw the ball a lot just like we did in my offense. Guys look at me like a Wes Welker, but I play outside receiver, too. They use me all around."
Adams is also a dynamic return man, which could make him a valuable prospect in the middle rounds.
LSU's Reuben Randle (6-3, 208), Georgia Tech'sStephen Hill (6-4, 215), Wisconsin's Nick Toon (6-2, 220) and Arizona's Juron Criner (6-2, 220) are also among the big-bodied wideouts expected to go fairly early. Hill is particularly interesting given his relatively low production due to his time playing in the Yellow Jackets triple option.
"It really wasn't as frustrating," Hill said of playing in such a run-dominant attack. "Yes, you're a wide receiver and you want to get the ball. But, any time you're helping out a team because I'm a winner and I like to win. Any time you want to help out a team that's a good thing. It also helped me a lot for the coaches to see on film that I can block because they're looking for receivers that can block also."
Even in the mid-to-later round there are plenty of possibilities. Oklahoma's Ryan Broyles may be one of the most intriguing coming off a torn ACL that caused him to miss the Sooners final four games. If healthy he could be a lethal threat out of the slot.
"Three months out. Surgery went well. Rehab is going well. Running a little bit. Moving around," Broyles said.  "I'm on pace to be cleared in May. Hopefully have a Pro Day early April. I'm moving around and am on pace for May mini-camp.
"I did have a slight meniscus tear, a full ACL tear. I had that done by Dr. Andrews out of Pensacola, so, I was in good hands. I feel successful. I feel the surgery went very well. I'm ready for what comes next."
Iowa's Marvin McNutt (6-3, 216), Ohio State's DeVier Posey (6-3, 209), Miami's Tommy Streeter (6-4, 215) and Wake Forest's Chris Givens (6-0, 195) are all talented wideouts who played against quality competition. Each could be available in the middle rounds and provide young depth for a Patriots squad looking to improve its speed on the outside.
The beauty of this deep and talented class is at virtually any time the Patriots choose to look, a quality player could likely be found.