If you've ever wanted to learn more about how one of the greatest coaches of all time runs his team, now's your chance. Before the draft,  Bill Belichick sat down with New York Lizards lacrosse player Paul Rabil for the first edition of his podcast, "Suiting Up."
The episode debuted on iTunes on Monday, and Coach Belichick discusses his philosophy when it comes to coaching the team. For him, less is more, especially when it comes to the number of people on his coaching staff.
"As long as everybody is busy, as long as everybody feels productive, they feel good about what they're doing and they feel like they're contributing; I think when people have lag time and kind of not enough to do, that leads to getting distracted and complaining or being less productive," Coach Belichick said. "So even though you have more people, sometimes less work gets done."
Throughout the podcast, Coach Belichick offered up plenty words of wisdom that he's taken away from his time as a coach – like  the importance of timing and how it plays into decisions. He also said he learned from the many people who he watched, studied and knew, like those he came into contact with while his father Steve coached at the Naval Academy. Coach finds it easier to truly appreciate those moments as an adult than when he was a child, he said.
"At the time I didn't realize it, but looking back on it was a tremendous experience," Coach Belichick said. "I was exposed to great discipline and great programs at the Naval Academy and a lot of great coaches with different philosophies and different ways of doing things."
From those different coaches, Coach Belichick was able to develop his own style by finding what worked best for him and leaving out the things that didn't.  He found that when you're comfortable with your style, you'll find more success.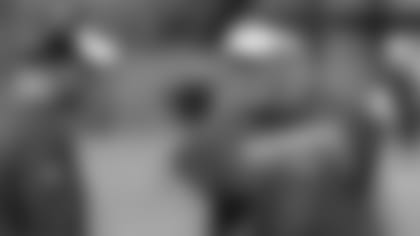 "That's part of it too," he said. "There's multiple ways to be successful. It's not just one thing. So those were all in my playing career as an athlete. I played under different types of coaches and some things worked for some guys and some things didn't work. But I think in the end what I learned was you have to be yourself. You have to develop your style. You can learn from other people but in the end you have to be comfortable in your own skin doing that."
Former coaches aren't his only source of inspiration though. Coach Belichick does pick up current or historical books and he keeps a running list of book recommendations from the people he respects the most.
Paul and Coach Belichick also touched on how he uses the obstacles that come his way as fuel for the future. The key is to move on it from by correcting the mistake. 
"I remember the losses more than the wins and the plays that you'd like to have that might have gotten you another championship," Coach Belichick said. "Those stick with you. I don't know if you ever really get rid of them. They probably are somewhat of a driving force because you just don't want that feeling again. You just don't want to let your team or your teammates down and you want to be a little bit more prepared the next time so that you don't suffer that disappointment of being close but not being able to be a champion because of something that just wasn't quite good enough against another good competitor."
You can check out the podcast on iTunes to hear all of coach Belichick's words of wisdom.
RELATED LINKS