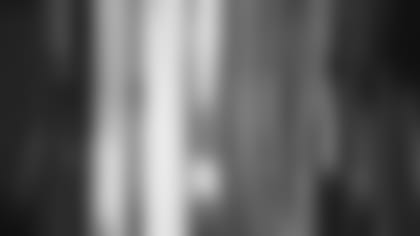 ]()
            Sixty-five women from a field of 400 were asked to return today to Gillette Stadium to take part in the Patriots Cheerleader final auditions. And after a full day of swimsuit modeling, dancing and answering questions from judges, the 2003 squad of 24 cheerleaders was selected.  

For the first time, a swimsuit portion was added to the final auditions, due to the fact that all members of the cheerleading squad will appear in the 16-month calendar scheduled to be unveiled in August. The calendar photograph shoot will take place in Daytona Beach in June where the new squad will take part in a variety of activities in addition to posing for the calendar.
For now, the 24 newly-selected members will have their work cut out for them learning routines and fulfilling the 2003/2004 appearance schedule. Just like their counterpart members of the Patriots, there's an incredible amount of work yet to be done in preparation of the 2003 season.
Log on to Patriots.com tomorrow to view photos from the audition as well as a group photo of the newest cheerleaders. In the coming weeks, fans will be able to learn more about the squad and each of its members. And a new Patriots Cheerleaders section of the website will be launched soon with individual photos and bios of the new members