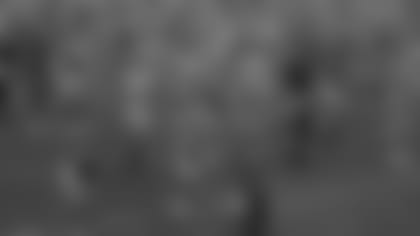 ]()Despite the inclement weather, 300 hopefuls traveled to Gillette Stadium in torrential rain and wind, with the hopes of earning one of the 24 coveted positions on the 2008 Patriots Cheerleading Squad. After an introduction and warm up, the current Patriots Cheerleaders demonstrated two high energy dance routines that would be taught over the course of the day. The enthusiastic group of auditioners got right to the task, working hard to master the choreography. In groups of four, the ladies performed for a panel of judges who were scoring based on dance ability, showmanship and level of physical fitness. After a lengthy deliberation, the room of 300 hopefulls was narrowed down to just 66. The process was repeated, with auditioners performing the second routine that was taught, as well as a high kick combination and an optional tumbling pass. The day began at 11am and by 9pm, 39 ladies were chosen to participate in the final auditions scheduled for March 22. At that time, the current Patriots Cheerleaders who are reauditioning, will join the process.
Finalists were given a football quiz and answer guide to study prior to the final round. They were asked to sign up for a personal interview with Cheerleader Director, Tracy Sormanti, at Gillette Stadium. An optional rehearsal was planned to give participants one last chance to brush up on the choreography before the big day on March 22. Final auditions consist of a question and answer/meet & greet segment with a panel of judges, a swimsuit modeling segment, a high kick combination, an optional tumbling pass, a free style dance requirement and of course, auditioners will also be required to perform the routines learned at preliminaries perfectly. By late afternoon on March 22, approximately 40 women will be selected as finalists, and will be given the opportunity to attend four rehearsals at Gillette Stadium. Choreography will be taught, media testing will take place, and physical training will be a key focus as well. On April 5, the 24 member squad for 2008 will be announced. Photos from auditions will be available soon, and a list of finalists will be posted after March 22.
Please note: We do not offer a make up date for auditions, and we do not accept videotapes in lieu of auditioning.
If you are interested in auditioning for the 2009 Patriots Cheerleading Squad, please email Tracy Sormanti at**tracys@patriots.com**, to be placed on the email list.