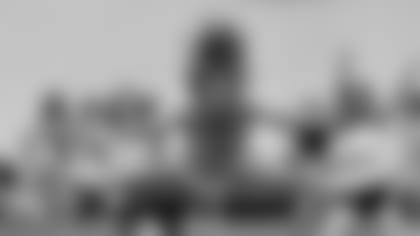 ]()By 10:00 am on Saturday, February 20th, the line outside the Dana Farber Field House at Gillette Stadium had grown to almost 300 hopefuls, as ladies waited their turn to register to audition for a coveted position on the 28 member, 2010 Patriots Cheerleading squad.
Throughout the day, two choreographed dance routines were taught, and candidates were given the opportunity to perform a freestyle piece for a panel of judges as well. Two rounds of eliminations were made and by 9:00 pm, approximately 35 tired but excited women walked out of the door as finalists.
After a personal interview with Cheerleader Director, Tracy Sormanti, those ladies will join the current Patriots Cheerleaders at Final Auditions on March 6th at Gillette Stadium. If the ladies though preliminaries were tough, they have a difficult but exciting road ahead.
At final auditions, candidates will be required to perform the two choreographed dances they learned at preliminaries, as well as their freestyle routine. They will be given a football quiz, will have a meet and greet with the judges, do a series of high kicks and splits, an optional tumbling pass and will model a swimsuit, much like a pageant. As all 28 cheerleaders will travel to the Dominican Republic the last week of April to shoot the 2011 Patriots Cheerleaders Swimsuit Calendar, the swimsuit modeling segment of auditions is a very important part of the process.
By the end of the day on March 6th, approximately 40 ladies will be selected to participate in a two week intensive training program, attending rehearsals, public speaking drills and fitness training sessions. By March 20th, the final 28 member squad will be announced.