A hush has descended on Gillette Stadium.
It's the same sad quietude that arrives for every team but one each NFL season.
A season, as Patriots head coach Bill Belichick described it this morning, "that's very much alive with great hopes and expectations and energy suddenly crashes and it's gone."
He knows the feeling all too well. In his 38 seasons in the NFL, only five have ended with Super Bowl victories (two with the Giants, three with New England).
"You play a game this time of year," he went on, "you're either euphoria or it's a crash landing. For us, it's a crash landing… there's no in-between. There's certainly no soft landing."
Belichick made these comments while answering reporters' questions for the final time this season. He and his players are back in the facility less than 12 hours after losing for only the second time in franchise history in the AFC Championship Game, and the first time ever being defeated at home in the conference title match.
There are painful formalities to endure today: the cleaning out of lockers, the filing of end-of-season paperwork, the saying of goodbyes to teammates and colleagues. Belichick and his staff will do their best to try to deal with their grief by beginning the processes of starting anew: preparing for the NFL Draft and free agency.
It's far too soon, Belichick stressed, to make any decisions about the futures of individual players like wide receiver Wes Welker or cornerback Aqib Talib, both of whom have contracts that expire now that the season is over.
"All of that will take place down the road. Nothing will happen today, tomorrow, or the next day. Now's not really the time to talk about that. That's for a later point in time when we can make an entire evaluation of the football team. I can't put in place a plan for the entire team right now. There's not enough information."
In the locker room late this morning, a familiar scene unfolded. Players tossed the detritus of the past season into garbage cans – old cleats and gloves and playbooks and whatnot – and placed personal belongings and valuables into boxes and bags to take home with them.
For many, the immediate future involves… anything but football.
"I'm going to take some time, get my body right," defensive end Rob Ninkovich explained. "I take a couple of weeks, let my body heal up before I start working out again… you've been going for so long now, and [football]'s all you're thinking about and focused on. Now, let's get away from it a little bit, get some rest, take some time off, and then get back into it."
Getting healed in the short term is paramount for players like starting rookie defensive end Chandler Jones. After a strong beginning to 2012, he injured both ankles in the latter half of the season, first his right one against Indianapolis, then his left just a week ago against Houston.
He revealed today that he'll be discussing his options with the team's medical staff, which could include having surgery to repair what's wrong with the left ankle. Jones only appeared in a handful of plays Sunday against Baltimore because of the injury.
"My rookie season was exciting," Jones insisted this morning. "I learned a lot this year…. It's the offseason, time to get bigger, faster, and stronger, spend some time with [the Patriots' strength coaches] and get ready for next year."
Some players are already on that road to recovery.
Wide receiver/returner Julian Edelman, who's been out since the Miami game in early December with a broken right foot, walked through the locker room after having just finished a workout. He strode across the room without any noticeable limp or any medical devices on that foot. He did not stop to talk on the record with reporters, however.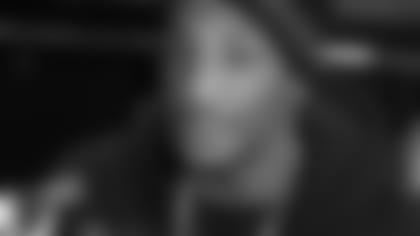 One player who did was Talib. And as usual, he wasn't shy about expressing his feelings. After injuring his right hamstring in the first quarter against Houston, he was unable to return to action and watched the remainder of the game on the sideline. Describing it as "the worst way to go out in any game," he said he tried to get back in, but knew he wasn't physically able to do so at the necessary high level.
Acquired via trade in mid-season, Talib was asked if he'd like to return to New England in 2013, if given the choice by the team.
"Man, I had a lot of fun here. Definitely enjoyed my time here. Had the most fun I had playing football in a long time here," he responded. "I definitely enjoyed being a Patriot.
"I'm not really worried about all that right now," he added. "The game was 12 hours ago. Right now I'm still a Patriot. Free agency doesn't start till March. Until then, I'm still a Patriot… I'll just work hard this offseason, see what happens."
While the pervading mood was, of course, subdued, there were some positives to point out.
"We have a great foundation of young guys… our future is definitely bright," Ninkovich noted. "We have to continue to be mentally strong and learn from [this loss]."
"It was a team I enjoyed coaching," Belichick revealed to reporters. "The players worked hard behind the scenes… didn't make excuses, got better over the course of the season, both individually and collectively. The outcome is not what we wanted, but I give these guys a lot of credit for what they did do."
A year ago during the Patriots' Super Bowl run, rumors surfaced that Belichick might be considering retirement. He obviously didn't, but the idea hasn't seemed to disappear completely. The same question was posed to him this morning.
"I'll be here. You'll have to deal with me next year. I know that's disappointing for a lot of you," he replied with a smirk. "Until I'm told otherwise, I plan on being here."
That, apparently, is the only certainty the Patriots can take with them into this offseason.