ORCHARD PARK, N.Y. – Balance is one life's greatest achievements – difficult, sometimes, to achieve; beautiful and seemingly effortless when it is.
Very early Sunday in Ralph Wilson Stadium, the Patriots looked like they were accomplishing that. After the defense forced an opening-drive punt, New England's offense proceeded to march 90 yards for a touchdown.
Then, the balance shifted.
The defense held up its end of the bargain, but suddenly, the Patriots offense began teetering. The D kept getting the ball back with great field position, but the O just couldn't score.
Worse, New England's offense started re-gifting.
Uncharacteristic fumbles by tight end Rob Gronkowski and wide receiver Wes Welker helped put the Bills on top and snatch the momentum away from the Patriots. It almost seemed like the offense couldn't do anything right.
Their counterweight, thankfully for them, was their defense, which continued to make plays. One at the end of the first half appeared to wrest control back from Buffalo.
As Bills running back C.J. Spiller looked headed for a score in the shadow of New England's goal line, linebacker Brandon Spikes and defensive tackle Vince Wilfork combined to strip the ball loose. Wilfork came up with it. The halftime score remained 14-7, Bills. And even though Buffalo came out in the second half and added another touchdown, the momentum shift had already begun its inexorable swing back in the Patriots' direction.
New England went on to score 35 unanswered points. Just like that, an offense that couldn't do anything right, couldn't do anything wrong.
Despite being down two touchdowns, the Patriots didn't panic and bravely stuck to their game plan: mix passes with nearly equal parts runs. Boy, did it ever pay off. The Patriots had not one, but two ball carriers top 100 yards: rookie Brandon Bolden picked up 137, with an 8.6-per-carry average and a score, while second-year man Stevan Ridley added 106 and two TDs.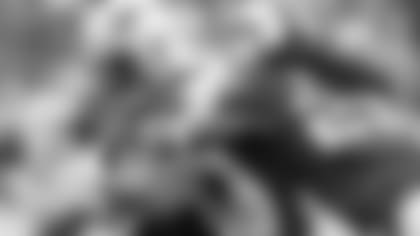 Oh, and Welker and Gronkowski, they of the first-half fumbles? They would up each gaining more than 100 yards receiving (Welker, 129; Gronk, 104 and a touchdown).
The formula for this success? A balanced attack, naturally.
With Ridley or Bolden the lone back behind quarterback Tom Brady, New England mostly employed two tight ends and two receivers, usually with any combination of two on one side of the formation and two on the other. It worked like a charm in Tennessee in Week 1, but then the Patriots were almost forced to abandon the look the past two weeks with the loss of tight end Aaron Hernandez to injury and a successful no-huddle approach last week for most of the game in Baltimore.
But in Buffalo, it was back to what worked in Week 1.
"I guess that's two Ws the two weeks we've been doing that. If you want to call that the fix, we'll call it the fix," observed Ridley. "In and out each week, schemes are going to change. When they call our number as running backs, we have to go out there and make a play. That's what we try to do. Nobody's Superman. Just working together as a group. Whoever it is,we're out there supporting each other,
"Our offensive line's hard at work and you can see the change from last week to this week. Came in, we were committed to the run this week. We played well as an offense. Got off to a slow start, but it's not how you start, it's how you finish. So, for us, we ended up with a win, and that's all that matters to us."
Committed to the run, yes, but no at the expense of the pass. On the contrary, the former benefitted the latter immensely.
"You go into every game not knowing what to expect," remarked Welker. "You have an idea, but ultimately, the game plan changes at times. I believe we were able to stay pretty balanced and the running game was really good for us.
"I don't think you take your foot off the pedal as a receiver when you get the run game going," he added. "Eventually, we're going to have to pass the ball, make some plays in the pass game. The running backs and offensive line did a phenomenal job. hats off the them. It really does make our job a lot easier when [the defense has] to think about the run like that."
The players were balanced not only on the field, but in their own heads as well. In the post-game visitors locker room, the word 'composure' was used generously to describe how the Patriots overcame their considerable obstacles.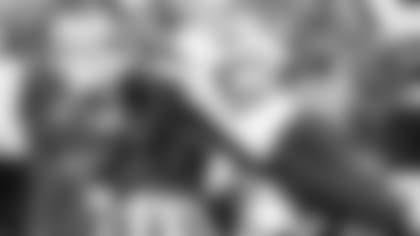 "Composure. You've got to keep your composure, no matter what happens on the field," began Bolden, the rookie who played beyond his years Sunday afternoon. "We could've been down four touchdowns, could've been down 10 touchdowns. You have to keep your composure and do your job."
"Dropped two [games] in a row, backs against the wall," Wilfork said, setting the stage for today's events, "and everybody kept their composures. Executed well in critical situations, came up with some big stops, big plays. That's what we're going to need going forward. It doesn't' get any easier for us.
"We kept to our game plan and we executed well. Wasn't a big rah-rah speech, just executing well."
"Against a good team like Buffalo in this atmosphere, you know, it's loud in there," linebacker Jerod Mayo pointed out. "Reminds me of a college atmosphere. It took a lot of composure and a lot of guys sticking together. "We felt like, we're not really playing our game and we're only down… what was it, 14 points? We had a lot of confidence and it never wavered in this locker room."
In Buffalo, the Patriots came away with a win, their second of this young 2012 season, to go with a pair of defeats. And at the quarter mark of the season, they find themselves back atop the AFC East
Balance, so beautifully achieved.