I'm not really sure how tendered contracts work, but Mathias Kiwanuka seems like he could be a good target if he doesn't re-sign with the Giants. I don't think he would have to large of a price tag and he seems to fit the size/speed combo Bill Belichick likes in OLBs. I know [Giants head coach Tom] Coughlin tried to play him at OLB in a 4-3 defense and it didn't work out, but I would imagine he'd be a much better fit in the skill set for a 3-4. Let me know what you think of the Pats going after him and if it's even possible since he was tendered a contract in early March.*
*Ryan Matis
It's a good question, but a difficult one to answer right now because we don't know what the free agency rules will be in 2011. If, for instance, last year's uncapped rules apply, then Kiwanuka, with five accrued NFL seasons, would be a restricted free agent. He was tendered at the second-round level by the Giants on March 1, so, if New England were to sign him, they'd owe New York a second-round pick. However, if regular offseason rules go back into effect, a player with Kiwanuka's experience would be an unrestricted free agent and the tender the Giants offered wouldn't apply. It's also possible that an entirely new set of rules could be agreed to, and if that's the case, well, who knows.
Assuming the previous (i.e., normal) free agency guidelines return, Kiwanuka would be an option the Patriots might consider. He's coming off an injury-marred 2010 season (neck injury), but is still young enough (28) that, if fully recovered, he could bounce back and even be energized by a change of scenery and scheme. He certainly has the desired measurables (6-5, 265) that Belichick desires, so, I could see New England kicking the tires on Kiwanuka. 
Erik Scalavino
Besides a pass rusher, I think we need to add a veteran WR. If there is free agency under the same guidelines, here are my top FAs the Pats should go after. Pick one or name one not on my list you think we could see in a Pats uniform: Hank Basket (Minn), Steve Breaston (Ari), Randy Moss (Tenn), Santana Moss (Wash), Sidney Rice (Minn), Brandon Stokley (Sea), Chansi Stuckey (Cle), Mike Sims-Walk (Jac).Michael Pontillo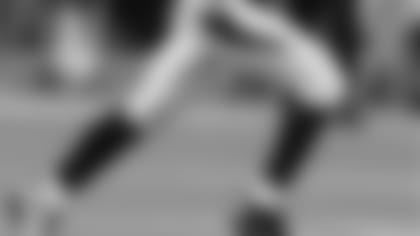 You're absolutely right, Michael. Wide receiver is a significant need for the Patriots. The most attractive name on your list, as we've mentioned numerous times this offseason, is Rice. He's a big-bodied playmaker (6-4, 200), downfield threat, and, turning 25 in September, will just be entering his prime and could become a solid number-one receiver with Tom Brady throwing him the football. Sims-Walker (6-2, 215, 26 years old) would be my second choice, but, with similar potential to Rice, is an intriguing young prospect. 
Erik Scalavino
What players do you see the Pats spending their free agency dollars on? We have a huge need at DE, LB, and CB. Also, do you see Moss coming back to play with "Tommy?" Do you think he would play for minimum? Even Randy should realize it's his only hope for a ring.Ned Marc
First, it's impossible to predict which players the Patriots will target without knowing, as I indicated earlier in this column, what the rules of free agency will be. But clearly, their biggest needs are at outside linebacker and wide receiver. I disagree that defensive end is a huge need, though if New England had taken a top prospect at that spot in the draft, I wouldn't have been upset about it. And I wouldn't characterize the need at cornerback as huge, either, with Devin McCourty and a healthy Leigh Bodden anchoring the left and right sides, respectively. Depth may be a concern there, I'll grant you, but Kyle Arrington has proved a capable starter and rookie Ras-I Dowling should be given a chance to impress.
As for Moss, forget about it. His brief era in New England is over, with no chance for a sequel.
Erik Scalavino
I'm wondering why you guys are so insistent upon picking up another D-Lineman. As I see it, there are currently 12 DL on the roster. A bunch who are young and had stints of production last year. Even if you start veterans, you can have three first-round picks starting in [Vince] Wilfork, [Gerard or Ty] Warren, and [Marcus] Stroud. Is there really a DE or NT out there to be had that's better than anyone who's currently on the team?
Pascal Rawls-Philippe
By "you guys," whom are you referring to, exactly? Not Team PFW, surely. We plead guilty to being adamant about upgrading the outside linebacker position, but not necessarily d-line. Yes, there were injury concerns there late last season, and we discussed players like Cameron Jordan, Cameron Heyward, J.J. Watt, and others during the pre-draft process as potential Patriots first-rounders, but only because more coveted players at OLB, we assumed, wouldn't be available when the Patriots picked.
New England has a lot of bodies on the roster competing for jobs along the d-line – a good mix of experienced vets and unproven younger players. If they all return to full strength by the start of training camp, that should make for quite the competition. In fact, defensive line will most likely be the strength of the defense heading into the 2011 season.
Erik Scalavino
Who is the Patriots' backup quarterback?
Jessica Whitney
Well, at the moment, just going by seniority, it's Brian Hoyer, who enters his third year. However, rookie Ryan Mallett will be given every opportunity to unseat the veteran, I'm sure. Whether or not he'll be capable of doing so right away remains to be seen, but I expect there to be a legitimate battle for the Brady understudy role whenever football begins again.
Erik Scalavino