Tom Brady knew there would days like this. He just hopes they're relegated to the summer days of training camp.
With the bulk of his pass catchers either gone or on the mend, Brady knew there would be a bit of a transition process as he learned the ins and outs of his new receivers. Friday afternoon's practice in Foxborough was an illustration of some of the growing pains that come with such turnover.
It wasn't that the offense was terrible, or that the new receivers all struggled with their assignments. But from the vantage point of the layman watching from afar, things appeared to be choppy at best. At times Brady was visibly frustrated, holding his head with both hands after an incompletion, leaving everyone to wonder if the quarterback was upset with a poor throw or read, or if any lack of patience with the rookies was starting to seep in.
In any event, there were enough misfires during the practice to lead Bill Belichick to re-run a team period at the end of the session. Normally after Stephen Gostkowski boots some field goals, the starters' work is generally done while the younger players take part in what has become known as "opportunity reps."
On Friday, it was Brady running the show after Gostkowski's kicks. Perhaps Belichick wanted to get some extra work in anyway, but it certainly appeared to have been the result of some cause and effect based on the day's performance.
For his part, Brady showed no signs of frustration when dealing with the media following practice.
"There are a lot of new guys. We're making mistakes. We're trying to learn from mistakes," Brady said. "Offensive football is about 11 guys being on the same page and really being able to anticipate what each other are trying to do. A challenging part of offense is when you have new guys and they're not really sure when I'm throwing and I'm not really sure when they're going to break and a lot of it we just have to work out.
"The more reps we get the better we're going to be. Just to come out here every day and make these types of improvements is important. You can't go out and miss three or four days of practice because you just get so far behind, especially at this time of year."
Brady continues working on establishing a rapport with rookies Aaron Dobson, Josh Boyce and Kenbrell Thompkins, as well as free agent addition Danny Amendola. For the most part things have been reasonably solid but it's clear there's a way to go before the group establishes itself.
"You have to throw as much in there as you can," Brady explained. "It's not really a slow-paced offense. You need to think fast, you have to communicate well and everybody has to be on the same page. It's hard to slow down something for one person. The train's moving at this point. It takes really smart football players to be in this system and guys that have done well have been smart players that can adjust quickly. That's what it's all about here."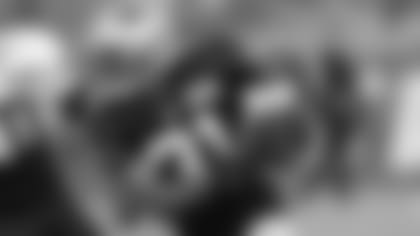 Players and coaches have been raving about Aqib Talib throughout camp, and not just for his performance but also due to his leadership. Defensive coordinator Matt Patricia as well as cornerbacks coach Josh Boyer each singled out Talib as being exceptional in that department.
That's not to say the corner hasn't performed well. To the contrary, through the first week of camp he's been arguably the team's best player. Last season he showed he was capable of locking up on the outside with some of the bigger receivers like Houston's Andre Johnson. What's been even more impressive this summer has been his ability to keep up with smaller, quicker guys like Amendola in the slot.
The two have locked horns often during drills and in team periods in camp and Talib has gotten the better of things more often than not. Belichick was asked about Talib's performance against Amendola but the coach chalked it up as part of any corner's job description.
"Some guys are taller, some guys are shorter, some guys are faster, some guys are quicker, some guys are stronger," he said. "That's one of the advantages of going against Philly and Tampa, is to see some of their players with their skills that are different than ours and see how we match up against them. But over the course of the year, I'm sure we'll see all those kinds of guys, one way or another. It's good to get variety."
Marcus Benard is one of a handful of players looking to carve a role as a backup pass rusher and thus far has stood out with a solid camp. He's been a handful in one-on-one drills against offensive lineman, and recently he has been seen lining up inside in some nickel packages as an extra rusher.
"He Works hard, hard working kid," Belichick said. "He's got a good attitude, good motor, works real hard. I think he's been competitive."
Buy – Adrian Wilson –** The veteran safety had an active day as part of the team's nickel package, a positive sign given his reputation in Arizona as having lost a step or two in coverage. But that doesn't mean the 6-3, 230-pound safety has forgotten how to play the run. His best play on Friday came during a team period when he came up to take on fullback James Develin. Wilson lowered his shoulder and caught Develin off guard, knocking him to the ground with an impressive shot.
Sell – Ras-I Dowling, Jermaine Cunningham – In a camp that figures to be vitally important for each player, both missed Friday's practice with injuries. Dowling appeared to suffer some sort of muscle pull in his leg on Thursday while Cunningham appeared to go down with a left knee problem. Neither was on the field on Friday, and if that continues much longer neither will figures to be much in the future either.
Play of the Day – Aqib Talib seems to turn in a candidate for inclusion here every day. On Friday it was a terrific cut underneath rookie Josh Boyce in the flat that he turned into a pick-six. Talib timed Tom Brady's underneath throw perfectly, cut in front of Boyce and came away with a one-handed interception. The only problem with the play came when he appeared to injure himself after the runback, but he was back in the lineup quickly.
Boston College hockey coach Jerry York was on hand to watch practice. York is the all-time NCAA leader in victories and has had Belichick speak to his team in the past. … Seven players were unavailable for practice on Friday, led by Dowling and Cunningham. In addition, offensive linemen Marcus Cannon and Kevin Haslam, wide receiver Mark Harrison, tight end Rob Gronkowski (PUP/arm, back) and defensive lineman Armond Armstead (NFI/infection) were not in uniform. Cannon has missed the last two practices after getting shaken up while working at right tackle on Tuesday. … The Patriots will be back on the field tomorrow at 9 a.m. before getting an off day on Sunday. The team will have another morning workout on Monday, after which it will depart for Philadelphia for joint practices with the Eagles in advance of their preseason opener Aug. 9. Tomorrow's practice will be the final weekend session of training camp.