FOXBOROUGH, Mass. – Brockton High School science teacher Dr. David Mangus has been named The Hall at Patriot Place presented by Raytheon Massachusetts STEM (science, technology, engineering, math) Teacher of the Year. He will be honored at the 2016 Massachusetts STEM Summit on Nov. 1 at Worcester's DCU Center and his school in Brockton will receive $5,000 to be used for STEM education.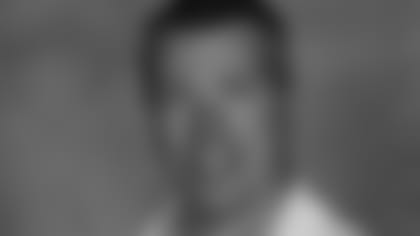 "I am humbled and honored to be named The Hall at Patriot Place presented by Raytheon Massachusetts STEM Teacher of the Year," said Dr. Mangus, of Paxton, Mass. "Thank you to Robert Kraft, the Kraft family and Raytheon for their continued commitment to STEM education in Massachusetts and their support of STEM programs at Brockton High School."
Dr. Mangus has been teaching in Massachusetts for 16 years and at Brockton High School for the past four. Spending nearly half of his life as a research scientist, he discovered his passion for teaching while volunteering at his children's schools where he performed chemistry, math and physics workshops.  
"My intent was to share my passion for science with the students and, just maybe, inspire them to love science, too," Dr. Mangus said. "However, to my surprise, it turned out that it was the students that really inspired me. Their excitement and eagerness to learn was so infectious that it motivated me to leave the bench for the classroom."
As an educator, Dr. Mangus is committed to contributing to advances in science by helping to train a new generation of scientists. At Brockton High School, he has created and led a four-year, non-vocational biotechnology program based on his experiences as a researcher. In the first two years of the program, students explore fundamental concepts in biology using an engineering perspective such as genetic engineering, synthetic biology and biomimicry. In the third year, students explore chemistry using forensics as a theme and finish the program in their fourth year with an original capstone research project.   
Now in its fourth year, the program saw its first graduates this spring and has grown from 16 students in year one to nearly 250 enrolled next year. 
"The goal of the program is to provide Brockton students the highest quality, engaging and relevant STEM curriculum that will prepare them for the demands of the 21st century," Dr. Mangus said. "This program has been very successful in providing a strong STEM background to a general population of students so they will be prepared to engage with both the personal and societal issues that will arise with advances in the field." 
Through Dr. Mangus' guidance, Brockton High School is one of the first high schools in the nation to utilize technologies like PASCO digital probeware, UV/fluorescence spectrophotometer, luminometer and a real-time qPCR machine. 
"These instruments allow students to more deeply explore concepts in biochemistry, molecular biology and molecular genetics," Dr. Mangus said. "By allowing our students to grapple with complex issues through biology and other STEM subjects, they will improve their global citizenship. As an educator, I am inspired by the abundance of opportunities available to future generations and can't wait to see what discoveries and advances they will make." 
In addition to the biotechnology program, Dr. Mangus has organized and advises Brockton High School's BioBuilder Club, an afterschool program based at MIT that introduces students to the field of synthetic biology. Dr. Mangus said he plans to use the 2016 STEM Teacher of the Year grant to expand both the scope and number of students in the program.
"The BioBuilder Club is intended to promote student interest in post-secondary study and employment in STEM-related fields," Dr. Mangus said. "We piloted the program this year with a small group of students due to limitations in resources and funding."
Dr. Mangus added that he values the program because of its impact on student engagement, learning and thinking. 
"I am inspired by the impact the program has on students," said Dr. Mangus. "Their success proved the value of this approach and I want to further develop the program because of it. Funds from the STEM Teacher of the Year grant will help increase participation in the program, expand the curriculum and increase its resources." 
Bryan Morry, The Hall's executive director, congratulated Dr. Mangus on being named The Hall at Patriot Place presented by Raytheon Massachusetts 2016 STEM Teacher of the Year.
"Dr. David Mangus' innovation in the classroom and passion for STEM education really made him standout in what was another excellent and very talented pool of candidates," Morry said. "His ability to expand Brockton High School's STEM and science programs in four short years is nothing short of remarkable and we are very pleased to award him with this year's Massachusetts STEM Teacher of the Year award."
Morry thanked fellow selection members Allison Scheff from the Department of Higher Education, Keith Connors from the Department of Education and Katie Cross from The Hall for their work in selecting this year's STEM Teacher of the Year.
"Each of these individuals has shown a tremendous commitment to honoring excellence in STEM education and recognizing and supporting some of the best educators in the state," Morry said. "We could not select a teacher of the year without their commitment, time and energy to this program."
Dr. Mangus was chosen from a group of five finalists. The schools of the other four teachers, listed below in alphabetical order, will each receive $1,000 for STEM education courtesy of Raytheon. 
Leeann Canzano, Tilton Elementary School, Haverhill
Caroline Grace, Frederick W. Hartnett Middle School, Blackstone
Danielle Larkin, Mapleshade School, East Longmeadow
Jacqueline Prester, Mansfield High School
ABOUT THE STEM TEACHER OF THE YEAR PROGRAM
The Hall launched the STEM Teacher of the Year program in October of 2012 when Robert Kraft announced the initiative at the Massachusetts STEM Summit held that year at Gillette Stadium. Dr. David Mangus of Brockton High School is the fourth recipient of the award. Kelly Powers from the Advanced Math & Science Academy Charter School was the inaugural winner in 2013. Other past winners include Doug Scott from Natick High School in 2014 and Kerry Murphy from Oliver Ames High School in 2015. The STEM Teacher of the Year award is part of The Hall's education program, which offers students in grades 4-12 standards-based educational modules in a fun, entertaining setting. The Hall hosts more than 18,000 school field trip visitors annually. 
ABOUT THE HALL AT PATRIOT PLACE PRESENTED BY RAYTHEON
The Hall at Patriot Place presented by Raytheon is the crown jewel of Patriot Place and the only sports and education experience of its kind. Through a dazzling array of interactive multimedia exhibits and artifacts never before viewable by the public, The Hall showcases the tradition of the New England Patriots, explores the history of football in New England and promotes math and science education for thousands of schoolchildren each year. The Hall's signature exhibit and premier photo opportunity is The Super Bowl Experience. Visitors to the interactive exhibit can re-live each of the team's four Super Bowl championships, view the four Vince Lombardi Trophies and Super Bowl championship rings and re-enact Malcolm Butler's Super Bowl XLIX game-winning interception. For more information or to purchase tickets, please visit **www.TheHallatPatriotPlace.com**, visit "The Hall at Patriot Place presented by Raytheon" on Facebook or follow @TheHall on Twitter.