The designation sounds relatively innocuous: non-football injury list (NFI).
The reality, however, was much more frightening. Or, at least, it could have been.
When Marcus Cannon, an otherwise healthy 23-year-old athlete, was diagnosed with non-Hodgkins lymphoma prior to the NFL Draft, the massive offensive lineman, whom many observers thought could be a high pick, saw his stock plummet. Teams wouldn't touch him on day one or two of the league's annual selection meeting.
On the third day, though, the Patriots decided he was worth the investment. They took him in the fifth round, knowing full well that extensive chemotherapy sessions would be needed to help him overcome this treatable form of cancer.
Six months later, Cannon donned his Patriots uniform and helmet for the first time and headed out to the practice field with his New England teammates.
"It was awesome, finally getting to play with the team," he declared on the fourth day of his return to gridiron action. "I've been interacting with the guys [off the field], and it's finally nice to get on, move around a little bit, and have fun a little bit."
Pronouncing himself "feeling great" and in full remission, Cannon explained that his situation could have been much worse. He experienced none of the typical side effects from chemo and was able to do virtually every workout asked of him by the Patriots coaching and medical staffs while he underwent his treatments.
"I was really blessed. Not much was really tough. Probably the toughest thing was having to leave the team and get on a plane every three weeks [for treatment in Fort Worth, Texas]. But I'm back now and happy to be here."
He acknowledged having some rust in terms of his football conditioning and strength. Cannon's 6-6 frame now supports just under 350 pounds, some 20 pounds lighter than his highest playing weight in college at Texas Christian.
"I'm on track," he proclaimed.
Cannon also insisted that he never once doubted that he'd make it back to football. Part of that came from his own deeply held religious faith, but also from the considerable support he received from inside and outside the Patriots organization.
He would receive well-wishes via Twitter, or through the mail, and he even exchanged text messages with fellow rookie Mark Herzlich, the former Boston College linebacker who survived a bout with a different form of the disease. Herzlich now plays for the New York Giants.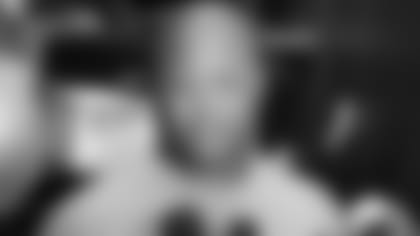 "Everybody in here's awesome," he said of his Patriots teammates. "I was blessed not to have such a bad chemo outcome so it really wasn't a big deal. They didn't see it on my face. But everybody in here has been real supportive. The offensive line's been helping me get into it. I love this team. Everybody's great, everybody's real supportive."
"I think Marcus has handled it with great maturity," head coach Bill Belichick remarked. "He's a very focused individual that met the challenge head-on and never looked for any sympathy or 'woe-is-me' type of syndrome. He did what he had to do, he attacked it head-on. It looks like he's done very well with it. I think he's certainly earned a lot of respect and admiration from everybody in the organization, certainly myself.
"It's great to have him out there," added Belichick. "He's got a long way to go. We'll just take it day-by-day."
With his immense size, even at a position known for big bodies, Cannon stands out among the Patriots o-linemen. Two questions going forward will be 1) where will he be asked to play – guard or tackle, and 2) when.
We may get the answer to the latter sooner rather than later. Now that Cannon is officially off the NFI list, having practiced all this week, the Patriots must decide within the next two weeks whether or not to activate him to the 53-man roster. With New England's history of producing versatile offensive linemen, in all likelihood, Cannon will take snaps at both guard and tackle in practice.
For the time being, where Cannon lines up is immaterial. Cancer-free, he's just happy to be playing football once again.
His non-football injury is now a non-issue.