As NFL players, husbands and fathers, the McCourtys have made it clear that their careers are more than an opportunity to earn a living playing a sport they love. They have created their own opportunities and become beacons of hope for those who need it.
With today being Devin and Jason McCourty's birthday, there is no better way to celebrate than looking back at how they've dedicated themselves to creating change throughout the region. So here is your comprehensive, officially unofficial guide to the work Devin and Jason have put in over the years to make the world a better place.
In 2014, the McCourty twins partnered with the Embrace Kids Foundation to create their Tackle Sickle Cell campaign. The idea was to educate people about sickle cell disease, raise money for a cure and increase blood donations. Through their annual casino night fundraiser, they have raised more than $1 million.
After watching their aunt, Winifred, battle sickle cell for much of her life, Devin and Jason made her fight theirs, as well. Though Winifred passed away in 2019, Devin and Jason continue to speak out and educate others, while also making connections with those facing sickle cell disease. It is particularly prominent among Black people, with sickle cell disease occurring in one out of 365 Black or African American births, according to the CDC.
With this a starting point, Devin and Jason have truly launched themselves into work affecting people of color -- from education to criminal justice reform. More often than not, these issues do not exist in a silo. Their work of late has reflected exactly that in both the long and short term.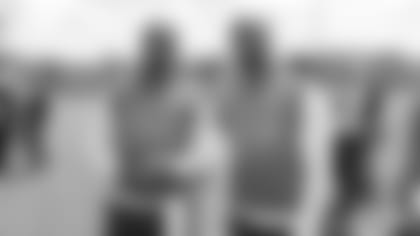 Through the Players Coalition, this work reached a legislative level, as well. Whether it was a bill to raise the minimum age at which children can be charged in juvenile court from 7 to 12-years old or a bill that would redirect state money to underfunded school districts, the McCourtys actively voiced their opinions. There were op-eds, testimonies in the Massachusetts State House, a district attorney debate and panels. Last fall, they hosted a documentary premiere for "College Behind Bars," which followed people who pursued a college education while incarcerated.
Every chance they have to make a statement, they take it.
This includes their podcast, Double Coverage. Over the last few months especially, Double Coverage has become a forum for Devin, Jason, their teammates, their friends and their fans to hash out what is happening in the world -- from the pandemic to protests erupting across the country against racism and police brutality.
This, as they say, is just the tip of the iceberg. Devin and Jason have earned plenty of honors for their work -- Muhammad Ali Sports Humanitarian Award and Walter Payton Man of the Year nominees, to name a couple -- and while the recognition is not their motivation, they deserve it.
If you want celebrate Devin and Jason's birthday, maybe take a few minutes today to do something good. Make a donation if you can, sign a petition, make sure you're registered to vote or simply make someone smile. There's no better way to celebrate -- unless you add an epic t-shirt to the mix.