The New England Patriots Charitable Foundation continued the season-long "Celebrate Volunteerism" campaign with a special weekly focus on youth (Oct. 2-8).
The Foundation teamed with The Boys & Girls Club of Boston and the Hockomock Area YMCA for "Youth Week."  As part of Patriots Community Tuesdays, Josh Barrett, Devin McCourty and Ross Ventrone visited the Hockomock Area YMCA in Foxborough where they spent the afternoon recognizing deserving volunteers, reading to children and participating in an arts and crafts project with children and volunteers. The players also honored Patriots Difference Maker of the Week, Paul Corcoran for his volunteer work at the Jordan Boys & Girls Club of Chelsea by presenting him with a medal and autographed football.
"I wish the volunteers knew how big of an impact they have on these children's lives every day," said Ventrone. "The limelight is not always on them, but it's the volunteers, day to day, that are making a real difference."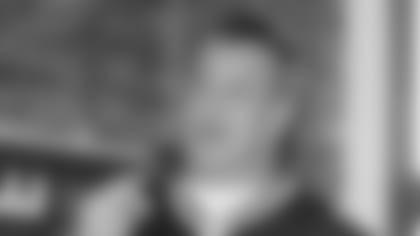 Later that afternoon, Dane Fletcher, Rob Gronkowski and Zoltan Mesko visited the Brockton Boys & Girls Club where they led volunteers and students in a human scavenger hunt game and fitness stations. They also spoke about their experiences with volunteers that made a difference in their lives.
"Growing up as a kid, I was involved in many after-school activities with people that positively influenced me in many ways," said Gronkowski.  "That's where I learned about exercising and playing sports and that's where I met coaches that taught me about life. Many of them they still help me today."
Throughout the 2011 season, the New England Patriots Charitable Foundation will celebrate volunteerism as its season-long initiative. With this special focus on volunteerism, the Kraft family and the Foundation will honor Myra Kraft's lifetime commitment to philanthropy and charitable services. For more information, to pledge volunteer hours, nominate a "Patriots Difference Maker of the Week," to submit photos of volunteer work or to participate in an upcoming collection drive visit www.patriots.com/community.