INDIANAPOLIS – Seems like we were just in Indianapolis only a couple of weeks ago.
Well, that's because we were, for Super Bowl XLVI. And we're back again in these familiar confines of Lucas Oil Stadium for yet another NFL Scouting Combine – the league's week-long interview process for draft-eligible college seniors and juniors who've declared for April's NFL Draft.
Hardly any remnants of the Super Bowl remain around town. All the championship signage has been replaced by Combine-related themed images and slogans.
And there's a different feel from last year's Combine, when the threat of an NFL lockout cast an uneasy cloud over the proceedings, even though most of the participants were reluctant to discuss the touchy subject.
No such unpleasantness this year, thankfully, so, it's all about football.
As in years past (since Lucas Oil opened in 2008), the setup and media access schedule for the week follow a comfortingly familiar pattern. The Baker & Daniels Club (similar to the Fidelity Investments Clubhouse at Gillette) is where the media are stationed, just beyond the viewing area of the field surface, where most of the drills and 40-times take place.
While most reporters aren't allowed inside the stadium to view the drills (they are available on the multiple TV monitors inside the club, however), all are allowed inside Lucas Oil for interviews with players and select team officials.
Today kicked off with offensive linemen, tight ends, and specialists, as well as various coaches, GMs, and personnel execs from around the league. Friday, the offensive skill position players will meet the media: QBs, WRs, and RBs. Saturday, it's D-linemen and LBs, and Sunday concludes with the secondary. Coaches and front office types will also be available each day.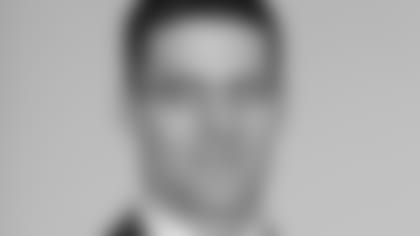 Patriots head coach Bill Belichick is in Indianapolis for the Combine, but he's not expected to address the media, as is his custom. It is rare for him to conduct a press conference – formal or informal – during this week. However, he sent director of player personnel Nick Caserio out for a few minutes to entertain reporters' questions inside Lucas Oil late Thursday afternoon.
While most of the questions were draft- and Combine-related, Caserio also responded to inquiries about some of New England's upcoming free agents – in particular, wide receivers Wes Welker and Chad Ochocinco, and defensive ends Mark Anderson and Andre Carter – and the potential retirements of veterans like left tackle Matt Light and right guard Brian Waters.
"I think we have 17 players or so that are scheduled to go into free agency," Caserio began, "so, we'll have dialogue with all of our players and all of their agents. Some have taken place at different points. But before March 13 [the start of the new league year and free agent signing period], we'll have had a discussion with everybody, and then, we'll figure out exactly where we are come that day.
"We're so early in the offseason -- the reality is that the season ended three weeks ago -- so to make a decision in two or three weeks, whether it's a player or a staff or whatever we do, I think it's just going to be a part of the process, and I think everything will take time."
As Caserio noted, free agency starts a bit later than usual, so, there's a little extra time to make those important decisions than in prior years, when the league year started the first weekend of March. And the team's offseason program won't begin until mid-April, a full month later than in past years due to the new collective bargaining agreement.
"We're two or three months before we step onto the field with whatever players we're going to have on our team," added Caserio. "We're taking our time and we're not in any rush to do anything at this point."
That includes decisions on how the Patriots will use their franchise tag this year (Welker is expected to receive it). With regard to Ochocinco, who has a year remaining on his contract, Caserio said he expected the veteran receiver to be back with the Patriots.
"He's under contract. So, if he's under contract, he'll be here."
The fact that the Patriots' 2011 season just came to an end barely three weeks ago, right here in Indianapolis at the Super Bowl, means New England scouts and coaches are still going through their final evaluations and self-scouting process for the past season.
That includes making any changes to the staff. The Patriots have at least one position to fill after tight ends coach Brian Ferentz left to join his father's staff at the University of Iowa. Caserio said Belichick would "address [the staff situation] at some point."
Meanwhile, the Patriots are trying to get a grasp on the season ahead as best they can under the circumstances, beginning with the next several days here at the Combine.
Caserio opened by offering his general assessment of this year's draft class.
"As usual, I'd say the underclassmen are a big part of it. This is the most amount of underclassmen I think that asked for an evaluation from the league. The final numbers are fairly high. There's depth at more positions relative to others. I'd say receiver is a position of strength. The offensive line's a position of strength. The front seven is a position of strength. A lot of the players, front seven especially that were down at the Senior Bowl, are some of the better players in this draft. I think it's a good draft. Like every year, each position has a little more depth or balance relative to others. That's kind of where it is right now as we sit here at the Combine."
He added that he felt there was a strong free agent crop of front seven players as well.
Speaking of potential front-seven free agents …
Detroit Lions head coach Jim Schwartz kicked off the proceedings this morning at the Combine, and while he spent most of his 15 minutes discussing his team rather than the draft, there was one potential item of interest for the Patriots.
Lions defensive end/outside linebacker Cliff Avril is scheduled to become a free agent when the new league begins March 13 (unless he's assigned Detroit's franchise tag before then). Given Avril's versatility to perform a variety of roles off the edge many New England fans have logically wondered how he might look in a Patriots uniform.
Judging from Schwartz' comments on the pass rusher, they may have to wait longer than expected to get that chance. While the Lions coach made no guarantees, it sure seemed like Avril remained very much in Detroit's plan moving forward.
"Cliff's very important for us," Schwartz began. "He took a big step for us this year by being able to be on the field every week. Like we talked about with Matthew [Stafford], staying healthy was big for Cliff. When you have guys that fit your scheme they're important to us."
Obviously how important Avril winds up being will depend on the money it is willing to offer and how much Avril want to accept. But clearly if it's up to Schwartz Avril won't be going anywhere anytime soon.
"When you're looking at potential players who can help, it's really important to look at the guys we already have," Schwartz added.
Avril played all 16 games for the first time of his career and notched career-highs in sacks (11), forced fumbles (6), fumble recoveries (3) and interceptions (1). Avril has been a consistent big-play threat during his four-year career in Detroit with 30 sacks and 14 forced fumbles.
NFL teams could begin assigning their respective franchise tags to players starting this past Monday. As of today, however, no teams had done so. One player who could get so designated is Steelers restricted free agent (RFA) Mike Wallace.
Pittsburgh's prolific wide receiver is another player who has been discussed lately as a possible target for acquisition by the Patriots. However, GM Kevin Colbert told reporters covering the Combine that he intends to retain Wallace's services.
"We're going to do everything we can to make sure Mike Wallace remains a Pittsburgh Steeler," asserted Colbert, who added that he believed that was the player's hope as well.
Colbert disclosed that Wallace will likely be offered the highest tender offer, with the franchise tag also a possibility.
Schiano praises Belichick as 'special'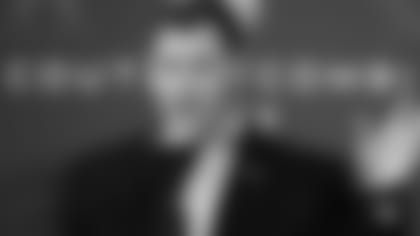 New Tampa Bay Buccaneers coachGreg Schiano, late of Rutgers, spoke glowingly of Belichick.
Several current Patriots are former Scarlet Knights, thanks in considerable part to the relationship that has blossomed over the years between Belichick and Schiano.
"Bill has been an incredible person for me professionally, but I've gotten to know Bill – his son, Stephen, played lacrosse at Rutgers," Schiano explained. "Thus, Bill was down there a lot. He'd come work out some of our players. Every time we visited, I learned a ton, number one, and number two, I felt very comfortable with him. He's a no-nonsense guy. I think that's what I am, and it's fun to be with people that … it is what it is. No agendas.
"As these things began to [happen with the Bucs], I called and asked him for some advice and he was great. I look forward – I know we're competitors, I know there's 32 teams – but I look forward to – we're in different divisions, different conferences – hopefully we'll continue to help each other grow. Certainly, he'll help me more than I'll help him, but it's been a very good relationship. I know it'll change now a little bit. But he's a special coach, as we all know, and to me, a very special person."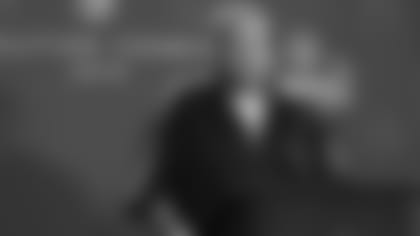 In a rare moment of contrition, Jets head coach Rex Ryan opened his Q&A at the Combine by admitting that his prediction at the last Combine that his team would win the Super Bowl was a "huge mistake." The Jets failed to qualify for the 2011 postseason.
"All right, I know what you're all thinking, the return to the infamous Super Bowl guarantee," Ryan began. "It was [made] here. In all seriousness, looking back, obviously it was a huge mistake to make that guarantee. At the time, we were coming off two [conference] championship games. I really thought it would be a thing that would actually motivate our team, to really talk about the Super Bowl, focus on the Super Bowl, but in hindsight I think it put undue pressure on our team. We kind of lost focus and really we lost focus on what we do best.
"Obviously, it was a big mistake. I go back, and look at it, and I think it contributed to the season we had. Realistically, it's something I've been thinking about a great deal and obviously we had a terrible season. I'll take full responsibility for it. I think part of that guarantee really contributed to that," Ryan confessed.
"But I will say," he quickly added, "we're going to have a team now, that I think is going to have the potential to do great things."
Not quite a guarantee, but as close as Ryan would come this time around.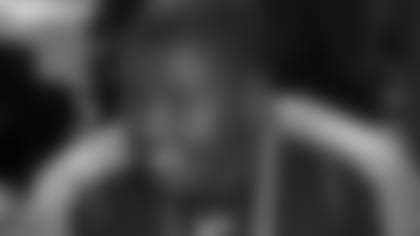 … Kelvin Beachum (6-3, 307), a late-round prospect at guard from Southern Methodist, told a couple of interesting Patriots-related stories. First, his position coach at SMU the past three seasons was Adrian Klemm, New England's first pick under Bill Belichick (a second-rounder in 2000). Beachum was also a Mustangs teammate of current Patriots DB Sterling Moore, whom Beachum says they used to call "210." The nickname, he explained, was a playful jab at Moore's heavier-than-normal weight for his shorter frame.
"Man, he was a funny guy," Beachum recalled. "He always had some jokes to go along with whoever he was locking down in practice. We used to call him 210. He was about 210 pounds and we called him a fat corner. But he dropped the weight. He's done a wonderful job adapting to the NFL and is becoming a real good corner."
… Tight end Orson Charles (6-3, 242), an underclassman from Georgia who's among the top at his position this year, has been leaning on former Bulldog and Patriots  tight end Benjamin Watson (now with Cleveland) for advice during the pre-draft process. "He's just a great spiritual guy, a family guy, a loving guy. Anytime I needed his help, I called him, he would pick up the phone. You know, people like that, you would think they would turn their phone off or reject you, but he watches us – a lot of players from Georgia – comes back and talks to us. So, I can call him anytime I want and he'll pick up."